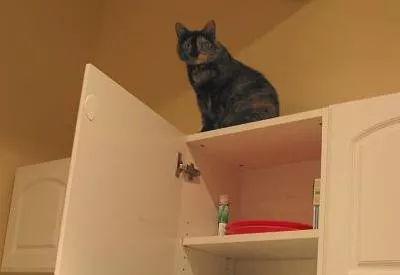 RFT staff writer Aimee Levitt and her cat, Bess, continue their culinary adventure.
Ian sent me this blog post a few weeks ago. Apparently Starbucks sent samples of their new healthy choices breakfast menu over to The Consumerist and editor Ben Popken's cat, Captain Duvel Moneycat, fell in love, or maybe just lust, with the Perfect Oatmeal. "Seriously," Popken wrote, "he was freakin' on this bowl, it was disturbing."
This post immediately raised a number of issues. Like, why does the friggin' Consumerist get free crap from Starbucks while the RFT does not, even though our staff members contribute generously to the Delmar Loop location, which is not even the closest coffee place to our office? Do they not care what we think about their new healthy choice breakfast menu? Are we somehow unworthy?
And, Starbucks oatmeal?
Also, the cat was freakin' on the bowl?
Naturally, Bess and I had to investigate this wondrous new cat food.
Aimee relives her painful Starbucks career, after the jump...
The problem was, Bess is irrevocably prejudiced against Starbucks. I confess this is my fault. I worked there one summer. She endured my waking up at five in the morning, my coming home stinking of coffee grounds and industrial cleaner and my constant complaining about the customers and my co-workers. (The animosity, I must add, was mutual: they nicknamed me Eeyore.) What she most resented, though, I think, was that I never let her play with the ties on my apron.
Our lives improved immeasurably when I quit one night in a fit of high dudgeon and moved on to another retail slave job at the local Barnes & Noble. But Bess has never shown the slightest inclination to taste my coffee, which I believe must be a carryover from that dark, dark time.
And so I decided to substitute Starbucks Perfect Oatmeal for my perfect oatmeal, Quaker Instant Oatmeal, Maple & Brown Sugar flavor, which I have enjoyed since childhood.
It seemed fitting to break out the oatmeal the first official morning of fall. In fall, you are grateful for a warm breakfast to fortify you against the morning chill, even if you are like Bess and don't actually leave the house. The actual temperature in St. Louis yesterday was 85 degrees (as reported by AccuWeather, which has also been known to report sunshine at ten o'clock at night and raging thunderstorms when the sky is, in fact, clear). That kind of put a damper on the Platonic ideal of fall. But whatever.
So I boiled the water. I dumped a packet of dry oatmeal into the bowl we reserve for home-cooking experiments. I mixed everything together and put the bowl on the floor.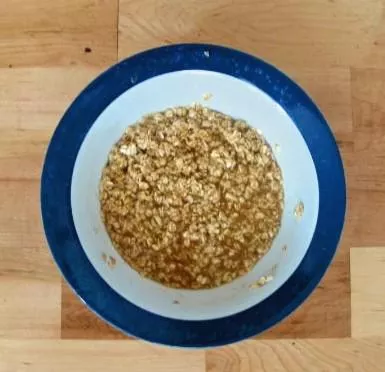 Bess just sat and stared at it.
"Look!" I said. "It's oatmeal! It's good! In fact, I think I'm going to have some, too."
But Bess has a strong character and does not succumb to peer pressure. Although, now that I think about it, it seems presumptuous to refer to myself as Bess' peer. One of the basic tenets of our relationship is that she is peerless.
I enthusiastically ate my oatmeal. It was quite good, especially with a splash of milk. Bess continued to sit with her tail wrapped around her front paws, a pose that makes her look especially vulnerable and, therefore, adorable. But then she got sick of posing and went to the couch to groom herself.
Much later, I caught her taking a few little nibbles out of the oatmeal bowl. She did not lick her chops furiously after finishing, a sign (I think) that she did not find it entirely distasteful. But the next time she felt the urge to nibble, she went back to the kibbles.
So now a couple of questions remain: Is it possible that Starbucks is a better cook than the Quaker Oats Quaker? Or is Captain Duvel Moneycat just an oversexed freak?
Answers: I find that really hard to believe, but we'll give it a shot. And, yes.
Home Cooking: 1, Purina: 4