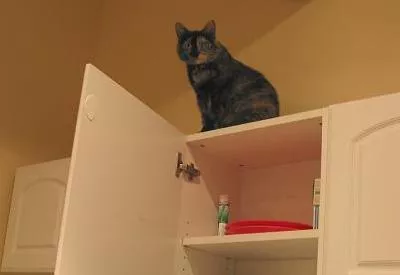 RFT staff writer Aimee Levitt and her cat, Bess, continue their culinary adventure.
Two weeks ago, the state of Alaska was just an abstraction to us, a land of ice and snow and moose, where grandmothers went on cruises, possibly inhabited by lovably quirky folk, if Northern Exposure was to be believed. Bess is too young to remember that show, but I think Alaska had a slight hold on her, too: sometimes, when I get really fed up with things, I will say, "Whaddaya say we hop in the car and drive to Alaska and you can eat lots of salmon?" and she will reply with an affirmative "Meow." I'm not sure which is the bigger draw, the journey or the destination. She may love salmon. But I know for a fact she really, really loves road trips.
And then Sarah Palin came into our lives.
You can put lipstick on a pig, but can you get a cat to eat a salmon burger? Find out after the jump...
She was an immediate agent of discord. Even though Jeff and I agreed we hated her on sight, even before we learned about the moose-killing and the shotgun wedding and the book-banning and the state trooper-firing and all the rest of it, we argued about what to call her.
"GILF," he said. (We learned this term at the beginning of Sarah Steelman's ill-starred candidacy for governor.)
"V-PILF," I said. "There are other GILF's. She would be the only V-PILF."
"But she would only be a V-PILF if she gets elected," he countered. "We want her to stay a GILF."
"But V-PILF sounds like a disease. It suits her."
Bess, diplomatically, declined to take sides.
It only escalated from there. Was McCain's decision to nominate Palin intended to be an insult to American women? Was Todd Palin part Inuit or part Yup'ik? How does one pronounce "Wasilla" anyway?
After two days of Sarah Palin, it was a relief to return to an old argument: did Bess really eat the yummy Trident Alaskan Salmon Burger because she liked it or because she was starving? This, at least, could be resolved.
As before, Jeff drizzled a frying pan with olive oil and dropped the yummy salmon burger in. Since tensions were running high, he did hum his happy little cooking song. This time, though, we did have an extra bowl, the same bowl that held the sweat sock-reminiscent shrimp frozen yogurt. Jeff cut part of the yummy salmon burger into pieces and we backed off to let Bess eat - or not eat - in peace.
I was engrossed in reading the op-ed pages and building up a fresh head of steam and Jeff was engrossed in combing the Internet for a picture of Palin in a bathing suit in her Miss Alaska days when we heard it: the telltale clink of a tag against a plastic bowl.
"She's eating!" he cried joyfully.
"Shhhhh!" I said, groping for my camera.
It took a few hours, but eventually, Bess' bowl was clean. And not just because Jeff washed it.
"See?" he said proudly. "She just likes my cooking better."
"You don't have to be so smug about it," I said. I was still grumpy, even though I had been right about Todd Palin's tribal partial-affiliation.
"Since when is overturning an injustice smugness?" he asked.
And I supposed he was right. But then more Palin coverage came up on the TV and the world was full of injustice once more.
Home Cooking: 1, Purina: 3, Debatable: 1