RFT staff writer Aimee Levitt and her cat, Bess, continue their culinary adventure.
Last week I went on vacation. Bess had to stay at home. It made us both sad, but there was nothing to be done. At each of the places where I was planning to crash lived at least one person who had severe cat allergies and another person who objected to cat hair on the furniture. I put fresh litter in the litter box, laid in a fresh bag of Purina, gave a friend the spare key and a list of Bess-care instructions and hoped for the best.
But, as expected (and dreaded), I returned home to a furious cat. She berated me, in meows, for several hours and nipped my calf when I asked her to desist so I could sleep.
How to make it up to Bess? The answer after the jump...
"I think Bess was lonely," Kathleen told me the next day. "Every time I stopped by, she ran out to meet me."
When we have visitors, Bess prefers to make a grand entrance so all conversation will stop and the company will marvel at her beauty. Bess does not run to the door. I felt overcome with guilt.
"I am sorry, my darling," I told her when I got home from work that evening. "Meow!" she replied. Repeatedly.
"What would make you feel better?" I wondered.
Late that night, as we lay insomniacally in bed, it occurred to me: "Ice cream!" I cried. Bess licked my face. Overcome with excitement (and since we couldn't sleep anyway), we repaired to the computer to figure out how we could circumvent Bess' possible lactose intolerance.
It turns out there is already a brand of kitty ice cream, Cool Claws, from the same people who invented Frosty Paws, the beloved dog ice cream. According to the manufacturers' Web site, 90 percent of surveyed felines adopted Cool Claws on the first try. That same Web site reported that Cool Claws is currently for sale exclusively at Hy-Vee. The nearest Hy-Vee is in Kansas City. The Cool Claws would definitely melt by the time they got back here.
Further Web searching uncovered a lot of pictures of cats eating ice cream and anecdotal evidence that flavor preferred among felines is vanilla. But also the information that cats don't have much of a sweet tooth. Instead they prefer salty, bitter and sour flavors. They also like food with a strong odor.
Well, why couldn't there be savory ice cream? I had heard fantastic-sounding tales of bacon, olive oil and red bean ice cream. Why not shrimp?
Further research revealed that bacon ice cream had strong elements of maple syrup; that the olive oil contained cinnamon, vanilla and lots of sugar; and that red bean is actually a popular stuffing for Chinese pastries. No matter. I had already found a recipe for homemade Frosty Paws. It shouldn't be too hard to adapt.
My colleague Ian Froeb generously lent me his nuptial ice-cream maker and offered to taste the results. I went to work.
Unfortunately, in my excitement, I had purchased plain yogurt instead of the vanilla the recipe had called for. No matter, I thought. A couple of teaspoons of vanilla extract and all would be well. I substituted olive oil for peanut butter because, in my experience, olive oil and shrimp go very well together. And eight shrimp, salvaged from last night's dinner, sautéed in oil and chopped into bite-sized pieces.
I mixed all these things together and deposited them in the ice-cream maker. The machine began to whir. I could scarcely contain my glee.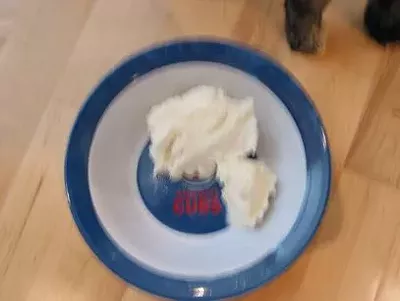 After 25 minutes, we had a product that looked like ice cream. I scooped some into a bowl and called for Bess. She ambled into the kitchen (indifference: an excellent sign) and stared at the bowl.
"It's for you!" I cried, perhaps a bit too enthusiastically. "To cheer you up!"
I got a small sample of the ice cream for myself and sat down on the floor beside her. Bess looked up at me quizzically. I made sure to scoop up a piece of shrimp and deposited in my mouth.
There is a reason ice cream is sweet. Coldness enhances flavor. Regular yogurt is bitter. Frozen, unsweetened yogurt is very, very bitter. The shrimp was okay, though.
Bess took a small, experimental nip and immediately began licking her lips furiously, to get rid of the taste.
Outside, it had begun to rain. I collapsed in our big dish chair. Bess crawled onto my chest. I stroked her back and jaw and kissed the top of her head. She closed her eyes and, for the first time all week, began to purr.
Postscript: Not forgetting my promise to Ian, I brought some of the remaining shrimp ice cream into the office. Ian was out, but Chad Garrison volunteered to give it a try. At first his face was impassive. Then it scrunched up into an expression of pain.
"It was really bitter at first," he said. "But then it started to taste like a sweat sock."
Nonetheless, he agreed to feed some to his cat, Joe.
Ian, upon hearing Chad's reaction, declined to sample the ice cream. "I have to edit your copy," he said solemnly. "I could not, in good conscience, allow anything to influence my editorial decisions." He paused. "That was pretty fast thinking, huh?"
Home Cooking: 0, Purina: 3, Debatable: 1