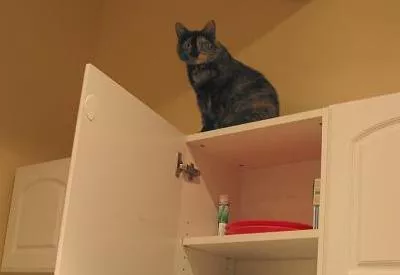 RFT staff writer Aimee Levitt and her cat, Bess, continue their culinary adventure.
As has been established, Bess has a discerning palate. The cat recipes I had so far uncovered were clearly not up to snuff. My mother's golfing group had volunteered to brainstorm and devise what they call "Tabby Tapas," but it was taking them some time. Bess refused to answer any of the focus-group questions I tentatively lobbed at her. Instead, she yawned, stood, turned around, plonked back on the bed and continued her nap.
I needed to complain. Fortunately, my boyfriend Jeff was in town for the weekend.
Jeff to the rescue? Find out after the jump...
Jeff and Bess' relationship got off to a rocky start, owing to his allergies and her suspicion that he was only complimenting her on her cuteness out of fear. (Besides, she prefers to be recognized for her intelligence.) But since Bess trained him to pet her whenever she bonks her head against his hand in a certain way, they get along famously and he fancies he has special insight into her soul. "Look!" he will say, "she's getting all squinty-eyed! I know how to make your cat happy!"
"I know just how you feel," he said to me. "I, too, know what it's like to cook for someone and be brutally rejected."
"What are you talking about?" I asked.
"You never eat my yummy salmon burgers," he said sadly.
"You never cook them for me," I countered.
"I would," he said in an injured tone, "but whenever I ask, you just say no."
It had been a long week. The heat and a deadline had sapped all my strength. "Fine," I said. "Next time you make a salmon burger, I'll eat it, as long as you share with Bess."
His eyes brightened. "I could make a yummy salmon burger right now!"
"It's two in the morning," I pointed out.
"Tomorrow then," he promised.
The next afternoon, we all reported to the kitchen. Jeff removed his stash of Costco salmon burgers from the freezer and consulted the ingredients.
"Is there anything she can't eat?"
"Onions," I said promptly. "And garlic and mushrooms and chocolate and pot."
Ingredients vetted, he drizzled some olive oil into a frying pan and plopped in a salmon burger.
"Did I mention the childhood trauma associated with salmon burgers?" I asked.
"Your mother used to make them for you and you hated them," he recited. "But she didn't make them right."
He hummed happily as the salmon burger began to fry. Bess and I watched suspiciously, she from the kitchen table, I from my post in front of the toaster.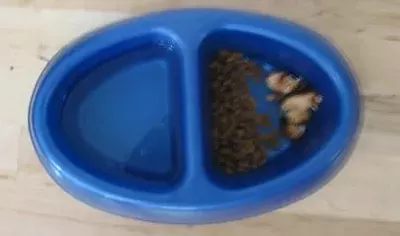 "Are you ready?" he asked finally. He lopped off part of the salmon burger for Bess' delectation. As we were all out of dishes, the pieces had to go in her bowl, atop a bed of kibbles. My share he placed inside a hamburger bun and shoved unceremoniously in my face.
I tasted bread. My teeth bumped into something dry and crunchy. And then a fishy taste exploded on my tongue. I reported these sensations to Jeff.
"Wow, it tastes like fish!" he exclaimed. "That is an amazing observation."
Bess ignored the pieces of salmon burger in her bowl in favor of taking another nap. Jeff was unconcerned. "It just needs time to cool," he said cheerfully.
Later that night, a piece of salmon burger had found its way onto the floor beside the bowl. "Rejection!" I crowed.
"Just wait," he said serenely.
The Bess feeding cycle wore on. Jeff had to return to Chicago. That night when he called to let me know he had arrived safely, he asked me to check Bess' bowl.
"It's empty," I said.
"She ate the yummy salmon burger?"
"I think it was because she was hungry and there was nothing else," I said.
"No, no, no," he said. "She liked it! I win!"
"It was desperation, wasn't it, sweetheart?" I asked Bess.
But I had just refilled the bowl with kibbles and Bess declined to give an answer in favor of easing her hunger. Later, once she had finished eating, she remained inscrutable. This is because she has almost no short-term memory.
Jeff insists that my knowledge of Bess psychology is masking sour grapes. "The thing is," he said, "you're just upset I understand your cat better than you do."
Home Cooking: 0, Purina: 2, Debatable: 1