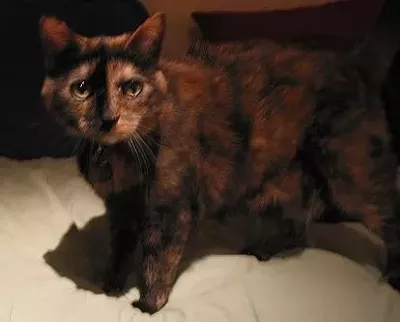 RFT staff writer Aimee Levitt and her cat, Bess, embark on a culinary adventure.
My cat Bess is a magnificent animal. Others may not agree, but they are irrevocably prejudiced against cats. I will grant that her wit and intelligence and sweetness of disposition appear only sporadically, most often when she and I are alone, but, when she feels like turning on the charm, her furry little face and big green eyes can melt the hardest of hearts. But my Bess has a strength of character that most of us can only dream of and scorns most social graces, most notably pretending to be fond of people she hates, like the vet.
Bess may be uncompromising in social situations, but where food is concerned, she is fairly easygoing. For most of the nine years we have lived together she has dined on Purina One Cat Chow (Salmon and Tuna Flavor, when we can get it, or Turkey) with nary a complaint. We adopted the Purina when she was a kitten on the advice of her nemesis, the vet, and she has enjoyed good health ever since, plus a glossy coat and a little belly that jogs endearingly from side to side on the rare occasions when she runs.
Lately, though, Bess has seemed discontented with her kibbles.
What to do? The answer after the jump...
She has taken to licking dishes I leave lying around; she prefers dairy products, seafood and, strangely, orange juice. When I take the dishes away, she favors me with her patented Plaintive Look.
One night last week, we were sitting on the couch together reading It Must've Been Something I Ate, a collection of essays by the food writer Jeffrey Steingarten. When we got to the piece "The Man Who Cooked for His Dog," in which Steingarten researches and prepares tasty and healthy meals for his Golden Retriever Sky King, Bess gave me the Plaintive Look again.
At last I understood.
"Oh, you're sick of your food!" I cried. We both looked over at her neglected bowl of kibbles. "How dense I am!"
Bess gave me another look, which plainly said, "No shit."
"I will cook for you, my darling," I vowed. "Don't worry! You won't have to envy Sky King anymore!"
During his research, Steingarten discovered the old and honorable tradition of canine cuisine in France, owing to the charming French habit of taking dogs to restaurants. The French are a cruel people: they never took their cats anywhere. Meanwhile, all I knew about what cats ate before the invention of kibbles came from the picture books of my youth: mice, fish, milk.
The next day, at the office, I launched into the beautiful world of Internet research and discovered a helpful article by a learned veterinarian. Cats are pure carnivores. They really do like mice, preferably raw. Freshly-killed mouse satisfies their cravings for blood and guts. They are too badass to drink milk. (Lactose intolerance.)
The learned veterinarian recommended some recipes, but all of them required a meat grinder. I found some more. I myself would never eat sardines mixed with raw liver, but then I have frequently been accused of being a picky eater.
That night I dreamed I was shopping at a Jewel supermarket near my parents' house in Chicago. In a neglected corner, I discovered - on sale! - foil packets full of freeze-dried mouse.
You will be unsurprised to learn that Schnucks does not sell mouse. Nor does the Soulard Market, a far more likely source. Bess and I are not committed enough to this experiment to invite mice into the sanctity of our home. But over a day of shopping, I collected beef liver, sardines, salmon, chicken, eggs and rice, plus Trader Joe's Tuna for Cats, as a control. (Cats can have horrible allergic reactions to tuna for humans.) We were ready to begin.
The First Meal: Sardine Heaven (For Cats)
We decided to start with this recipe because it was the easiest to prepare, and because I found the liver oddly fascinating. It was a deep maroon color with a slightly spongy texture. When I showed it to Bess, she looked unimpressed. But that is her reaction to most things.
Twenty minutes and several rice mishaps later, we were ready to compose this delectable meal.
Bess began mewing as soon as I pulled open the can of sardines. Oh, the excitement!
I dumped some rice into a bowl and eased the sardines out of the can and used a fork to mash them into bite-sized pieces. Then the liver! It looked just as formidable as ever, and did not chop easily. Bess stood beside me, hopping impatiently.
And then the glorious moment: I placed the bowl before her and waited.
She poked her nose in immediately and began taking delicate bites. I hung back, not wanting to disturb her. She looked up at me and licked her little chops.
"Is it good?" I asked hopefully.
She plunged back in, but within two minutes, grew bored and went to sit on my desk as I attempted to write.
Maybe the rice was still too hot, I reasoned. I left her for a few hours to go out. (Yes, I cook for my cat, but that does not make me a crazy cat lady. Yet.) I returned home to a terrible smell, slightly reminiscent of a used sanitary napkin. (And if you don't know what I am talking about, bless your heart.) The bowl of Sardine Heaven (For Cats) looked untouched.
I fried up some bacon to cover up the dead-fish smell. Bess watched. She seemed uninterested in the bacon. She also seemed uninterested in Sardine Heaven.
I let it sit out for approximately twenty-four hours, the length of one Bess feeding-cycle. Except for the first burst of interest, she ignored the new bowl and went for the kibbles when she got hungry.
Home Cooking: 0, Purina: 1