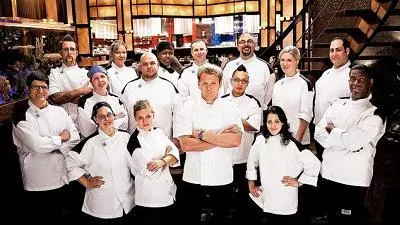 Jeanette Kozlowski returns to review the new season of Hell's Kitchen, starring her favorite bad-boy chef, Gordon Ramsay.
8:03 p.m. We're down to the final four: Christina, Corey, Jen and Petrozza. "Everyone is kind of out for themselves at this point," Corey says. "If I don't step it up, I'm out of here."
8:04 p.m. And then there's Jen. Caught talking to herself in an empty room, she seems revved up for this round. Go ahead, and raise your hand if you think Jen's leaving tonight. (I'm raising mine really high right now!)
8:05 p.m. Gordon Ramsay gives the chefs one hour to cook 80 portions for 80 customers described as the most finicky, the most demanding kind. With the kitchen fully stocked, any ingredient may be used. Then we hear Jen's quote from last week's preview. Remember how she mentions Beyoncé, Jay-Z and Fiddy Cent? Seems like she just speculated that these demanding folks are celebrities.
Who are the mystery guests? What smells like burning flesh? Find out after the jump...
8:06 p.m. For the challenge, Christina prepares an island turkey sandwich with curry and avocado, Corey puts together salmon BLT sandwich with a side of vegetable chips, Petrozza whips up a Monte Cristo sandwich with ham and turkey topped off with a spicy sauce ("It's gonna have a little bit of a zip, but I realize it's got to appeal to the masses. So I got to keep the zip toned down."), and Jen grills grouper with rum butter sauce and a side of mango salsa.
8:07 p.m. While everyone else is prepping away, Jen is busy checking out Petrozza's dish. What does the opinion queen have to say about it? Watch the clip to find out.
8:09 p.m. And just who are these mystery guests? Will Fiddy Cent be bursting through that door along with 79 other celebs? It turns out to be a bunch of "bitchy" pregnant women, as Corey refers to them. What a letdown!
8:14 p.m. Ramsay slams Corey for her slow service and says: "I don't want these people giving birth before they have a chance to eat."
8:16 p.m. After eating for two, the women vote for their favorite dish. Corey comes in last with Jen following close behind. Only two votes separate Petrozza and Christina. Alas the STL homegirl comes out on top. Her reward? A $1,000 shopping spree in Beverly Hills!
8:17 p.m. The three losers mutter complaints as they clean up the dining room. Remember last week's garbage-grazing incident? Well, Jen's at it again!! Albeit she might have fallen prey to clever editing, you must watch it for yourself and how low she'll go for a quick bite to eat.
8:19 p.m. Escorted by Ramsay, Christina enters Lisa Kline's boutique. As excited as she looks, I doubt Christina knows who this woman is. Especially because Jen and Corey make such a stink about the Midwest gal not being fashion-forward. But does it honestly matter? Maybe this shopping trip will help Christina become more of a fashionista.
8:20 p.m. Ramsay gets a little flirty and tells Christina she looks like Elizabeth Hurley. OK, now he's lying!
8:26 p.m. Petrozza and Christina appear to be the only two with their heads on straight going into dinner service. Ramsay makes some big spiel about how huge this opportunity is and how the winner will be in a position worth "a quarter of a million dollars." Jen's eyes switch on when with the dollar amount is mentioned.
8:29 p.m. The night begins with compliments to Corey for tasty scallops and Jen for "stunning" risotto. And then the risotto turns to "mush." Ramsay calls Jen out on not tasting what she's serving. "You blow hot and cold - stunning, bland, stunning, bland!"
8:32 p.m. And then Ramsay burns his hand. "He was pissed! Ooooh Christina over there messing up for real!" If that wasn't painful enough, Christina manages to burn him again. Well, why is he touching a hot pot handle anyway? According the narrator, this "mistake" has never been made. Jen doesn't leave out any details: "You can smell the skin across the room!"
8:36 p.m. Jen ignores Corey's plea to make eggs. "She was stirring one risotto, and you can't fry an egg at the same time--that shows to me that you aren't a team player."
8:38 p.m. It becomes apparent that Jen's attitude immediately changes when Ramsay comes around. After being urged by the boss, she finally fries up eggs for her teammates.
8:39 p.m. Corey isn't cooking the fish all the way ... what on Earth is she thinking?! "Every time you try to do that in Hell's Kitchen, it comes back to bite you in the ass," she says after being caught. Well, duh!
8:42 p.m. Petrozza gets hell for his messy section, which has been an ongoing theme through the season. "I've been trying to be clean," he claims. Through the mess he manages to cook "absolutely beautiful" filet mignons.
8:43 p.m. The four remaining chefs served dinner in record time. It shows how smoothly a kitchen can run when the best are in there. "Tonight was extraordinary!" says Ramsay,"Best service so far in Hell's Kitchen."
8:47 p.m. Even though they did a phenomenal job, the four are sent upstairs to decide which two will go up for elimination. "Man, I'm actally getting a heart now," says Jen. Petrozza fires back to the camera: "You cold bitch, you finally have a heart? Why? Because you know your ass is going on the chopping block? That's why you feel like you have a heart? Or you're just full of shit."
8:49 p.m. After the group decides to put two names in a hat each, without voting twice, Jen breaks the rules and puts in Christina's name two times. Christina, Corey and Petroza decide to put the strongest against Jen. Petrozza volunteers. And now, an ad for the second season of Kitchen Nightmares!
8:50 p.m. Christina is called on to reveal the two. Jen is the first, the second is Corey. Corey? Ramsay looks like he might be questioning the group's motives.
8:55 p.m. "I am a valuable asset to the team behind me," says Corey. Jen says, "You can feel my passion in the kitchen." Her passion isn't enough, and Jen is (finally!) sent home.
8:56 p.m. "Keep your head up high: You grew, you matured, and you listened," Ramsay tells Jen. She also lied, cheated and lied some more. Although she was my favorite in the beginning, she really turned out to be a horrible teammate. On her way out she says, "I need to improve on my attitude." Uh, you think?
8:58 p.m. The final three rejoice! It's down to Christina, Petrozza and Corey!
Next week: Another mystery guest "floors" Petrozza and "excites" Christina. We'll count out Beyoncé and Fiddy Cent this time. Also, Christina cries, and Petrozza freaks out! This is looking more intense than a night at the neighborhood Applebee's!
-Jeanette Kozlowski