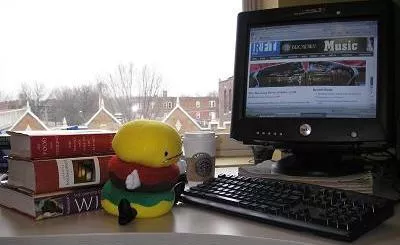 A look at what's happening at our favorite St. Louis food blogs...
The Pollacks visit the new restaurant from Vito and Michelle Racanelli, Onesto.
Strawberries, beer and a knife: Bill puts his fingers on the line for you at STL Bites.
At STL Hops, Mike has some photos from the recent beer dinner at Starrs.
More, more, more after the jump...
Edamame dip is on the menu at Karen's FamilyStyle Food.
Joe Bonwich has news of a new restaurant for Forest Park Southeast's Grove at Off the Menu.
The Cupcake Project is baking tres leches cupcakes.
The Cheesemonger's Wife names her choice for cheese of the week.
Show Me Vegan is cooking up some barbecue black beans with dark rum.
Iron Stef tries out a recipe for turkey kefta and carrot salad.
At A Veggie Venture, Alanna is making a homemade Cobb salad.
The farm bill gets a critical look from Kimberly at Adventures in Eating Locally.
Kelly gives her new ice-cream maker spin at Sounding My Barbaric Gulp.
At One Hot Stove, Nupur is making an egg curry from Goa.
Do you know a St. Louis food blog we should read? Do you write one yourself? Drop us a line.