Yes, Barack Obama is a sitting United States senator and the likely Democratic nominee for this November's presidential election, but can the man make a decent pot of chili? This isn't a question I normally ask about candidates for national office, but yesterday I read this North Coast Journal interview with Obama about his agricultural policy -- a good interview, by the way -- and at the end of the article the senator offered his recipe for chili:
I've been using this chili recipe since college and would bring it to any potluck. I can't reveal all the secrets, but if you make it right, it's just got the right amount of bite, the right amount of oomph in it and it will clear your sinuses.
After the jump I make Barack Obama's chili...
The list of ingredients is fairly standard, though I noted that one of Obama's "secrets" must be salt because the list omits that. I salted the ground beef when I browned it and, later, added a little more salt to taste. In addition, Obama doesn't specify a heat level for the chile powder, but I split the tablespoon, half medium chili powder, half hot (both from Penzey's).
Ingredients 1 large onion, chopped 1 green pepper, chopped Several cloves of garlic, chopped 1 tablespoon olive oil 1 pound ground turkey or beef 1/4 teaspoon ground cumin 1/4 teaspoon ground oregano 1/4 teaspoon ground turmeric 1/4 teaspoon ground basil 1 tablespoon chili powder 3 tablespoons red wine vinegar Several tomatoes, depending on size, chopped 1 can red kidney beans
Sauté onions, green pepper and garlic in olive oil until soft.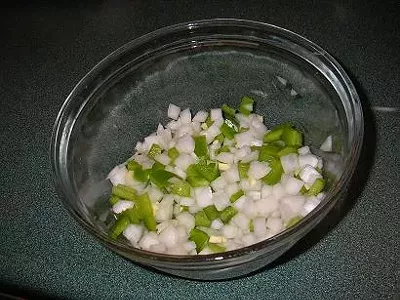 Add ground meat and brown.
Combine spices together into a mixture, then add to ground meat.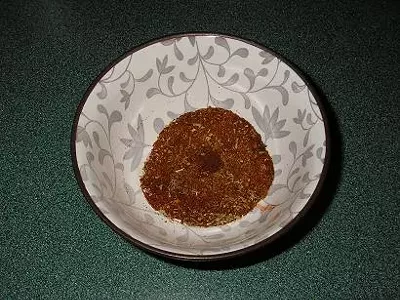 Add red wine vinegar. Add tomatoes and let simmer until tomatoes cook down.
The "simmer until tomatoes cook down" seemed open to interpretation, so I simmered the chili on very low heat for exactly 2 hours. Not coincidentally, that was the exact length of last night's Lost season finale. I'll be back once I learn who's in that damn coffin...
...And now, my mind sufficiently blown, I return to the chili.
Add kidney beans and cook for a few more minutes. Serve over white or brown rice. Garnish with grated cheddar cheese, onions and sour cream.
I skipped the sour cream and onions. I did, however, serve the chili over rice, which isn't something I usually do.
The result? It was pretty good chili. Given the relatively small amounts of spices, the tomato, beef and bean flavors dominated, with a nice bite from the cumin and pepper and a little red-wine-vinegar tartness. Still, even with half a tablespoon of hot chili powder, I found the heat more mild than I like, so I added some of Penzey's "very hot" chile-pepper flakes to mine. I'm still a no-rice chili guy, but it went well with Senator Obama's version.
Were I to make it again, I'd definitely up the heat and the amounts of the other spices -- the cumin and hot chili powder especially. I think that's a change we can all believe in.
Photo of Barack Obama: www.imprintmagazine.org
Recipe: North Coast Journal