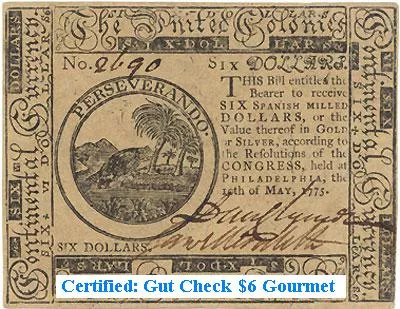 Here's something you might not have known: Among his many, many other accomplishments, Benjamin Franklin designed currency. On this site you can see his designs for coins and $1, $2 and $6 bills.
In honor of Franklin's indomitable inventiveness -- and with an eye on those ever-rising food costs -- I'm pleased to introduce Gut Check's $6 Gourmet. Details after the jump.
Consider the Gut Check $6 Gourmet a seal of approval: When you see the $6 Gourmet graphic next to the mention of a specific dish -- as it appears next to this paragraph -- it means I or one of my colleagues believes this dish is delicious, satisfying and an incredible value.
It might be a whole meal (think about my well-documented love for tacos al pastor from La Vallesana), or it might be a side dish or appetizer from a higher-end restaurant. It might be something I haven't considered yet.
Whatever the dish is, it will set you back no more than $6 (give or take a few cents). Look for the first appearance of the $6 Gourmet next week.