Jeanette Kozlowski returns to review the new season of Hell's Kitchen, starring her favorite bad-boy chef, Gordon Ramsay.
8:05 p.m. Will Matt go this week? Or will he play nicer with the ladies? From the previews, it looks like Ben might be the one in hot water. But as you know, FOX's previews are consistently deceiving.
8:07 p.m. Is Matt sleeping in the same room as the girls, too? Now *that* might be interesting! "He is a nut-job; the girls don't even have an inkling about what he's like," says Ben.
8:08 p.m. OMFG! Chef Ramsay is a man after my own vegetarian heart. He gives the chefs three dishes made with soy protein -- only he leaves out this fact. He asks the 12 chefs to point out the missing ingredient. And not a single one can tell that the chicken and beef aren't actually chicken and beef! "He must've got it from a damn good vegetarian store," Ben says.
After the jump, blind taste tests and spa day...
8:12 p.m. Rosann and Petrozza go head to head in a blind-folded tasting contest. Petrozza thinks nectarine is a pineapple and a sweet potato was a turnip. Yikes.
8:13 p.m. Neither Corey nor Louross can identify meatloaf or watercress. Christina goes against Bobby: They both miss shrimp; Christina gets the radish (Bobby guesses parsnip). As for the chopped truffle, it takes less than ten seconds to register with Christina, while Bobby gets it wrong when he thinks its a mushroom.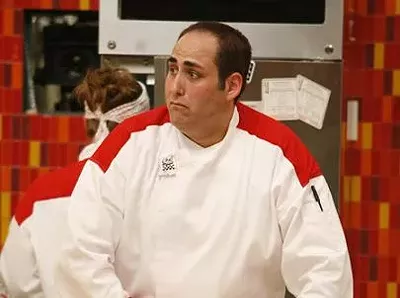 8:14 p.m. Yankees versus Red Sox = Matt verses Ben? Hah. Ramsay must be joking. His challenge for the two turns out to be guessing all the ingredients in a dish. Matt takes off and lists so many correctly that he wins it for the ladies. "I'm pissed off right now, and I don't really want to talk about Matt," Ben replies.
8:21 p.m. The boys must clean while the ladies get "amazing massages, manicures and pedicures" out on the patio. "There was like women's hair ... somebody was losing a lot of hair in the bathroom," Petrozza complains as he scrubs down the girls' restroom.
8:23 p.m. Yes, the women are much more accepting to Matt after he won them a free spa day. Now let's see how dinner service goes. The blue team realizes that if Matt works better with the ladies, it will show how utterly stupid they are. "I need redemption," Matt says under his breath. Damn right, you do.
8:30 p.m. And dinner service is off! "No answer from Ben! He's more laid back than an ironing board," Ramsay shouts. Meanwhile, Rosann messes up the scallops for the red team.
8:32 p.m. Louross screws the blue kitchen by taking too long with the appetizers, while the women (and man) are already moving on to entrees. C'mon, Louross! You can do it!
8:33 p.m. Jen takes a verbal bitch-slapping from Ramsay when she calls out orders. This infuriates Gordon, and he gives both Rosann and Jen more trouble.
8:36 p.m. His rage turns to the blue kitchen, where he harps on Ben for not moving quickly or communicating properly. He calls Ben a "sad excuse" and says something about "snapping" him. Dang! Maybe Ben is the weakest link, and Matt had a right to incessantly whine all last week.
8:39 p.m. Christina gets a boost from Ramsay when he tells her the beef is "perfectly cooked." She says thanks one to many times, and the British chef then snaps at her: "But you've got 20 more to go!"
8:41 p.m. Ramsay tells Matt his risotto is flawless. Matt is genuinely shocked. He goes as far as making an Oscar-worthy acceptance speech. He might be an easy target for ridicule but mopey Matt is growing on me!
8:43 p.m. "He gets you all fluster-fucked, and you don't know what you are doing," Ben says of Ramsay's tactics. Hey, Ben, maybe Ramsay just sees right through your bullshit and wants to turn up the heat!
8:44 p.m. Ramsay returns to Jen and Rosann, both still failing at their stations. Out of pure anger, Ramsay chucks a tray onto Jen's veggie station. Jen says, "Then for him to throw a tray on my station, like I'm a dog or something." Man, he's even shaking up her nerves tonight. She is usually unstoppable.
8:46 p.m. In the blue kitchen, someone is guilty of sending out meat that is well-done. Ramsay kicks Ben completely out of the kitchen and then shuts it down. Truly, Matt is loving this. He can't contain his smiles and giggles when Gordon publicly berates Ben.
8:51 p.m. "Tonight we were overconfident, lazy, slow..." Ramsay says of the service. "There was one chef that bounced back: Matt. The losing team is the men -- I've had enough!" The boys are sent back to each nominate someone to leave.
8:52 p.m. First, Ben says he will offer himself on the chopping block if everyone else votes for themselves. "I feel like Ben is playing everyone for a fool," Louross says. When Louross doesn't cooperate, Ben tries to get everyone to eliminate Louross. That is too low!
8:54 p.m. Louross nominates Ben. Ben nominates Louross. "You've certainly got it in for that little guy," says Ramsay to Ben. Bobby nominates Petrozza. "I don't think his heart is in it," he says. Petrozza nominates ... commercial break ...
8:58 p.m. Himself. "Your level of maturity stands out," Ramsay says of Petrozza's selfless act. Alas, Ramsay chooses the correct person to leave. He sends Ben home.
Next week: One woman switches sides. And someone says: "Corey is a manipulative ass bitch." Aw, shit! This show definitely needs some more Jerry Springer-esque chair throwing and cat fighting.
-Jeanette Kozlowski
Photos: www.fox.com