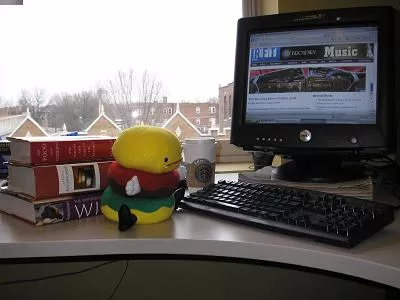 A look at what's happening at our favorite St. Louis food blogs...
Meet Kimberly: Her Adventures in Eating Locally blog chronicles her participation in a CSA (community supported agriculture) program.
The Pollacks file a review on Bartolino's Osteria.
At STL Hops, Mike reports on the release party for the new O'Fallon Pappy Van Winkle Smoked Porter.
Is there more after the jump? You betcha.
Tips on making your own salad dressing from Alanna at A Veggie Venture.
At One Hot Stove, Nupur is making taquitos.
The Cheesemonger's Wife reports on her visit to Berger Bluff Farm.
At STL Bites, Bill has a few things to say about this supermarket fruit display.
Kelly has fried morels -- yum -- on the menu at Sounding My Barbaric Gulp.
Apricot cupcakes with almond-butter frosting? Where else but The Cupcake Project?
Miss Food Snob takes a look at cereal from Mom's Best Naturals.
What are bratchos? Learn the answer from Iron Stef.
At FamilyStyle Food, Karen is mixing up some rosemary lemon-ginger vodka spritzers.
Do you know a St. Louis food blog we should read? Do you write one yourself? Drop us a line.