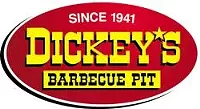 www.bizfranchise.com
I visit too many restaurants to cover in the print version of the RFT. From time to time I'll share my thoughts on these visits in briefer, less formal blog-exclusive reviews.
Dickey's Barbecue Pit has three barbecue sauces. The original is sweet, with a slightly peppery finish -- not enough so to overcome the sweetness. The "hot" sauce seems like the original with hot pepper flakes added. The third is the "sweet" sauce. I didn't bother to try it. I don't like sweet sauces very much, and, frankly, it scared me to think the original sauce wasn't the sweet sauce.
Dickey's is a chain with locations in two dozen states. I visited the location in Olivette, one of four planned locations in the St. Louis area. The set-up is fast-casual: order, take a number to a table and wait (not very long, on my visits).
On my first visit I had a pulled-pork sandwich. This came with a small cup of the original sauce. The pork was tender but lacked a distinctive smoked flavor. As I said above, the sauce was too sweet. The sandwich came with two sides. I opted for the jalapeño beans, moderately hot and I suppose the best thing I ate at Dickey's, and rubbery, generic mac & cheese, which I didn't even finish.
I have to admit: I didn't want to try Dickey's again. It was one of the few times I have to remind myself that this is, in fact, a job. So I returned and ordered the rib plate, which came with two sides and a slice of moist but not very flavorful cornbread. The plate brought roughly half a rack of ribs and came pre-sliced into individual ribs. The ribs had a light basting of the original sauce, though I ended up using the hot sauce to counter the sweetness somewhat. The meat wasn't tender and, like the pulled pork, without much flavor.
My sides were once again hit-or-miss. Waffle fries were crisp and nicely salty, but I hated the green beans -- the flat "Italian" kind, cooked to death. These were supposed to be served with bacon, though the few pieces of meat in mine looked and tasted like smoked sausage.
Dickey's offers free soft-serve vanilla ice cream. Are you asking why it happens to be free? If not, you should.
Dickey's Barbecue Pit 9200 Olive Boulevard Olivette 314-993-9933 $