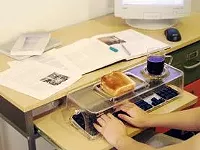 www.techpaedia.com
A look at what's happening at some of our favorite St. Louis food blogs.
My review not enough for you? Mike shares on Tigín's beer menu at STL Hops.
The Cheesemonger's Wife has the skinny on some very expensive pork.
The Cupcake Project promises cupcakes that are better than sex.
At STL Bites, Bill wonders what the worst thing you've ever eaten is -- and then opens the forum to your answers.
The Pollacks visit the new Thai restaurant Land of Smile.
At Sounding My Barbaric Gulp, Kelly overcomes her hatred of beef stroganoff.
French bread is Mandy's challenge at Fresh from the Oven.
Karen wants your help organizing her spice cabinet at FamilyStyle Food.
Iron Stef improvises on Nigella's recipe for chicken cacciatore.
Nupur dishes up burji, an Indian egg dish, at One Hot Stove.
Alanna has carrot dip on the menu at A Veggie Venture.
Bruno's Dream is baking biscotti.
That's all for this week. Next week: Mexican food like Mom used to make. If my mom were Mexican. Which she's not.
Have a great weekend. Enjoy the weather. Eat something good.