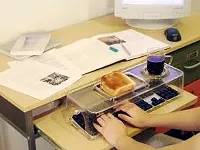 www.techpaedia.com
A look at what's happening at some of our favorite St. Louis food blogs.
Go say hello to the Cupcake Project!
Bill leads STL Bites into a new realm of consumer advocacy with a review of Araka's restrooms.
A Veggie Venture has a recipe for your Super Bowl party.
Karen has a recipe for turkey meatballs with cilantro at FamilyStyle Food.
Iron Stef hosts a shrimp-and-polenta throwdown.
Kelly tackles one of Julia Child's favorites: boeuf bourguignon.
Bruno takes us inside a St. Louis food bloggers' workshop on pie crusts.
At One Hot Stove, Nupur is cooking up suralichi wadi.
The Cheesemonger's Wife picks her cheesemaker of the week.
At STL Hops, Mike details why he loves the beer menu at Erato in Edwardsville.
The Pollacks pay a visit to Peppertini's Piano Bar and Grill.
Whew! This list is getting long. Still, if I've missed your blog, let me know!
I'm checking out early this week. Next week: High-end Mexican in the Grove.
Have a great weekend. Eat something good.