My review of the Indian restaurant Rasoi is now available online. Click here to read.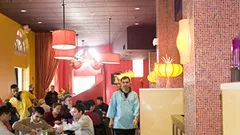 Rasoi - Photo: Jennifer Silverberg
Also in this week's issue: Malcolm revisits food scares past while trying to keep down Fish-Cheese Sausage, while Kristie is feeling biblical over a carafe of Oak Vineyards cabernet.
And! Meet the newest members of my fan club.