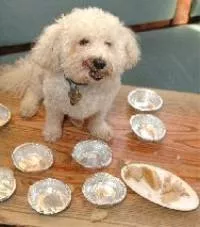 www.lep.co.uk
Have we really given Charlie, the pie-eating dog, the credit he deserves? Have any of us ever tried to disrupt an eating contest? Doubtful. Time and again we've turned our backs on these disgusting displays of soulless gorging, content with the knowledge that at least we understand the pleasure of savoring good food.
But then along comes Charlie to strip away our smug façades and teach us this simple lesson: Stopping eating contests is as easy as pie.
Yes, I am stalling. No, there really isn't much news today.
A controversial plan to ban new fast-food joints in South Los Angeles moves forward. (L.A. Daily News)
Wait! Are you telling me new snack foods from major food producers that claim to contain real fruits and vegetables might not be all that good for me? I am shocked. Shocked. (MSNBC)