A new feature in which Gut Check reviews new(ish) food- and drink-related books.
www.gloucesterbooks.com
A book I should have mentioned in Monday's review of The Whale Warriors is Hooked: Pirates, Poaching and the Perfect Fish by G. Bruce Knecht. I read this at the beginning of the year -- it was published in 2006; it's now available in paperback -- so I won't attempt to offer an in-depth review, just some thoughts.
As the title might suggest, Hooked makes a nice companion piece to The Whale Warriors. The narrative is quite similar, though in Hooked the legal issues are more or less clear cut: pirates violating maritime laws are pursued by Australian authorities.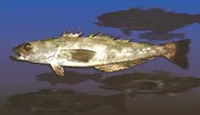 www.environment.gov.au
The "perfect fish" in question is the Patagonian toothfish (a.k.a. Chilean sea bass, its unofficial but menu-friendly moniker). Knecht alternates the story of the Australian's pursuit of the pirates with a history of the Patagonian toothfish's rise from junk fish to sought-after food item -- and its even more rapid descent into near-extinction.
The chapters on the Patagonian toothfish will be of special interest to foodies. While the chase story is certainly interesting, Knecht (unlike Peter Heller) wasn't present for the chase, and his writing sometimes lags. The reconstructed dialogue, especially, is clumsy. Still, Hooked is a good read and, like The Whale Warriors and The End of the Line, a necessary look at the harm that the world's seemingly insatiable appetite for seafood is doing to ecosystems.