In his exhaustive cookbook-slash-history Thai Food, David Thompson describes the massaman (or mussaman) style of curry as "the most complex, time-consuming Thai curry to make; it is also the most delicious."
A Thai mussaman curry is oily and highly seasoned with tamarind and sugar. ...The most common version uses chicken or beef with potatoes and onions, but I have come across many variations, including duck with pieces of pineapple..., beef with white radish and even freshwater fish with long eggplants. ...A starchy vegetable - potato, sweet potato, white radish - is a necessary component.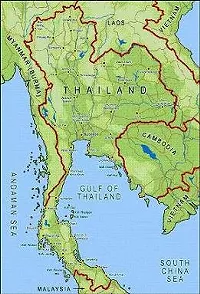 www.visit-thailand.info
Thompson's own recipe calls for chicken, potatoes, shallots, coconut milk, Thai cardamom pods, peanuts, bay leaves, coconut cream, palm sugar, fish sauce, tamarind water and pineapple juice. It also requires a curry paste made of red chiles, shallot, garlic, galangal, lemongrass, coriander root, salt, peanuts, coriander seeds, cumin seeds, cloves, nutmeg, mace, cassia bark and Thai cardamom pods.
"It should taste sweet, sour and salty," Thompson advises.
I picked up Thompson's book -- one of the most beautiful (and heaviest) cookbooks I've ever seen - partly because I couldn't stop thinking about a massaman curry I'd had a few months earlier at Thai Café (6170 Delmar Boulevard).
That massaman curry was like eating chicken and potatoes in a peanut-butter sauce. It was sweet with coconut, but that was the only not-peanut-butter-like note. I'd asked for it to be served "hot," and I thought I saw my server note two stars beside my order on her pad, but the dish barely flickered.
I was fairly certain this wasn't how a massaman curry should taste. Yet I hestitated to associate it with some general failing on Thai Café's part. During that same meal, I'd enjoyed a cup of excellent tom yum goong (shrimp, lemongrass, galangal, Kaffir lime leaves and red chile), the soup's balance of hot and sour ideal.
Not long ago I stopped at Tha Gai Yang Café (6250 Delmar Boulevard) and ordered massaman curry. I knew this would be hot even before I took a bite: Red chile flecks were scattered across the sauce. And while the curry had definite cocount and peanut flavors, neither dominated. I'm not sure I noticed the sourness Thompson dictates, but there was a definite fruity undertone to the dish - if not tamarind or pineapple (or both), something very similar.
But when I returned to my office and opened Thai Food to Thompson's massaman recipe, I couldn't help but think I'd missed something. Or maybe this massaman curry, too, had been lacking somehow. It had been tasty, yes, and well balanced, but it hadn't seemed as complex as Thompson's recipe might suggest.
Now, I was already mystified that the curries from Thai Café and Thai Gai Yang Café had been so different from one another simply because the two restaurants have the same owner. More broadly, though, I was mystified by what I should be seeking from this dish. What, exactly, is complexity? How do you know it? Can you understand Thai cuisine - or any other relatively unfamiliar cuisine - without answering those questions first?
What I hope to do over the next few months (or longer) is to explore these questions by visiting different Thai restaurants, trying to make Thai recipes on my own and - well, I'm not sure what else. This is an experiment, you see. But it's exactly the sort of thing I had in mind when we decided to launch Gut Check as a stand-alone blog. Needless to say, your input is welcome.
I should add that I haven't picked Thai cuisine because I think it is especially confounding. I just happened to be eating Thai food when these questions occurred to me. Beats picking a cuisine out of a hat.
So: I have no idea where we'll go next or why. But I suspect that wherever we go on this trip, it will be pretty damn tasty. And hot. Bring a cold beer or two.