All too often the word Hispanic acts as little more than a thinly-veiled PC stand-in for Mexican. Fortunately, the Greater St. Louis Hispanic Festival more than lived up to its all-encompassing title. The cuisines of at least eight different countries were represented: Venezuela, Belize, Colombia, Argentina, Panama, Honduras, the Dominican Republic and two different regions of Mexico.
photo: Keegan Hamilton
Some, selling what appeared to be Ballpark Franks grilled as much by the sweltering sun as by the griddle, were not so hot. (Unlike the weather.) But others, like Panama's Pana-Rico, were -- ¿como se dice? -- awesome.
Pana-Rico was serving up freshly fried plantain chips called patacones. These are mashed neatly in a compact wooden press and fried to a consistency like thickly sliced French fries, crisp on the outside hot and soft on the inside. A sweet, mild and runny red salsa both cooled and seasoned what would be the day's appetizer.
photo: Keegan Hamilton
The Pana-Rico stand was also selling huge tamales steamed inside a banana leaf. I didn't get a chance to sample one, but they were getting rave reviews from the crowd grazing at the shaded picnic tables, particularly from the gentleman who was kind enough to let me take a picture of his.
Regretfully, I chose instead the more familiar corn-husked wrapped tamales of Michoacán. The staple of taquerias across the country, these tamales might have been okay -- had they not clearly been made about four hours earlier and left to warm in a stainless steel platter. As it stood, not even an extra-picante salsa could save them.
My second course was an arepa from the Venezuelan contingent. Arepas are equal parts pita, taco, and delectable: grilled pouches of cornmeal similar to flatbread, but with the texture of a sugar cookie and the flavor of a doughy tortilla. These were stuffed with thickly sliced, unseasoned ham and grated cheese. A giant bottle of Tapatio-brand salsa was the only condiment. The temperature of the ham, fished out of an iced-filled cooler, left something to be desired, but along with the heat of the freshly grilled pouch, it was just enough to melt the Swiss cheese and make the simple dish filling and tasty.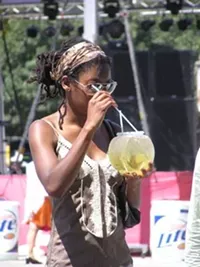 photo: Keegan Hamilton
By this point, it was around two o'clock and temperatures were approaching triple digits. Not even the free showers being offered by the St. Louis Fire Department offered adequate respite. (Jose Cuervo had a booth which was selling Margaritas in fish bowls. That was clearly the crowd's refreshment of choice.)
My saving grace, however, was the one food that is nearly universal in Hispanic cuisine -- mangoes. A cup of sliced mango, pit and all, pulled from an ice-cold cooler and drizzled with lime juice was easily the highlight of the day, giving me just enough energy to survive the Metrolink ride and walk home to my bed for a siesta.