source: www.ci.clayton.mo.us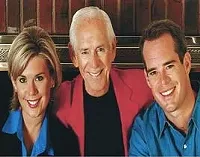 They put the J. Bucks in, um, J. Bucks.
They put the J. Bucks in, um, J. Bucks.
Please forgive Gut Check its four-day hiatus. Your host took a long weekend to visit his family in Baltimore, where a bushel of large blue crabs will set you back nearly $200. But I'm back for what promises to be a busy week.
First up, today marks the grand opening for the new J. Bucks location at 1000 Clark Street downtown. There will be a ribbon-cutting ceremony featuring Mayor Francis Slay and Joe Buck at 3:40 p.m. The new J. Bucks features a 150-seat dining room, patio and rooftop deck. Will it challenge Mike Shannon's as the postgame hotspot? Time will tell.
Also, a commenter named Dave provided some helpful info to my post about Simply Fondue. The restaurant opens daily at 4:30 p.m. In addition, I posted the restaurant's fax number. The phone number is 314-335-7377. You can also make reservations online. Mea culpa.