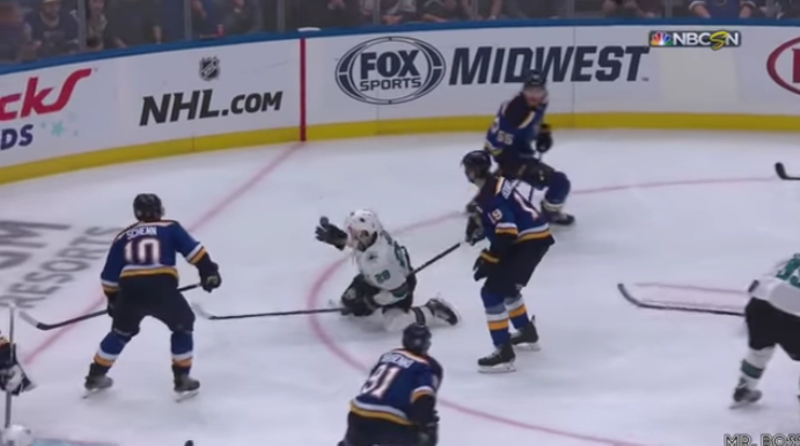 SCREENSHOT FROM THE VIDEO BELOW
Guess we're just not using sticks anymore, huh?
It was as if millions of Blues fans suddenly cried out in anger, and were suddenly silenced.
In what is sure to go down in history as one of the worst missed calls in playoff hockey, the San Jose Sharks took the win in overtime in Game 3 of the Western Conference finals last night, thanks to an illegal hand pass on the part of Sharks right wing Timo Meier.
For those living under a rock, or those so traumatized by rage that they've already blocked all memory of the incident, let's review the tape (what a novel idea!):
The offending play comes at about the ten-second mark, when Meier, number 26, dusts off his volleyball skills to simply bat the puck to his teammate Gustav Nyquist, who sets up Erik Karlsson to score. All four refs on the ice missed it, though, because apparently being able to see things with your eyes and accurately call plays is totally overrated in this profession.
NHL rules dictate that a hand pass is a non-reviewable play, so even as the stunned Enterprise Center crowd watched the illegal pass on repeat on the Jumbotron, the Sharks skated right off the ice and into their locker room with the win. Meier was even awarded an assist, which is a new level of absolute fuckery.
To put it mildly, the Blues were rightly pissed. Goalie Jordan Binnington wound up and smacked the boards with his stick. Brayden Schenn did the same. Even Blues GM Doug Armstrong got in on the action, reportedly
punching the officials' door and screaming that the blown call was "fucking garbage."
Blues captain Alex Pietrangelo went on to muse that
"there's a different set of rules for two different teams."
Blues fans were similarly apoplectic, and quickly took to Twitter to voice their outrage:
And it wasn't just Blues fans. So blatant was this one that uninvested observers and even Sharks fans themselves had to admit our boys got screwed:
Even the NHL itself knows they blew this one, with NHL Series Director Kay Whitmore
telling a pool reporter
, "It's a non-reviewable play. You can read between the lines. You can figure out what you want. You watched the video. But it's just non-reviewable. I know that sounds like a cop-out answer, but that's the truth."
In other words, absolutely everyone agrees that the Blues got the shaft, yet we are expected to just take it on the chin and move on. Cool.
It's fair to think our boys are gonna be on the warpath for Game 4 on Friday. Given no chance to respond to this injustice in Game 3, and obviously fired up, they're going to be out for blood.
I wouldn't want to be a Shark with a No. 26 on my jersey that day, in other words. Let's go Blues!