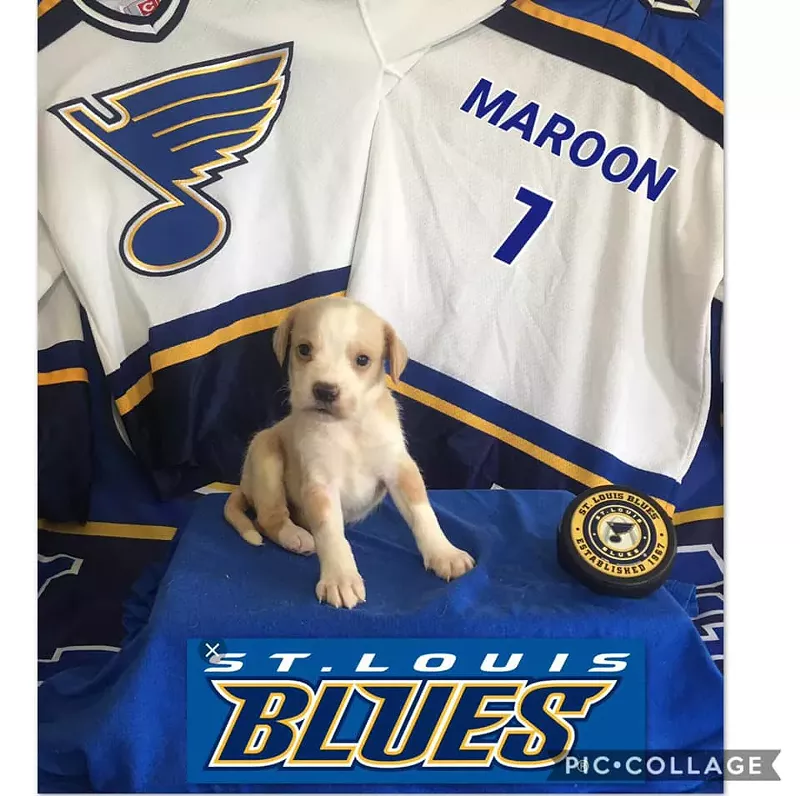 photos via Needy Paws
OMG look at baby Maroon
Local hockey fans and dog lovers should check out the little snuggle monsters who will soon be available from local rescue agency Needy Paws. A loving mother dog named Gloria has birthed a whole litter of winners, and they're all named after some of your favorite current St. Louis Blues players. (Sadly, no Brett Hull in this litter.)
Check out the wide-awake Maroon (his namesake got the Blues to the Conference Finals with a high-energy play late in OT), sleepy little Tarasenko (with five goals and one assist so far, Vladimir needs to wake up soon) and precious baby sweetheart O'Reilly (when you're the team points leader in the regular season and scoring in the playoffs, you're everybody's sweetheart).
These cuties clearly get their good looks from their mama — Gloria looks damn fine for the mother of nine newborns and her eyebrows are on fleek.
All of these sweethearts (including Gloria) will be available to adopt in just a few short weeks after the pups are weaned. Get in touch with Needy Paws via email at contact@needypaws.org or at
NeedyPaws.org
to find out more about how to adopt these little guys.
The Blues have long had a strong relationship with local rescue dogs. Former team captain Dallas Drake had "Dally's Dogs," a corner of the Blues website that promoted a dog in need of a new home. Later, team captain David Backes and his wife Kelly were even more serious about it, chartering private planes to rescue dogs and bringing a whole flock of homeless dogs back from the Sochi Olympics. They also founded
Athletes for Animals
, an organization that works to pair athletes with shelters and gives money to rescue groups.
Now you can do your part, too. For some of the biggest Blues fans in town, a post-season dog adoption will really help to prove that you bleed blue. Let's go pups and let's go Blues.
Email the author at jaime.lees@riverfronttimes.com