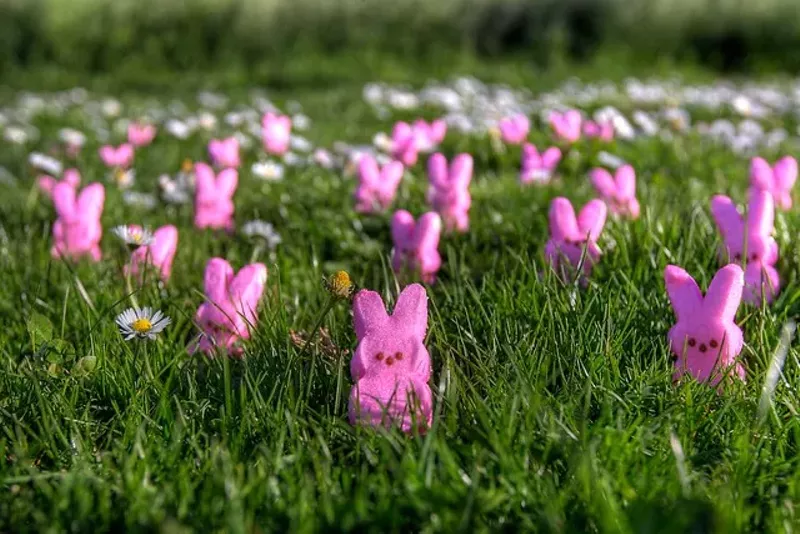 FLICKR/MAX ELMAN
There's Peeps in them thar hills.
Adult coloring books? So 2014. Onesies? Didn't we do that back in the Obama years? This year, if you want to regress to the golden days of your childhood, you'd best grab your Easter basket.
This Saturday, Wentzville's
Rotary Park
(2577 W. Meyer Road, Wentzville)
is hosting Kegs 'n Eggs — "St. Louis' largest adult egg hunt." And the 10,000 eggs hidden throughout its grounds (best known as home of the St. Louis Renaissance Festival) aren't just filled with jellybeans. That's kid stuff! At Kegs 'n Eggs, they're promising more than $50,000 in cash and prizes.
This being an adult event, they're also promising craft beer, games, food trucks and live music — and "Bud Bunny," who sounds like the Easter bunny's degenerate cousin and who promises to be around for hugs, selfies, autographs and beer.
The pre-party and registration begin at 11 a.m. tomorrow, April 27, with the hunt starting at 1 p.m. General admission is $35, but your designated driver can get in for $15 and your dog for $10. What, you weren't planning to bring Fido? Doesn't he deserve a shot at all that money .... or at least a chance to lick up all the beer you spill?
Check out
STLKegsNEggs.com
for more information.
We welcome tips and feedback. Email the author at sarah.fenske@riverfronttimes.com