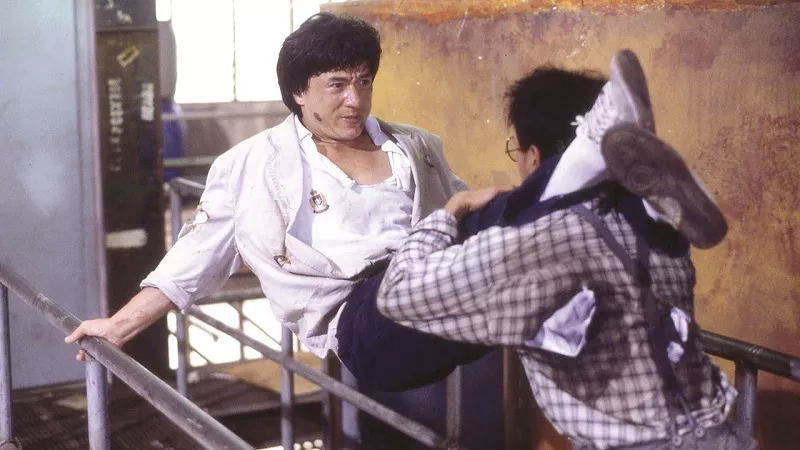 (c) GOLDEN WAY FILMS LTD.
Jackie Chan fights his way through criminals and thugs in Police Story and Police Story 2 at the Webster Film Series.
Spring weather is here in St. Louis, and with it, a whole lot to do. Here are this weekend's top picks.
1. Brothers at Arms
Austin is holed up in his mother's house, working on his screenplay, when his older brother Lee shows up. The two have neither seen each other nor spoken in a few years. A film producer may be interested in Austin's script, maybe, but Lee keeps distracting his little brother from his work. Even worse, when the producer shows up, Lee talks up his own nonexistent script, and the producer shows immediate interest. The brothers' relationship is fraught at the best of times, but if Lee thinks he's going to horn in on Austin's big break, another intra-family murder may be added to their family tally. Sam Shepard's drama
True West
is about sibling rivalry, American men and American violence, particularly the violence practiced in the semi-mythical American West. St. Louis Actors' Studio presents
True West
at 8 p.m. Thursday through Saturday and 3 p.m. Sunday (April 12 to 28) at the Gaslight Theater (358 North Boyle Avenue;
www.stlas.org
). Tickets are $30 to $35.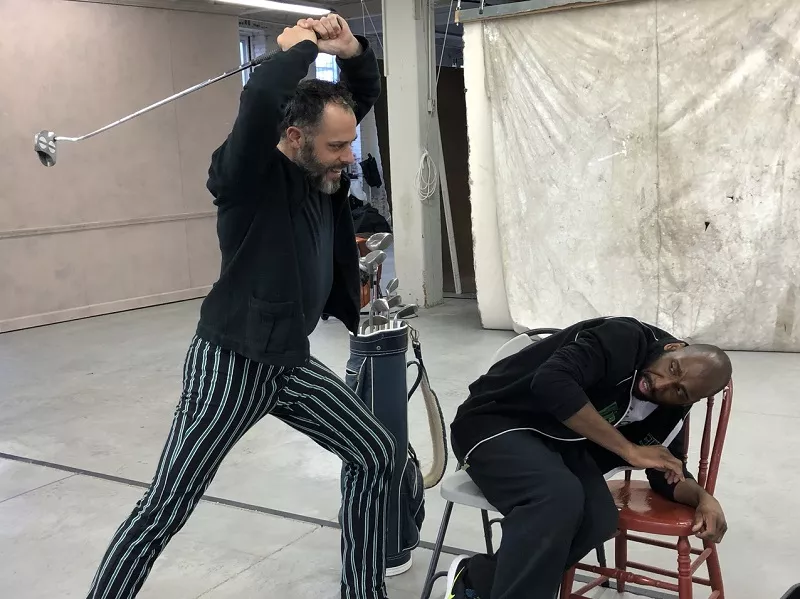 STLAS
Brothers Lee and Austin (Isaiah Di Lorenzo and William Humphrey) have a trouble relationship and Hollywood dreams.
2. Florida, Man
Pete, Barbara, Matthew and Bridget are on their way to Florida in an RV but are currently stuck in traffic. Meanwhile, Seth is supposed to be on a date but is instead in the company of some criminals, who nabbed him instead of his roommate — the guy they really want. And then there's Rudolph, a married man enjoying an affair. All of these disparate (and desperate) strangers come together in Lucas Marschke's road-trip comedy,
Florida
. The play won the 2018 A.E. Hotchner playwriting festival and makes its world premiere this weekend at Washington University's Hotchner Studio Theatre in the Malllinckrodt Center (6445 Forsyth Boulevard;
www.edison.wustl.edu
). Performances are at 8 p.m. Thursday and Friday, 2 and 8 p.m. Saturday and 2 p.m. Sunday (April 11 to 14). Tickets are $15 to $20.
3. The Great Experiment
St. Louis is a city of neighborhoods. Everyone in St. Louis has said that at some point; if there is a truth universally acknowledged in this town, it's that our many neighborhoods are our strength and civic identity. And yet, how many people in your neighborhood eat the same food, share the same values and dream the same dreams?
For James McAnally, who with his wife Brea is the cofounder of the Luminary, the neighborhood theory may be true, but it's not a unifying principal.
"William Gass wrote that 'the Midwest is a dissonance of parts and people,'" says McAnally, referencing the late St. Louis-based writer.
That idea is the inspiration for the Luminary's ambitious new project,
Counterpublic
. The three-month long artistic exploration of the many dissonances that inhabit a shared geographic area incorporates public art, installations, discussions and performances. The McAnallys and curator Katherine Simóne Reynolds chose their own home turf for this experiment: Cherokee Street, with all the many cultures and people who inhabit it.
"It's a complicated project and something that hasn't been done yet," McAnally says with just a hint of understatement. "This idea of the 'counterpublic,' it speaks to the idea [that] there are people who don't feel included in this community. A counterpublic is analogous to subculture. It comes out of queer culture and feminist writing. The framing that's most helpful for
Counterpublic
is that it's a public art festival, or a platform that is meant to activate the neighborhood."
"Counterpublic is a chance to ask ourselves, 'How do these many different voices come together, and how do we maintain an equitable development?'" James asks, not all rhetorically. "'How do we account for difference, and dissent? And how do we continue to live alongside each other while disagreeing?'"
Counterpublic
opens Saturday, April 13, with tours, talks and performances from 1 to 6 p.m. at the Luminary (2701 Cherokee Street;
www.theluminaryarts.org
). An opening-night party takes place from 8 to 11 p.m., with complimentary food from neighborhood restaurants, artist-designed galletas by Rodolfo Marron III and Diana's Bakery and live video and DJ performances. New installations, processions, performances and public programs will continue through July 13. The full schedule is available at
www.counterpublic.us
.
4. Markt It Down
Locally made craft beer comes together with local craftspeople at
Urban Chestnut's Summermarkt
. From 11 a.m. to 4 p.m. on the second Saturday of each month from April to August at Urban Chestnut's Midtown Brewery & Biergarten (3229 Washington Avenue;
www.urbanchestnut.com
), you'll find more than twenty artists and artisans selling handmade goods both inside and outside, while your hosts offer food specials and beer. You can't enjoy a fresh beer while shopping at the mall, friends — not even at the outlet mall. Vendors at the first event of the year include Rudy's Flower Truck, Blackwood Print Shop, DebFen Photography and the Indigo Home Decor Truck. Admission is free.
5. An Officer and a Daredevil

Martial-arts film legend Jackie Chan has never been afraid of a little hard work. After his second attempt to break into the American film market failed (the subpar cop movie
The Protector
is no one's favorite Chan flick), Chan returned to Hong Kong to make his own cop movie,
Police Story
. The high-action comedy busted some blocks and launched an entire movie series. This weekend the Webster Film Series presents the first two entries,
Police Story
and
Police Story 2
. Chan plays Chan Ka-Kui, a daring police officer who tries to balance a personal life with his girlfriend (Maggie Cheung) while taking down crime lord Chu Tao. Chan undertakes a series of very real, very bonkers stunts in both films, hanging off double-decker buses, sliding down towering light poles and engaging in some hairy chases. There is martial arts action a-plenty, but Chan's death-defying stunt work is the real star.
Police Story
is shown at 7:30 p.m. Friday, April 12, and
Police Story 2
is at 7:30 p.m. Sunday, April 14; both are at Webster's Moore Auditorium (470 East Lockwood Avenue;
www.webster.edu/film-series
). Tickets are $5 to $7.