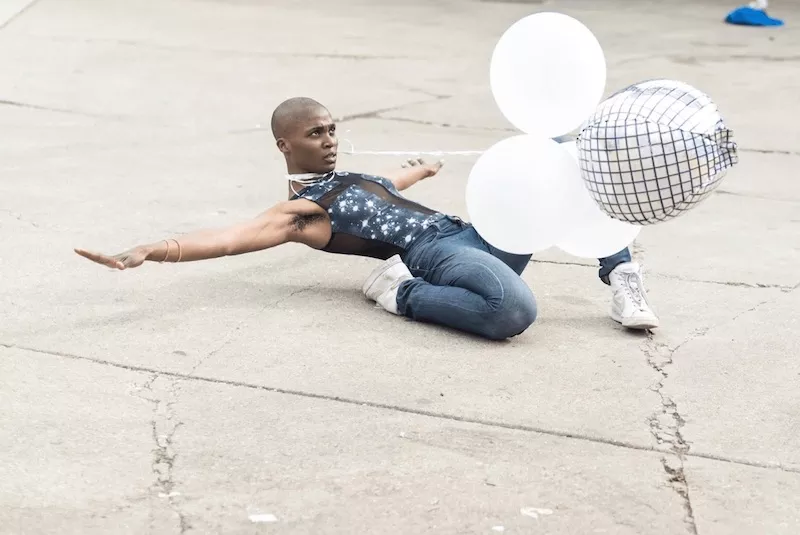 Counterpublic welcomes NIC Kay.
NIC Kay, Pushit! [Exercise 1 in Getting Well Soon], 2018, at the TBA, Portland, Oregon, 2018. Courtesy: Portland Institute for Contemporary Art. Photo by Sarah-Ji Rhee.
St. Louis is a city of neighborhoods. Everyone in St. Louis has said that at some point; if there is a truth universally acknowledged in this town, it's that our many neighborhoods are our strength and civic identity. And yet, how many people in your neighborhood eat the same food, share the same values and dream the same dreams? For James McAnally, who with his wife Brea is the co-founder of The Luminary, the neighborhood theory may be true, but it's not a unifying principal.
"William Gass wrote that 'the Midwest is a dissonance of parts and people,'" says McAnally, referencing the late St. Louis-based writer.
That idea is the inspiration for The Luminary's ambitious new project,
Counterpublic
. The three-month long artistic exploration of the many dissonances that inhabit a shared geographic area incorporates public art, installations, discussions and performances. The McAnallys and curator Katherine Simóne Reynolds chose their own home turf for this experiment: Cherokee Street, with all the many cultures and people who inhabit it.
"It's a complicated project and something that hasn't been done yet," McAnally says with just a hint of understatement. "This idea of the 'counterpublic,' it speaks to the idea [that] there are people who don't feel included in this community. A counterpublic is analogous to subculture. It comes out of queer culture and feminist writing. The framing that's most helpful for
Counterpublic
is that it's a public art festival, or a platform that is meant to activate the neighborhood."
Cauleen Smith, Sojourner (production still), 2018. Courtesy of Corbett vs Dempsey, Chicago and Kate Werble, NYC.
Artist Cauleen Smith's work will be featured at the Luminary's Counterpublic.
McAnally is quick to note that Cherokee isn't simply one neighborhood. The street crosses through four different ones on official city maps — Tower Grove East, Benton Park West, Marine Villa and Gravois Park — as well as two different aldermanic wards.
"Cherokee is the Latinx community, it's majority African American, it's eclectic and diverse," explains McAnally. "What do all of these groups have to say to each other? How can we keep the neighborhood together?
Counterpublic
is meant to activate the neighborhood — all of it, every group."
To do so successfully, the McAnallys began by talking to representatives of each division and explaining the plan and seeking partnerships.
"It was important to us early on to involve the business community, the Latinx community, all of these groups," McAnally says. "We have twenty permanent exhibitions throughout the project, from both local and national artists who come from the cultures found in Cherokee. We invited several Indigenous artists — we call it 'Cherokee' casually, but what does that really mean?"
Counterpublic
encompasses many parts, people and ideas, all coming together to facilitate a free exchange of ideas. The plan is for
Counterpublic
to be a triennial festival that moves to a new neighborhood with each new iteration, but it's not at all an attempt to pigeonhole or homogenize any community. The dissonance is vital, and in the case of the inaugural production, deeply personal for the McAnallys.
"
Counterpublic
is a chance to ask ourselves, 'How do these many different voices come together, and how do we maintain an equitable development?'" James asks, not all rhetorically. "'How do we account for difference, and dissent? And how do we continue to live alongside each other while disagreeing?'"
Counterpublic
opens Saturday, April 13, with tours, talks and performances from 1 to 6 p.m. at
The Luminary
(2701 Cherokee Street; www.theluminaryarts.org)
. An opening-night party takes place from 8 to 11 p.m., with complimentary food from neighborhood restaurants, artist-designed galletas by Rodolfo Marron III and Diana's Bakery and live video and DJ performances. New installations, processions, performances and public programs will continue through July 13. The full schedule is available at
www.counterpublic.us
.
Azikiwe Mohammed, Installation view of "Azikiwe Mohammed: Jimmy's Thrift of New Davonhaime" at Knockdown Center, 2017. Image courtesy of the artist.