SPENCER PERNIKOFF
Schlafly's Stout & Oyster Festival is the briny feast of your dreams.
Congratulations to everyone who survived another St. Louis winter. Now you may reap the rewards of spring, which this week includes the first big bicycle race of the year, the winding down of regular season hockey (and the nightmare playoff scenarios) and an outdoor food fest that pairs beer and seafood.
1. Pharaoh Down

In his sonnet "Ozymandias," Percy Bysshe Shelley describes the legs of an epic statue in the desert wastelands, its ruined face lying "half sunk" in the sand. The inscription on the pedestal reads, "My name is Ozymandias, King of Kings; Look on my Works, ye Mighty, and despair!" The poem is a meditation on time wearing away the memory of even the mightiest, and a reminder that death means forgetfulness. In truth, it may have been Ozymandias' successor who destroyed the statue upon assuming the title of pharaoh. Statues and memorial inscriptions held ritual power for the Egyptians, and it behooved the new ruler to sweep away all remnant of his or her predecessor. In the Pulitzer Arts Foundation's (3716 Washington Boulevard;
www.pulitzerarts.org
) new exhibition,
Striking Power: Iconoclasm in Ancient Egypt
, the legacies of the pharaohs Hatshepsut and Akhenaten are examined through almost 40 historical objects that are both defaced and whole. Memory and visual culture are intertwined, and the destruction of the latter can easily erase the former.
Striking Power
opens with a free reception from 6 to 9 p.m. Friday, March 22. The work remains on display through August 11.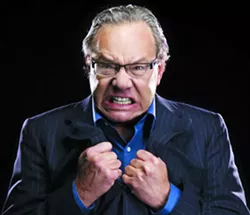 CLAY MCBRIDE
Lewis Black is mad, he's bad and he's ready to rant.
2. Black Day

Lewis Black
, the angriest man in America, returns to St. Louis for his "The Joke's on US Tour." The self-proclaimed socialist has an abiding dislike for stupidity, selfishness and mendacity, and that's practically the family motto for the current American president (the opposition party hasn't done a whole lot to distinguish itself, either). As a comedian, Black mines the horrors of such cads for bitter laughs, but this regime may be too much of a dumb thing. Rest assured, Black will break down the modern state of affairs with all the fury of someone who expects better but knows he'll never get it. Black takes the stage at 8 p.m. Friday, March 22, at the Stifel Theatre (1400 Market Street;
www.stifeltheatre.com
). Tickets are $36.50 to $72.
3. Aww, Shucks

This year marks the twentieth edition of
Schlafly's Stout & Oyster Festival
, and the craft brewery is going all out. Twenty-five professional shuckers are flying in from both coasts to serve up the 80,000 oysters necessary to feed the masses, and ten new stouts will be served to make sure those lil' devils go down easily. Stout options range from the unusual (the German Dry Hopped Stout) to the sublime (a Horseradish Stout, a S'More Stout). There will be live music throughout the event from the Provels, Hip Grease and Hazard to Ya Booty, among others. The main event is the Stout & Oyster Shuck Off, in which teams of three shuckers will have to shuck, slurp and then chug a stout, with the fastest time winning. The festival starts at 5 p.m. Friday and 11 a.m. Saturday (March 22 and 23) at the Schlafly Tap Room (2100 Locust Street;
www.schlafly.com
), and admission is free.
4. Tour de Lou

The
Tour of St. Louis
is the first big bicycle race of year — and what a way to start. Three races over two days will test cyclists' mettle and give spectators a wide range of watching options. Race one is the Wildwood Centaur Time Trial, which starts at 7:30 a.m. Saturday, March 23, at 114 North Eatherton Road, Wildwood. The eleven-mile, out-and-back course is flat and winding, and the road will be open to traffic with police monitoring the race course. The second race is the Carondelicious Circuit Race, and it starts at 9 a.m. Saturday, March 23, at 3900 Holly Hills Boulevard. It's a 1.3-mile-long course with an uphill finish. The Mike Murray Classic Criterium closes out the weekend at 9 a.m. Sunday, March 24. This is a fast, flat circuit in Forest Park that will take cyclists past the Missouri History Museum and the Muny, with the start/end point in the lower Muny parking lot. Admission for spectators is free. For more information, visit
www.bigshark.com
.
5. The Looks of Love

Asako meets the dreamy Baku at a photography exhibition and is instantly smitten with the charismatic, devil-may-care young man. He reciprocates those feelings, or at least appears to do so. Asako's friends aren't so sure about her new boyfriend; some say he's a noted heartbreaker. But Asako is deeply infatuated. Who knows how Baku feels? One day he simply disappears, and Asako is left with nothing but memories and longing. A few years later, Asako spots Baku. But is it him? The man she meets is quieter, less exciting and says his name is Ryôhei, but she could swear it's her Baku. Director Ryūsuke Hamaguchi adapted Tomoka Shibaski's novel for the film
Asako I & II
, which flips the manic-pixie dreamgirl trope on its head. The Webster Film Series presents the strange romance at 7:30 p.m. Friday through Sunday (March 22 to 24) at Webster University's Moore Auditorium (470 Edgar Road;
www.webster.edu/film-series
). Tickets are $5 to $7. Check out our full review in the film section.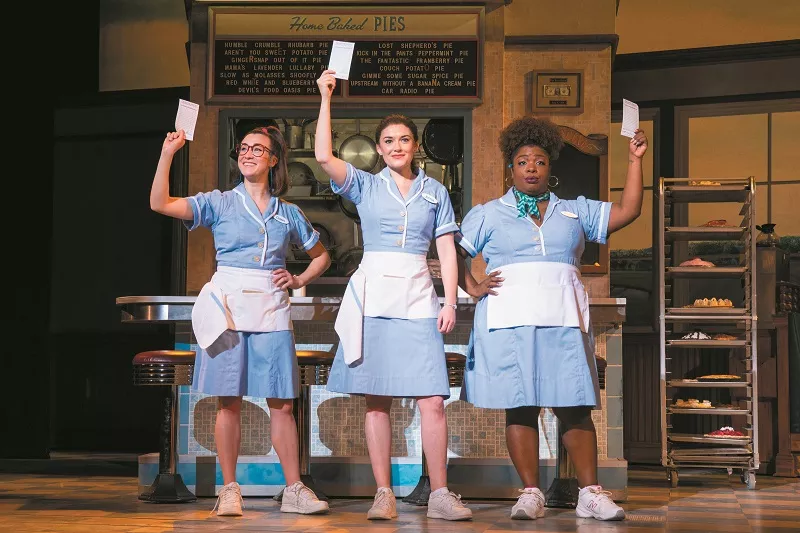 PHILICIA ENDELMAN
In the musical Waitress, Jenna has a bad marriage, an unexpected pregnancy and a gift for making pies. Can she use any of those things to transform her life?
6. The Life of Pie

Jenna has a gift for piemaking and a horrible marriage to the loutish Earl. Her friends at the diner all have their own problems, and so she does what she can — dream of a better life away from Earl and take solace in her baking. Things get worse when she discovers she's pregnant, but then improve slightly when she meets her dreamy OB/GYN, Dr. Pomatter. Jenna and the doctor have a lot in common, and before you know it they're embroiled in a steamy affair. But is an affair any way out of a marriage? Jenna pins her hopes on winning the grand prize in a baking contest and using the money to escape her small town and start over somewhere else, but life doesn't always give you what you want. The new fan-favorite musical
Waitress
is a feel-good story based on the Keri Russell film of the same name and features songs by Sara Bareilles.
Waitress
is performed Tuesday through Sunday (March 26 to April 7) at the Fox Theatre (527 North Grand Boulevard;
www.fabulousfox.com
). Tickets are $29 to $104.