MAIKE SCHULTZ
The Bouffon Glass Menajoree is an unusual spin on the classic play.
Winter is (checks several long-range forecasts) done? Mmmaybe? Ah, it's St. Louis, no one knows when winter ends. However, the weather looks decent for the next few days, so leave your bunkers and do some stuff. Your choices include a new show at the new-look Luminary, a play about a risque love triangle, an unusual take on a Tennessee Williams classic and another edition of Wall Ball.
1. Busted Glass

Bouffon is a particularly French strain of theater that mines comedy purely from mockery. It's influenced by low-culture burlesque and high-culture commedia dell'arte, and in the hands of New York company Ten Directions, bouffon has been honed to a very sharp point. Local theatrical ensemble YoungLiars brings Ten Directions to St. Louis for a weekend run of
Bouffon Glass Menajoree
, an interactive parody of Tennessee Williams'
The Glass Menagerie
. Tom, Amanda and Lauren Wingfield are a perverse family of white-trash anti-clowns. Each night they welcome a new gentleman caller, to be played by a member of the audience. The show is not recommended for young audiences. The
Bouffon Glass Menajoree
is performed at 8 p.m. Thursday through Saturday (March 7 to 9) at the Centene Center for Arts and Education. Tickets are $20.
2. Dig It

The Luminary (2701 Cherokee Street;
www.theluminaryarts.com
) reopens after its winter break with a new group show that explores both the reconfigured gallery space and the idea of an exhibition itself.
Freedom in a Platform
is inspired by the Diggers, a seventeenth-century movement that advocated for economic equality by farming on common land rather than privately owned acreage. The artists showing work in
Freedom in a Platform
will repurpose the gallery and how it's used, with performances, a rotating end date that sees pieces move throughout the gallery, and pieces that will disappear from the exhibition and perhaps later return. Sage Dawson, Ohad Meromi, Marina Peng and OOIEE all have work in the show, which opens with a free reception from 7 to 10 p.m. Friday, March 8.
SAGE DAWSON
One North, Topping Out Day, Mixed Media Collagraph on Fabric, 2019, part of the Luminary's new exhibit, Freedom in a Platform.
3. Off the Wall
Now one of St. Louis' longest-running art parties,
Wall Ball
returns for another year of fresh art for a good cause. More than 30 artists donate their time and talent for the benefit of Artscope, a nonprofit organization that teaches creativity and art to St. Louis youth. The volunteer artists will create live art before your very eyes from 7 to 10:30 p.m. Saturday, March 9, at Third Degree Glass Factory (5200 Delmar Boulevard;
www.artscopestl.org
). Patrons will place a bid on the piece (or pieces) they like, with the winning bidder going home with the finished piece. Music is provided by 18andcounting, there's a cash bar and light refreshments, and proceeds help foster and train the next generation of homegrown artists. Admission to Wall Ball is $40 to $70.
4. Only Connect

English novelist E.M. Forster wrote six novels in his long life, each driven by his belief in the primacy of genuine human connection in a world divided by matters of class and social strictures. In Scott C. Sickles' new drama
Nonsense and Beauty
, Forster's own relationships take center stage. The play is inspired by Forster's long-term relationship with much-younger, married police officer Bob Buckingham. Forster introduced both Buckingham and his wife to his social circle, in the process embarking on a love triangle that endured four decades, from 1930 to Forster's death in 1970. The Repertory Theatre St. Louis presents the world premiere of
Nonsense and Beauty
Tuesday through Sunday (March 8 to 24) at the Loretto-Hilton Center (130 Edgar Road;
www.repstl.org
). Tickets are $46 to $71.
5. A Woman Galled

The high priestess of the Gauls is playing a dangerous game these days. Although Norma is no longer having an affair with Pollione, leader of the enemy Romans, she wants him back; they have two children together, after all. But the Gauls are on the verge of open war with their Roman oppressors, and Norma is supposed to remain chaste to interpret the will of the gods. As for Pollione, he has transferred his affections to the young priestess Adalgisa. When Norma learns the truth of Pollione's faithlessness, she's not certain whom to strike out at first. Vincenzo Bellini's bel canto opera
Norma
is the tragic tale of a woman scorned, another woman deceived and the race to do the right thing before the innocent pay for the crimes of the guilty. Winter Opera Saint Louis perform the mournful classic at 7:30 p.m. Friday and 3 p.m. Sunday (March 8 and 10) at the Skip Viragh Center (425 South Lindbergh Boulevard;
www.winteroperastl.org
). Tickets are $35 to $55.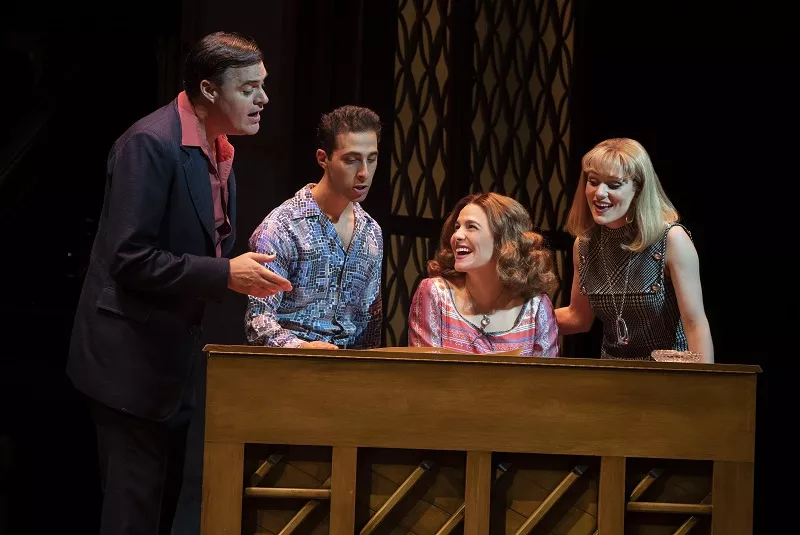 JOAN MARCUS
Carole King wrote some songs, made some friends and lost some friends, but it was all part of the tapestry of her life — and it makes an interesting musical, too.
6. Queen King

Although her musical talents were obvious from an early age, Carole King harbored no dreams about stardom. Playing the piano and writing songs were dream enough for her. King's creative partnership with fellow budding songwriter Gerry Goffin led to early success, and then a romantic partnership that was less successful. King turned young love, failed love and new love into the soundtrack of the late '60s and early '70s, first for artists as diverse as the Shirelles, Aretha Franklin and the Monkees, and later for herself with her best-selling solo album
Tapestry
.
Beautiful: The Carole King Musical
tells King's story with the songs she and her creative partners wrote. The show returns to St. Louis for a brief run of shows at the Fox Theatre (527 North Grand Boulevard;
www.fabulousfox.com
). Performances are Tuesday through Sunday (March 12 to 17), and tickets are $29 to $125.
7. Bottoms Up
Nick and Nigel Bottom are having a tough time keeping their theater company afloat. The theater-mad English public is enamored with their main competitor, Shakespeare, and less thrilled by the works of the brothers Bottom. They're on the outs with their patron, Nick's wife Bea is tired of him blowing through their meager savings, and no matter what kind of show they come up with, "the Bard" beats them to the punch with a similar production. Desperate for a hit, Nigel pays a soothsayer for a peek at the future to see what the next big thing will be, and discovers it's going to be something called "a musical." Yes, this could work in the Bottoms' favor. Written by real-life brothers Wayne and Karey Kirkpatrick,
Something Rotten!
is a musical about low-rent dreamers, the works of Shakespeare and the invention of a new art form. The Broadway hit is performed at 7:30 p.m. Wednesday, March 13, at the Stifel Theatre (1400 Market Street;
www.stifeltheatre.com
). Tickets are $35 to $85.