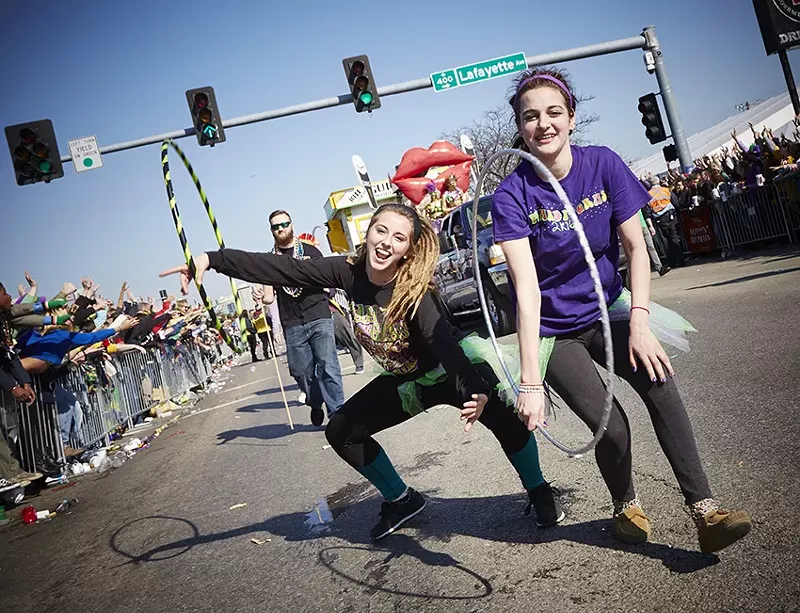 STEVE TRUESDELL
Shiver your ass off at this year's Mardi Gras celebration.
Winter has returned to kick St. Louis in the teeth one more time, but cold weather and a snow forecast is not enough to keep the party hounds from running through Soulard this Saturday. Mardi Gras is the Super Bowl of raging, and respect must be paid. Once you've puked and rallied, maybe check out a classic musical French farce, or take in the new art at Laumeier, or perhaps rock out with your tongue out at the Fox.
1. Marriage Is for the Birds

A wedding should be a happy affair that joins two families, but such is not always the case. Georges dreads meeting his future in-laws. The father of the bride is not just a prominent man; he's a prominent conservative politician with traditional values. And Georges and his spouse Albin are not just gay, but rapturously and proudly so. Together they own a notorious St. Tropez nightclub, and Albin's drag alter ego Zaza is the star of the show. How is poor Georges going to get through this first meeting without causing problems for their son, Jean-Michel, and how will he keep Albin away for the night? Even more alarming, what's Albin going to do if he finds out? Jerry Herman and Harvey Fierstein's musical
La Cage aux Folles
is a hilarious and honest look at family values and the sacrifices parents make for their children. New Line Theatre presents the show at 8 p.m. Thursday through Saturday (February 28 to March 23) at the Marcelle Theater (3310 Samuel Shepard Drive;
www.newlinetheatre.com
). Tickets are $20 to $30.
2. The Well of Memory

Lisa Kron intends to address an audience on the twinned issues of health and illness. In the lived-in front room of her childhood home, she attempts to discuss the nature of a malady she believes runs in her family, and the changing demographics of the neighborhood in which she grew up. Lisa does not intend for her mother, who suffers from the family disease and was instrumental in reshaping the neighborhood, to have much bearing on the telling. But Ann Kron is not going to sit there and quietly observe as her daughter fudges facts and alters the past, even if it's in the interests of making a better play. The playwright Lisa Kron describes her show
Well
as a "theatrical exploration," and what it explores in both form and content are the strangely shifting grounds of memory. Two people may remember the same incident, but rarely in the same way. Mustard Seed Theatre presents
Well
at 8 p.m. Thursday through Saturday and 2 p.m. Sunday (March 1 to 17) at the Fontbonne University Fine Arts Theatre (6800 Wydown Boulevard;
www.mustardseedtheatre.com
). Tickets are $15 to $35.
3. Big Dreams, Bigger Hair
In 1987, Los Angeles' Sunset Strip was the place to be — but maybe not for much longer. Rockers Stacee Jaxx and Arsenal are breaking up, developers want to tear down the Strip and replace it with a "clean living" community and the Bourbon Room — the sleazy heart of it all — is on its last legs. When new-in-town aspiring actress Sherrie walks into the Bourbon Room, wannabe rock star Drew starts believing he may be destined for bigger things than head busboy. The jukebox musical
Rock of Ages
features the biggest hits of your favorite hair-metal bands and all the '80s fashion your eyes can handle. The tenth anniversary tour hits town for a quickie this weekend. Performances are at 7:30 p.m. Friday, 2 and 7:30 p.m. Saturday and 1 and 6:30 p.m. Sunday (March 1 to 3) at the Fox Theatre (527 North Grand Boulevard;
www.fabulousfox.com
). Tickets are $29 to $100.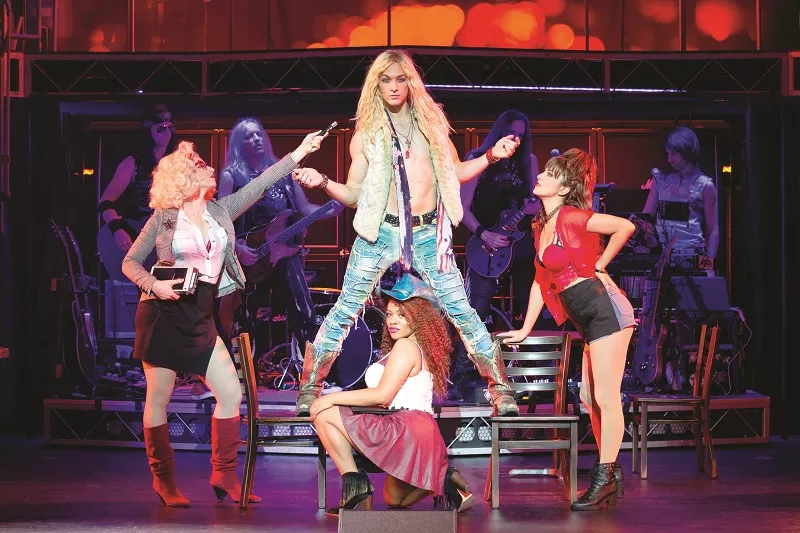 JEREMY DANIEL, 2018
Rock of Ages takes you back to the sleaziest clubs of 1980s LA.
4. Fat, Happy Saturday

This is it: The 40th edition of
Soulard Mardi Gras
takes off on Saturday, and it doesn't matter what the weather is like, people are gonna blow it out. Winter has been cruel, and any reason to party is welcome at this point. The annual Bud Light Grand Parade starts at 11 a.m. at Busch Stadium (700 Clark Street;
www.stlmardigras.org
), with floats, costumes, beads and more. Things really kick off when the lead marcher hits Soulard. The entire neighborhood becomes a street party that lasts late into the night, with drink and food specials at most bars, music in the streets and more beads flying about hither and yon. Admission to the parade and Soulard is free, but bring money for party fuel. And remember to use the porta-potties; the police will be out ticketing free-range wizzers. (See
our complete list of Mardi Gras events here
; get
a Lyft code and WiFi hotspot info here
.)
5. The Eyes Lie

Humans can perceive a wide palette of colors, but we don't see as many hues as nature contains. The limitations of human vision are stretched in the Laumeier Sculpture Park's new exhibition
How We See: Materiality and Color
. Six artists who combine modern art practices with a keen observation of the natural world explore the possibilities of color manipulation and perception. Claire Ashley's specially commissioned, large-scale inflatable
Ruddy Udder Dance
is painted in neon colors. Volunteers will get inside it and perform a series of choreographed routines that allow you to see how its various shades change with movement and daylight. Ann Lindberg's graphite-and-colored-pencil piece
as though air could turn to honey
features a closely packed array of thin lines of pure pigment that become subtly darker toward the bottom. From a distance those tints blend and fade, and the piece appears to have a more uniform golden hue.
How We See
opens with a free reception at 11 a.m. Saturday, March 2, at Laumeier's Aronson Fine Arts Center (12580 Rott Road, Sunset Hill;
www.laumeier.org
). The exhibit continues through June 29, and admission is free.
COURTESY OF SAINT LOUIS ART MUSEUM
Art in Bloom pairs fresh floral arrangements with classic art.
6. Welcome Spring Flowers

With the first day of spring only a month away, it's not long until the flowers again bloom. And while we wait for the Midwest to get out of its winter funk, the Saint Louis Art Museum gives us a taste of floral beauty with the return of its
Art in Bloom
. This celebration of art and flowers combines beautiful arrangement from some of the best designers in the region, who offer floral interpretations of works in the museum's collection. Seminars in everything from flower arranging and decorating to good gardening practices round out the weekend. Art in Bloom takes place 10 a.m. to 9 p.m. Friday and 10 a.m. to 5 p.m. Saturday and Sunday (March 1 to 3) at the Saint Louis Art Museum (1 Fine Arts Drive;
www.slam.org
). Admission to the festival is free. Auditorium programs require tickets — $5 to $29.
7. The Eternal War

In
The Iliad
two nations go to war, and even the gods themselves can't help but get sucked into the conflict. Despite the story being more than 3,000 years old, the personalities involved feel modern and very familiar. As the Greek army besieges the city of Troy, generals and soldiers engage in personal arguments about honor and individually question the justness of the fight. Meanwhile the gods scheme their way into helping their favorites, and great men go down to dust while the war drags on. Full of vibrant language, memorable characters and stirring martial valor, it's no wonder Homer's
Iliad
has survived for millennia. Graphic novelist
Gareth Hinds
(illustrator of award-winning adaptations of
The Odyssey
and
Beowulf
) returns to the ancient world to retell the saga of the Trojan War. Hinds discusses and signs copies of his version of
The Iliad
at 7 p.m. Monday, March 4, at Left Bank Books (399 North Euclid Avenue;
www.left-bank.com
). Admission is free, but only books purchased through Left Bank will be signed.