STEVE TRUESDELL
Let the good times roll all week.
In St. Louis, Mardi Gras isn't just about Fat Tuesday. It's also the Friday before Fat Tuesday (when the mayor's ball is the hottest ticket in town) and, of course, Saturday, when throngs of revelers fill Soulard with excitement, beads and beer.
We've got the complete guide to this year's festivities, in Soulard and out of it. And here's a new flash for this year: If you want to celebrate on Tuesday itself, the Central West End now has a party for that.
Here are the highlights.
Bud Light Grand Parade
The 40th annual Mardi Gras parade kicks off at 11 a.m. Saturday at Busch Stadium. This year's theme is "40 Years of Magic, Music and Memories," and the parade celebrates the St. Louis institution with krewes riding nearly 100 floats. The parade ends at Anheuser-Busch Brewery, and then Soulard is open for business until the wee hours.
Free. Sat., March 2, 11 a.m., stlmardigras.org/events/bud-light-grand-parade.

Mayor's Mardi Gras Ball
This must-attend gala combines the elegance of City Hall with the striking visuals of Mardi Gras. It features fine cuisine, cocktails, dancing and entertainment ranging from traditional to spectacular. The charitable event is hosted by the Mardi Gras Foundation, and the proceeds go to create community grants benefiting Soulard and downtown since 2003.
Fri., March 1, 7 p.m. to midnight, $150-$3,250, St. Louis City Hall, 1200 Market Street, 314-622-3000.
Al Rubin Memorial Crawfish Boil
If you want to avoid the Soulard crowd but still celebrate this Saturday, Narwhal's will be open all day, serving up its signature slushies along with three Mardi Gras-inspired frozen cocktails: Elderflower Gin Fizz, Hurricane Tony and Black Cherry Sazerac. From noon to 5 p.m. (or until sold out) enjoy a crawfish boil courtesy of Cajun Boil Company. One-pound plates are $20; get an additional pound for $15.
Sat., March 2, 7 p.m. to midnight, 314-696-8388. Narwhal's Crafted Urban Ice, 3906 Laclede Avenue.
Mardi Gras at Keeton's
Full breakfast buffet at 8 a.m.; first bus leaves for Soulard at 8:45 a.m. $10 for buffet and bus.
Sat., March 2, Keeton's Double Play, 4944 Christy Boulevard, 314-351-6000.
Mardi Gras at Bobby's
A shuttle leaves the bar for Soulard at 9:30 a.m.; be on it.
Sat., March 2. Bobby's Place, 108 Meramec Valley Plaza, Valley Park, 636-225-2627.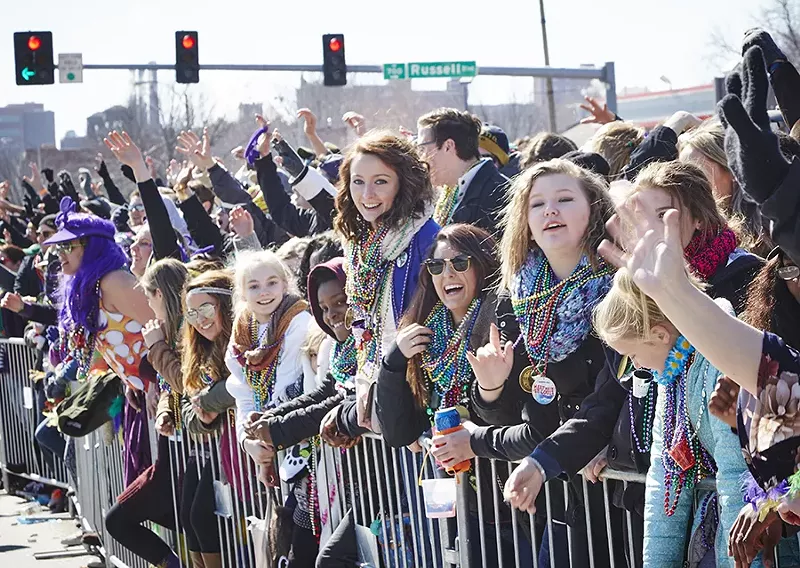 STEVE TRUESDELL
Saturday's going to kick ass.
Blues Alumni Party Tent
If you want to rub elbows with Blues legends at St. Louis' biggest party, the Blues Alumni Party Tent is what you're looking for. Your all-inclusive pass lets you hang out with some of the best to don the Blue Note in a climate-controlled tent right on the parade route at Seventh and Ann streets. Enjoy an open bar with beer and cocktails, NSFW story time with the Blues players, a lunch buffet from Joanie's to Go and an air-bubble hockey tournament.
Sat., March 2, 9 a.m. to 5 p.m., $125, stlmardigras.org/events/blues-alumni-experience.


Bud Light Party Tent
Party directly on the parade route in a heated tent with a dance floor, body-moving beats and a restroom without a line. The Bud Light Party Tent at Soulard Market Park (Lafayette Avenue and South Eighth Street) has a fully stocked open bar with Goose Island, Bud Light and premium spirits, a lunch buffet courtesy of Joanie's, unlimited re-entry and free beads.
Sat., March 2, 9 a.m. to 6 p.m., $125, stlmardigras.org/events/bud-light-party-tent.
Duke's Street Party
Party all day in Valley Park with non-stop music from the Michael Lynne Band and special guest Eric Brittingham (of Cinderella and the Bret Michaels Band) in the tent and a DJ dance party under the balcony. Free. Sat., March 2.
Duke's Bar & Grill, 639 St. Louis Avenue, Valley Park, 636-225-3577.



STEVE TRUESDELL
Mardi Gras, hooray!
Krewe De La Femme Fiere
GutterGlitter presents Krewe De La Femme Fiere, St. Louis' first queer Mardi Gras ball in 40 years. Performances by Maria Mario, Klaude, Phanta Gorea, Sweet Tea Skank, Landon Control, Simon Saize, Kingdom, James Bøndāge, Lindy Wormwood, Sofie de Sade, Farris Maiden, Roxanna Rexia, DJ Vinca Minor., +TBA. Dress to transgress; no entry without costume or formal wear. This event has been created to provide a safe space for creative expression and celebrate queer culture. Homophobic, transphobic, misogynistic, ableist, ageist and racist behavior will not be tolerated.
Sat., March 2, 9 p.m. to 3 a.m., $10 to $15, 314-621-6900, www.facebook.com/events/2071850249558175/. The Crack Fox, 1114 Olive Street.
Evangeline's Carnival
Evangeline's is offering a king-cake festival all week leading up to Mardi Gras, plus live music from David Ashley Trent, Torrey Case & the Southside Shuffle, Blues City Swing, Miss Jubilee, the Jazz Troubadours and Sharon Bear, Rich McDonough & Miles Long. Food and drink specials on Fat Tuesday.
March 1-5. Evangeline's, 512 North Euclid Avenue, 314-367-3644.
CWE Fat Tuesday Celebration
Let the good times roll at the first-ever Central West End Fat Tuesday Celebration. Three local high school bands perform live throughout the neighborhood, and you're invited to join in the CWE Second Line Parade, led by Saint Boogie Brass Band at 3:30 p.m. After marching through the neighborhood, continue the festivities at one of the CWE's amazing restaurants or bars. Free.
Tues., March 5, 3:30 to 5 p.m., 314-305-4012, cwescene.com. Euclid and Maryland avenues, St. Louis.