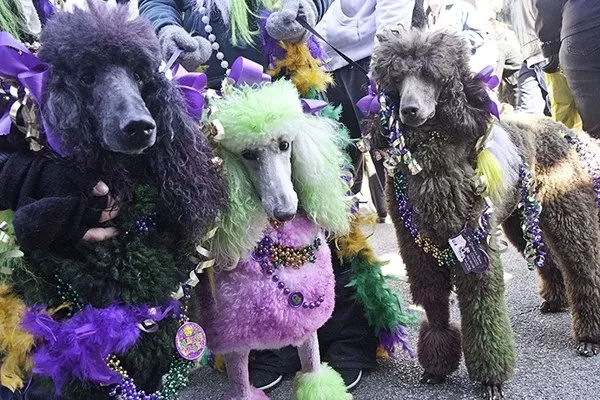 CRYSTAL ROLFE
The dogs go marching in Soulard on Sunday.
It seems sudden, but the first big wave of Mardi Gras fever sweeps Soulard this weekend. If you're not down with dogs and light debauchery, you could pick from a handful of plays, a pair of new art shows (one starring our own inverted catenary arch, the Arch) and a very contemporary dance performance.
1. They/Them/Us

The impressive growth of the St. Louis theater scene has allowed a greater number and variety of voices to tell their own stories. The Q Collective, a group dedicated to presenting works by and about transgender, agender and genderfluid people, opens its second season with its inaugural
Transluminate Festival
. Transluminate features five short plays by local playwrights Charlie Meyers, Elon Ptah and J.D. Charles. Charles' "Miss Arkansas" is about a transgender woman entering a beauty pageant, an act that infuriates another competitor. "Homebody," by Ptah, shows how a black trans guy named Malcolm moves from self-loathing to self-love, while Meyers' "Breanna" explores the relationship between Andy and Breanna, two former humans now living in android bodies in a futuristic, post-human society. Transluminate is performed at 7 p.m. Thursday and Friday and at 4:30 and 8 p.m. Saturday (February 21 to 23) at the Chapel (6238 Alexander Drive; theqcollective.theater). Tickets are $10 to $20.
2. Bits of Pieces

Austrian-born artist Oliver Laric creates work that explores image creation and repetition, which he displays on both the museum and gallery circuit and the online realm. For his new exhibition,
Currents 116: Oliver Laric
, he presents his video animation
Betweenness
, which features repurposed mushrooms, people, anime characters and some snippets of the CT scan of the Saint Louis Art Museum's mummy, Amen-Nestawy-Nakht, all morphing into animals. The cycle of looped video blurs all of these borrowed images together, which reveals their shared shapes and forms. Laric also sculpted his own version of
Reclining Pan
(long on display in the museum's gallery 236) using 3D scans of the original. He used the digital files to "print" sections of the sculpture in various materials on a 3D printer, which he then assembled.
Currents 116: Oliver Laric
is on display in galleries 249 and 250 from February 22 to May 27 at the Saint Louis Art Museum (1 Fine Arts Drive;
www.slam.org
). The museum is open Tuesday through Sunday, and admission is free.
JERRY NAUNHEIM, JR/WASHINGTON UNIVERSITY
The Washington University Performing Arts Department brings the majesty of Angels in America, Part One: Millennium Approaches to the Edison Theatre.
3. Send Us an Angel

Tony Kushner's monumental drama
Angels in America, Part One: Millennium Approaches
refracts the early days of the AIDS crisis through the prism of politics, religion, sex, the Red Scare, drugs and Antarctica. All of the characters and places are created by a smallish cast that must play young and old, dying and dead, and fantasy and reality. At the heart of all of this is a series of love stories that smash into the cold philosophy of its 1980s setting. "It's everyone for themselves" is a horrible way to live and a worse way to die. The Washington University Performing Arts Department presents
Millennium Approaches
at 7 p.m. Friday and Saturday and 2 p.m. Sunday (February 22 to March 3) at Washington University's Edison Theatre (6445 Forsyth Boulevard;
www.edison.wustl.edu
). Tickets are $15 to $20.
4. Arch de Triumph

You're a St. Louisan, so you're familiar with the blend of awe and pride inspired by the Gateway Arch. It's a monument to westward expansion and the creation of America, sure, but it's
ours
. Last year the Jefferson National Expansion Memorial became the country's 60th national park. On the one-year anniversary of the declaration that made it official,
Type Hike
, a group that supports the outdoors through typography, presents
Arch
, a show and sale of 60 art-driven posters that depict our big shiny baby. They will be on display from 6 to 9:30 p.m. Friday, February 22, at Brennan's Work & Leisure (3015 Locust Street;
www.typehike.com/arch
). Admission is free, and proceeds from poster sales benefit the Gateway Arch Park Foundation. Afterward, some posters will be on display at the Arch through March 24.
5. Italy Gras

Mardi Gras is not just a French celebration. Most of Europe celebrates in the final days before the beginning of Lent, and Italy is no exception. The Italian Community of St. Louis invites you to party with them at
Carnevale Veneziano
, a Venetian-style blowout that's also family friendly. Guests are encouraged to wear Venetian masks while dancing to the sounds of DJ Antonio Leone (he's flying in from Puglia, Italy, for the gig) and partaking of a buffet dinner. Wine and beer are included in the ticket price ($25 to $65, free for kids five and younger), and the organizers have a couple surprises up their sleeves as well. Carnevale Veneziano takes place from 7 to 11 p.m. Saturday, February 23, at Mad Art Gallery (2727 South Twelfth Street; www.eventbrite.com).
6. Eat Soulard

Mardi Gras' culture of excess is not limited to alcohol. Fat Tuesday is the last stop before the restrictions of the Lenten season take effect, so people avail themselves of these final days to indulge their sweet tooth, meat tooth, Cajun tooth, et cetera.
Taste of Soulard
, which takes place from 11 a.m. to 5 p.m. Saturday and Sunday (February 23 and 44) throughout Soulard (Allen Avenue and Menard Street), allows revelers to sample Mardi Gras-inspired delights from local restaurants. Your $25 pass gets you one drink voucher and six food vouchers. You're free to use them in any combination you choose at participating businesses. The menu is already online (
www.stlmardigras.org/events/taste-of-soulard
), and it's got everything from Tarte Flambe at Molly's Bar & Restaurant to the Sloppy Ds at D's Place. Note that some venues are only participating on Saturday, so plan wisely to avoid disappointment.
7. Dogs, Dashes and Haberdashers

The costume traditions of Mardi Gras are not just for humans, and the
Beggin' Pet Parade
is the proof. Beloved dogs who are comfortable wearing clothes, costumes or exotic outfits gather with their people at South 12th Street and Allen Avenue (
www.stlmardigras.org/events/beggin-pet-parade
) for the 1 p.m. parade of pooches on Sunday, February 24. It's free to watch, and if you believe your dog has the charisma and "wow" factor to be named one of the best-dressed pets on parade, it's only $10 to register a single canine; the judges will select the most gloriously attired dogs for the Court of the Mystical Krewe of Barkus at the Coronation Pageant, where the King and Queen of Barkus will be anointed with their crowns. Registration fees help the Open Door Animal Sanctuary. And if you have a need for speed, don't forget the Wiener Dog Derby, which always follows the parade and showcases the fastest dachshunds in the metro area competing for glory. Humans can flex their competitive muscles in the derby-hat contest, which challenges you to flaunt your best example of haberdasher's art.
RICHARD DAVIES
Company Wayne McGregor melds science with performance in Autobiography.
8. 23 and He

Dance St. Louis brings London-based choreographer/director Wayne McGregor for the Midwestern premiere of McGregor's most personal show,
Auto
bio
graphy
. The piece takes its shape from the very building blocks of McGregor's body, his DNA. He created 23 portraits in movement, one for each chromosome pair, after having his genome sequenced. A computer algorithm resequences each of the 23 individual pieces prior to every show, so no two performances are alike. Company Wayne McGregor presents
Auto
bio
graphy,
which features a score by electronic musician Jlin and set design and projections by Ben Cullen Williams, at 7:30 p.m. Wednesday, February 27, at the Touhill Performing Arts Center on the University of Missouri-St. Louis campus (1 University Drive at Natural Bridge Road;
www.touhill.org
). Tickets for this once-in-a-lifetime show are $35 to $69.