JOAN LIPKIN
From left, Christa Lou Cunningham, Miss Leon aka Dieta Pepsi and India Reed rehearse "They Beat The Girl Out Of My Boy . . . Or So They Tried," a piece written for five trans women in The Vagina Monologues.
The Vagina Monologues
has been performed tens of thousands of times since making its Off Broadway debut in 1996. It's been mounted internationally, filmed for HBO and remains a perennial college theater favorite — even on Jesuit campuses.
Try telling that to Facebook.
Earlier this week, the social media juggernaut rejected That Uppity Theatre Company's attempt to promote
its production of the show
that kicks off February 16. The reason? It doesn't allow ads that "promote adult products or services, such as sexual enhancement products."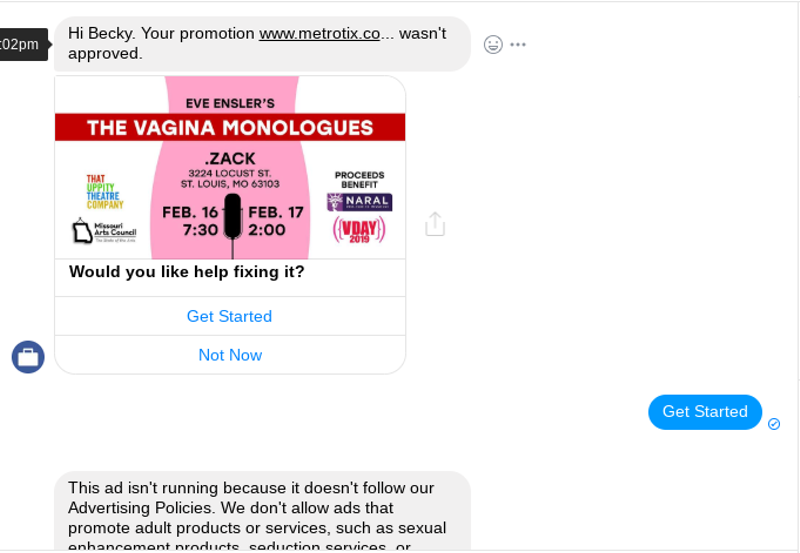 When the St. Louis theater company appealed the decision, explaining patiently that the world-famous play is, yes, a play, Facebook doubled down. But this time, instead of claiming the producers must be selling Viagra (or maybe the female equivalent?), it argued that the ad was about an issue of "national importance." Because of that, the theater company would have to go through an elaborate process to verify its backers as legitimate, including photos of their driver's licenses.
Becky Galambos, who sought to place the ad on behalf of the company, attempted to reason with the nameless people forcing her to jump through those hoops. "This is a PLAY," she wrote February 1. "It is not a political rally, it is not endorsing a candidate or issue. This is a fundraiser for a non-profit. This is absolutely ridiculous that you will not run this ad. Is there a way to lodge an appeal where we can speak to someone by phone?"
No dice.
"All I got was repeated 'We cannot make an exception to our ad policies for your ad, and here are our ad policies,'" she says. "No answers to my questions at all."
A spokesman for Facebook initially responded to the
RFT
's request for comment by seeking more details about the rejected ad. He then failed to provide further information.
RITHIA BROWN
From left, percussionists in That Uppity Theatre Company's new production: Debbie Blackwell, Natalie Turner Jones, Lisa Frumhoff and Angela Rey Guerrero.
The producers behind this new version of
The Vagina Monologues
are proud of what they're doing. Their show at .ZACK is meant to raise money for NARAL Pro-Choice Missouri; it's part of the international
V-Day movement
founded by playwright Eve Ensler.
Joan Lipkin, the company's producing artistic director, explains that the show has "one of the largest, most diverse female casts seen in St. Louis." That includes transgender performers, "as well as different generations, races, ethnicities, sexual orientations and gender representations." They've even got an alderwoman in the show. (In case you're wondering, it's
Annie Rice
.)
But in a shrunken media landscape, with newspapers relying mostly on freelancers for arts coverage, it's increasing difficult to get free publicity, no matter how many press releases you send. Facebook feels like one of the only ways to reach prospective theater-goers. When it rejects your ad, what options do you have?
Now, Facebook is to some extent a victim of forces beyond its control. With Congress
cracking down on sites that allow sexually based advertising
under the guise of trying stop sex trafficking, third parties (like, yes, Facebook) can now find themselves liable if someone uses their framework to facilitate prostitution, even if that happens without their knowledge. In response, sites from Craigslist to Tumblr are now banning adult content. (Missouri voters bear particular responsibility for this development; U.S. Rep Ann Wagner
was a major advocate of the law setting off these reactions
.) And because no tech company wants to spend money on humans, they
rely on algorithms
or
overly broad policies
to do it. Say "vagina" and you're presumed to be a sex trafficker.
Meanwhile, Facebook has come under fire for allowing Russian-backed interests to promote fake news before the 2016 presidential election. Hence all the hoops it now asks people to jump through before the site will take its money for anything of "national importance." How it determined a small theater company's production of a feminist play falls under that rubric is a mystery, but the name "NARAL" on its proposed ad may have been a factor. In 2019, the personal can't help but be political to a risk-averse publicly traded company in the congressional line of fire.
Still.
The Vagina Monologues
has been around for more than twenty years now. Surely someone manning Facebook's control room has heard of it? And even if not, couldn't they Google it before denying the company's appeal?
Lipkin, for one, isn't just frustrated by the denial. She's angry about what Facebook's actions mean for American democracy. If only the blandest content makes it past Facebook's censors, aren't we the poorer for it? And with the site serving as the only newsfeed many people read, if a play is mounted in the forest but Facebook won't allow mention of it, did it ever really happen?
"Given their increasingly monopolistic control of online advertising, Facebook's response is effectively an attack on freedom of expression and the rights of women and exclusionary toward an organization that endorses reproductive choice," Lipkin says in a prepared statement. "With Facebook's conflicting explanations for rejecting this ad, it appears that its arbitrary policies are designed to or have the effect of unfairly denying advertising access to groups promoting important artistic messages in support of women's rights."
To defy Facebook's censors, check out the production's
Facebook page
. And if that sentence gives you pause, well, it should.
And the irony here is not only that the company is still relying on a Facebook event page for ticket sales. There's a good chance you're reading this story because Facebook decided to let you see it. Let's hope they don't change their minds about that access — we, like everyone in America these days, are at their mercy.
Sarah Fenske is the editor in chief of the Riverfront Times. Email the author at sarah.fenske@riverfronttimes.com or follow her on Twitter @sarahfenske