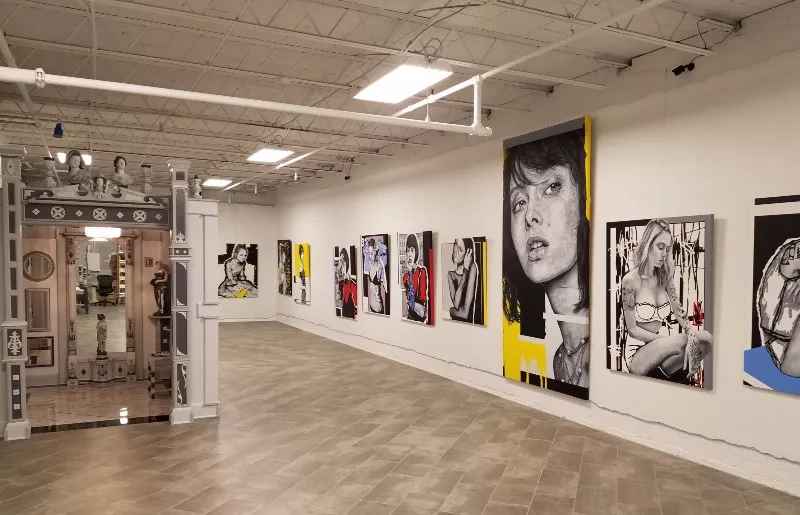 JARED MINNICK
Jared Minnick wanted a space that looked "rough enough."
When Jared Minnick started painting again in 2012, he was almost ten years out of practice. He had painted a bit in his twenties, creating a dozen paintings, but didn't take it very far. He never attended any classes. He never worked with other artists. It was just something fun to do.
Minnick doesn't remember what motivated him to pick up the paint brushes after so much time. There was just this urge to start again.
Maybe he did two full paintings that year. Maybe he did another two in 2013. Then he did 100 in 2014.
"I don't really know when the switch happened," Minnick says.
What he does know is that he painted every Friday and Saturday night in 2014, falling in love with the process of reading, studying and trying on various art styles — impressionism, abstract expressionism, realism, you name it. He experimented with a wide variety of oil painting techniques. He used spray paint and house paint. He made artwork out of doors, mirrors and metals — whatever he could get his hands on.
Since he began painting seven years ago, Minnick has created more than 200 paintings. Now he wants to share them with the St. Louis community. On March 23 and 30, Minnick will host the grand opening of his new art gallery,
31art
(3520 Hampton Avenue)
, in a formerly vacant Northampton building. The gallery will exhibit 80 pieces of Minnick's artwork, many of which are featured on his Instagram page,
@jared.minnick.art
.
From 2010 to 2016, Minnick and his wife searched relentlessly for the ideal place to host their land surveying business. As Minnick's interest in art increased, they decided not only to find space for their business — they wanted space that could display Minnick's art as well. "Wouldn't it be cool," Minnick remembers thinking, "if we could get a spot that had a little bit of extra space that we could put the paintings up there and have a show."
The artwork kept piling up and they decided "a little bit of extra space" wouldn't be enough. Minnick's artwork needed more room. He also wanted a place that was "rough enough." The couple stayed patient, taking until 2016 to finally settle on the perfect vacant building that could hold both the business and art.
Minnick guesses that the building had been vacant for ten to fifteen years prior to their arrival. As a result, it required a lot of renovations. He gutted and painted the space himself. He dusted the floors and took out pre-existing obstacles. But Minnick wanted the space to have a "industrial feel. Raw feel. I didn't really want a clean nice where everything has been done with drywall... [I wanted it] to show age, to have its own character," he says, noting that he has also tried to maintain the structure of the old building.
"Character" is an integral part of Minnick's artwork. He prides himself on using a wide variety of styles.
"The reason I am able to paint with so much volume is because, no matter how I'm feeling that particular day, there is always something that I can paint that can go with the mood I'm in," Minnick says. "So if I just did more of a realism portrait all of the time — sometimes you just aren't in that mood."
While the gallery is almost all oil paintings, Minnick took advantage of the building's redesign to try on a different style of artwork. The Saint Louis Art Museum inspired his redesign of the bathroom. The museum is famous for its "period rooms," where a space is designed to evoke a period. Minnick brought that idea to bear on the bathroom, basing it off of Victorian art.
Minnick's wife Amy has managed the business side of the operation. The couple does not have concrete plans past the exhibit of Minnick's work in late March, though Jared Minnick notes that they want to host shows for other artists in the future. But for now it's just his art. He believes everyone can get something out of the gallery.
"Any types of art that you have seen, you will find a little bit of everything," he says. "You will find paintings that are monotone, just black and white. You will see paintings with color. People may not know pop art, but they know Warhol. There are works like that."