VIA INSTAGRAM/@MUDDYLEMON
Citygarden is looking gorgeous.
Is it possible that just one week ago, temperatures were relatively warm and we were looking forward to leaves fully turning? Forget that. As seriously cold weather came into the area hit the area last Friday, leaves began to drop instead of reddening — and now, with the season's first official snow storm in the books, we can officially conclude that autumn is over and winter is here. In the words of our staff bard, that's
some bullshit
.
And yet .... is anything more pretty than the city when it's newly covered with snow? And isn't it lovely to stop for a moment and smell the powder? Come January, we'll surely be sick of having our plans disrupted by cold-weather precipitation. But today? Let's just take a moment and appreciate the beauty that is St. Louis in winter.
First, a study in contrast at MoBOT:
And so much for flowering plants ....
.... and autumn brewskis on the patio.
The porch swing, too, is definitely closed for business.
Although at least one cyclist got out there today!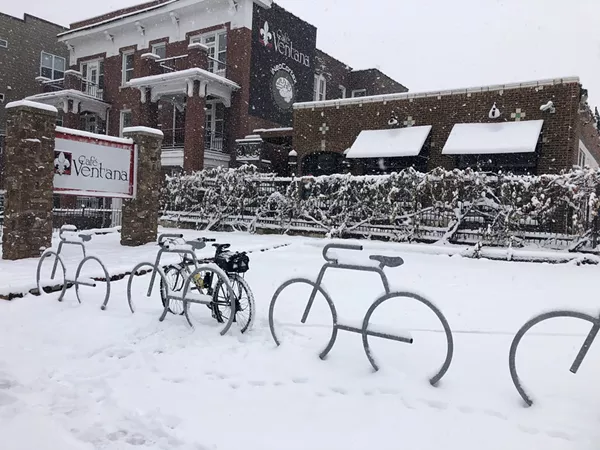 But man, the city looks great — from the Central West End ....
... to Tower Grove Park ....
to Forest Park ....
.... to south city.
One snowman even came with a message.
For the rest of us, though, the overwhelming takeaway from this little gift from the heavens was simple: Get to Art Hill and start sledding.
Clearly, St. Louis listened.
We welcome tips and feedback. Email the author at sarah.fenske@riverfronttimes.com