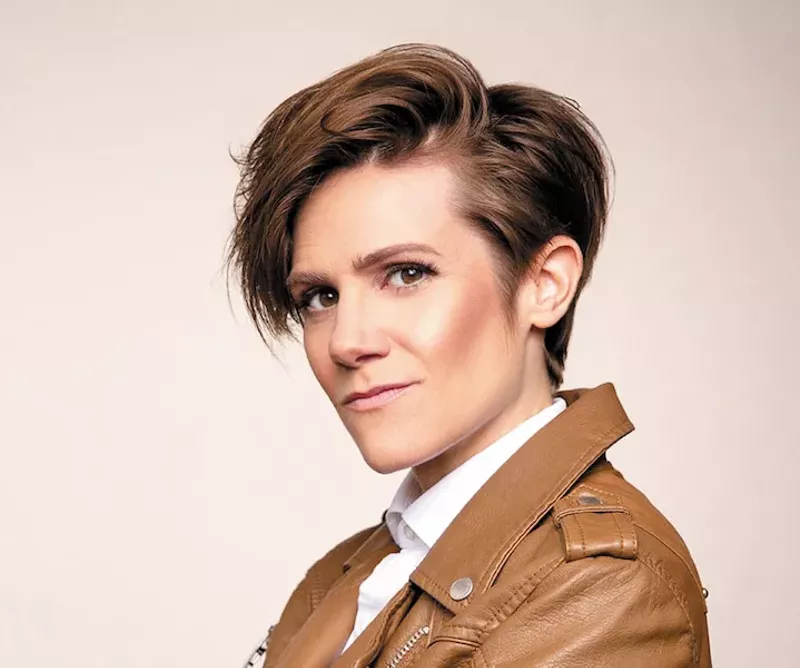 VIA ROGERS AND COWAN
Cameron Esposito is just one of the artists performing at this year's fest.
There are times, Zach Gzehoviak admits, when he and his Flyover Comedy Festival cohorts think ahead. With performers booked for the second-annual event this weekend, with venues set, with the basic mechanics finalized, there's only the small matter of waiting for the weekend to pass in winning fashion before the whole process begins again. So to discuss "what's next," well, it's a natural part of the process.
"Year three has come up between organizers and members of the board, like Rafe Williams and Emily Hickner," Gzehoviak, the festival's co-founder, says. "We toss out 'next year' all the time. And that's what we hope happens, of course. We're feeling confident about this year, where we are financially and the shows. We think about plans for next year and all have thoughts on acts."
The festival has its eye on the bigger picture.
"Years four and five haven't come up," he says. "But we did go into this longevity in mind and as something that we can grow in the Grove. There are multiple goals. We want to get some industry folks to these events, to provide opportunities for local comics. For traveling comics, we want to give them one more reason to come through here and perform, give them a few ten-minute sets in front of people who might be good contacts."
And, of course, there's the matter of giving St. Louis fans a chance to catch local, regional and national acts in one central location.
While this year's festival remains in the Grove, there are mild variations from 2017. The side room at Gezellig, in action last year, has become a pizza parlor and so is out of the venue mix. In lieu of it is the Monocle. With its two stages built for the art of comedy, the Improv Shop is predictably the festival's centerpiece. Unless you want to tag the Ready Room that way, as the club will host three nights of headlined comedy this year, up from one such show last year. And Handlebar will host open mics.
The mix of venues, Gzehoviak believes, will provide those who buy weekend-long wristbands a chance to see multiple forms of comedy, only one parking spot needed. Thirty-plus events are scheduled across three days.
"So many festivals out there do all standup," he says. Flyover adds "some variety shows, some podcasts. We're offering improv, sketch shows. That gives people a reason to go to more than one show a night. From producing shows, we know that people can tap out after 75 minutes of standup. This allows them an opportunity to go to a show, grab a drink somewhere else in the Grove, then hit up another show that's completely different later that night. There's something cool in that. And there are even things like karaoke planned for Friday night at the Improv Shop, which'll be a fun thing to attend, a party."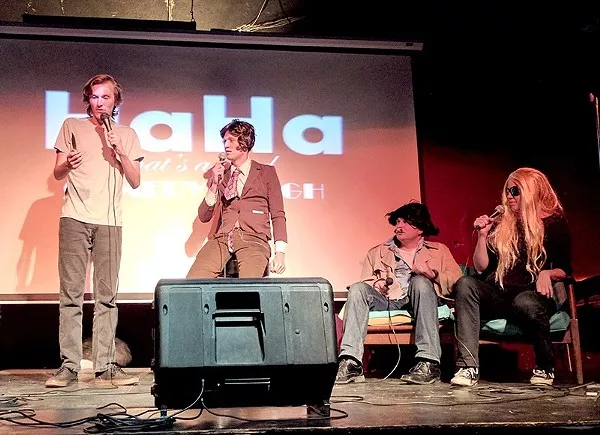 JESSICA DONAHOE
Fatal Bus Accident is among this year's festival bookings.
With the Ready Room now a full-time festival venue, organizers were able to increase the talent level across all the rooms, adding headlining standup talents in Cameron Esposito, Janelle James, Shane Torres, Ben Kronberg and JC Coccoli, as well as noted groups the Improvised Shakespeare Co. and Matt Damon Improv. Gzehoviak and his co-founders — Brady McAninch and Kris Wernowsky, the latter a former contributor to the
RFT
— all have their own picks for can't-miss shows, including the group efforts Late Late Breakfast, Arguments & Grievances and Adult Spelling Bee.
"From a growth standpoint," Gzehoviak says, "we've invested a lot more into talent this year. We're pretty excited from a talent standpoint level, and not just the Ready Room, main headliner acts."
Plenty of local standups are represented, including such standouts as Justin Luke, Angela Smith and Libbie Higgins, plus one of the city's most unpredictable, amusing sketch/variety shows, Fatal Bus Accident.
"Something I've definitely wanted since we started last year is to be inclusive," Gzehoviak says. "There's a good amount of St. Louis comics, in addition to the submissions performers. So much of this is about highlighting the local scene and providing a platform for them.
"Last year," he adds, "we were surprised at the turnout. We really were. I thought I might be going up to comics from outta town and saying, 'Sorry this show was kinda light, but thanks for coming out.' But every show was full. At this point, wristband sales are up over last year and individual tickets are on sale and we'll push the heck out of those. People are more aware of the festival this year and we hope they'll be more interested in going to one show, or even the whole weekend."
For tickets and more information, visit
flyovercomedyfest.com
.
Editor's note: A previous version of this story contained inaccurate information about the location of karaoke night. It's at the Improv Shop, not the Ready Room. We regret the error.