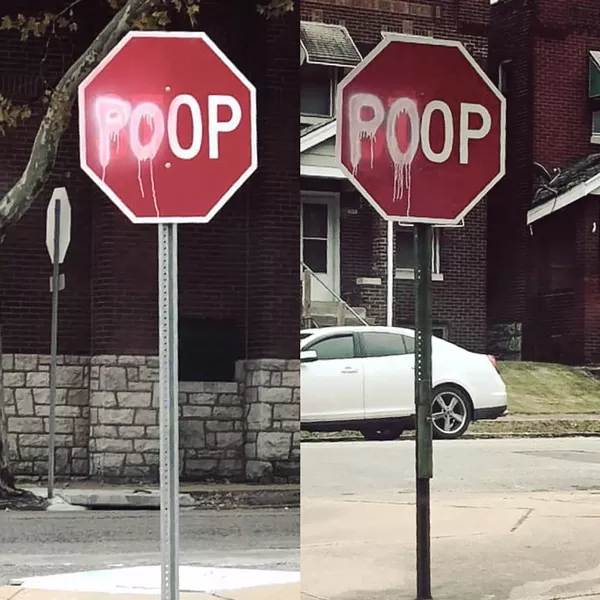 photos courtesy of Andrew Patania
Keokuk Street poop signs
Something crappy is happening in St. Louis. Roll down any south-city street and you're bound to come across one of these pieces of uncommissioned public art. Some cities get a Banksy; we get a dookie.
Make that multiple dookies. There's one at the intersection of Keokuk Street & Iowa Avenue, and then another one just a block away. That's right: there's a
number two
. We've even been told of a recent third spotting of this caca a full three miles away at Devonshire Avenue & Wherry Avenue in the Southampton neighborhood.
What gives, St. Louis? We demand an artist statement from the creator of these high-concept designs. Why has he done this? But more importantly: How has this
turd
ally awesome artist has gotten away with marking all of these signs without getting caught? Does he have a
stool
that he climbs up on to reach his hexagonal canvas? It is some kind of
load
ed statement? Or is a monkey tail sometimes just a monkey tail?
Maybe the artist was influenced by the other inspiring pieces in the area. Who could forget when
Lemmy from Motörhead appeared as Jesus
on a Southwest Avenue billboard? Or when the Walgreens on Kingshighway promised
2-for-1 butt fingerers
? And we will certainly never forget the profundity of witnessing
YOLO just outside our window
. Namaste.
Have you seen more poo in the Lou? We want to know. Email the author at
[email protected]