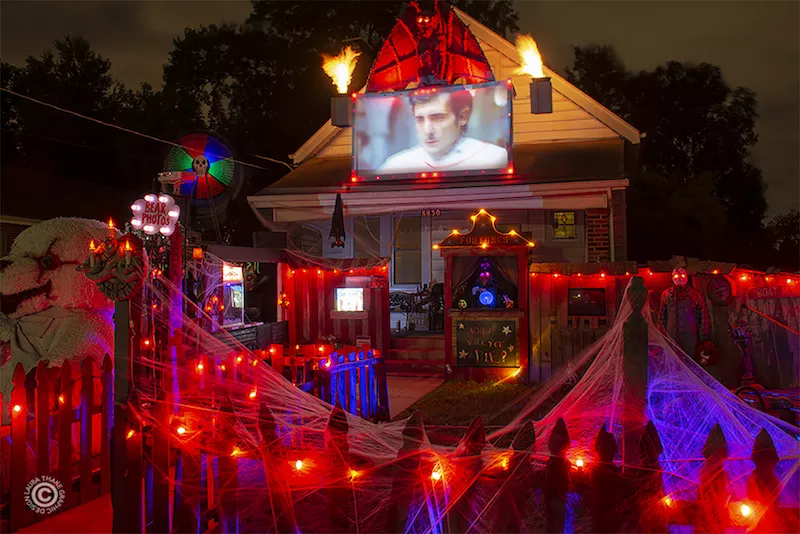 COURTESY OF HOLIDAYLIGHTHOPPING.COM
This house, on Overland's Windom Drive, is a fright fest, complete with The Exorcist screening.
When St. Louis graphic designer Laura Thake first set up
holidaylighthopping.com
, her intention was to showcase the best displays of Christmas lights in the metro area. But after two years and counting, the site has also developed a collection of must-see locations connected to a different holiday: Halloween.
"It was too big a deal not to," says Thake.
At first, the site included just a smattering of Halloween-bedecked houses, most them also addresses that went all out for Christmas. But the collection has grown .... and grown. Thake (who evaluates the homes with nephew Mitch Miller) now features several dozen of fright-focused homes, all of them elaborate enough to be true destinations.
And that, says Thake, is exactly the point. "Our criteria is, 'If I lived in Overland and had to drive to Affton, would this be worth it?' At that point, it better be good."
Even as Halloween increasingly inspires creative displays, Thake admits to grading on a curve. "For Christmas, we draw a harder line," she says. Ultimately, though, the question is the same across all seasons: "Does this home have something special going on?"
COURTESY OF HOLIDAYLIGHTHOPPING.COM
A south county house on Kit Drive goes all out.
For some, like the home on Overland's Windom Drive shown above, the answer is a clear yes. But it's not always clear to Thake until she visits in person. She personally vets, and photographs, each home on her site (as well as obtaining the homeowner's permission before including it). Last year, she says, she drove 1,400 miles in pursuit of various Christmas displays.
It's a ton of work and, at this point, a true labor of love. She's facilitated Google Ads on the site, but at this point has earned a grand total of $3.80 — and, she notes, "they don't even cut you a check until you make $100." While she'd love a corporate sponsor — say, a lighting company, or a car dealership — that's not the point. "I don't know if I'll ever get money for it."
Instead, it comes down to the joy of knowing that she's recommending good things. "It's very fun being the first one to see a house," she says. "We'll say, 'What do you think?' and it's kind of up to us at that point. We went to one last night where we said no. These are our best choices; we won't send you somewhere that's not good enough."
Editor's note: A previous version of this story inadvertently swapped the captions for the two houses being shown. It's the house on Windom Drive that's showing The Exorcist. We regret the error.
We welcome tips and feedback. Email the author at sarah.fenske@riverfronttimes.com