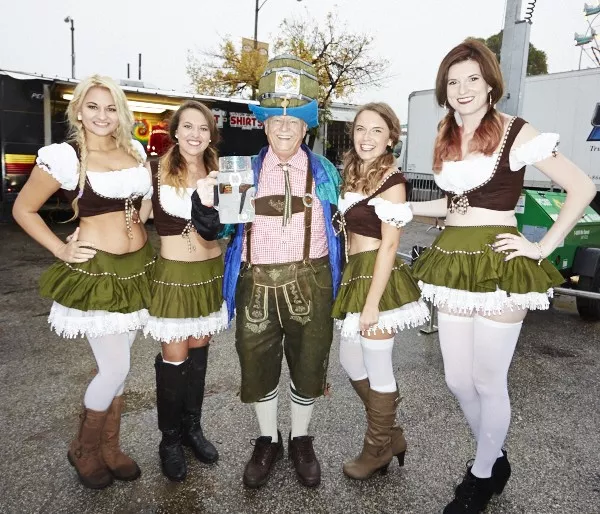 THEO WELLING
Oktoberfest is back!
Fall done fell, and it's officially the best time of year. The air is crisp, we've traded sweat for sweaters and St. Louis is positively bubbling with things to do. Artica brings both weird and beautiful to the riverfront, there are a passel of plays on tap and, speaking of taps, look what's going on in Soulard this weekend: It's our old friend, Oktoberfest.
1. Don't Look Back

The Greek myth of Eurydice and Orpheus has been retold and reimagined in numerous works of art because a tragic love story is universal. Orpheus and Eurydice are happily married when Eurydice dies in an accident. Distraught with grief, Orpheus journeys to the underworld to beg for her return. He gets his wish, with one caveat: If he looks back at his wife on the journey to the upper world, she'll be forced to remain dead forever. In
Eurydice
, playwright Sara Ruhl tells this story through Eurydice's point of view and adds a new character in the form of Eurydice's father, who has conquered the forgetfulness of Greek death. He sends letters to the upper world and also receives responses. The University Theatre at Saint Louis University opens its new season with the strange yet classic tragedy. Performances are at 8 p.m. Thursday through Saturday and 2 p.m. Sunday (October 11 to 14) at the Grandel Theater (3610 Grandel Square;
www.kranzbergartsfoundation.org
). Tickets are $6 to $9.
2. Deadites Ahead

What happens if you take the comedic-horror stylings of Sam Raimi's
Evil Dead 2
and smash it into the modern musical? You get
Evil Dead the Musical
, which grafts an emotional arc and frequent song breaks onto the gory, nightmarish story of a group of stock-character teenagers who find an unholy book and with it awaken demonic forces. Over the course of one night they're possessed, tormented and ultimately destroyed. And when one of them is slain, the rest sing about their fear while making crass comments. Stray Dog Theatre has mounted the horribly funny show twice before to great acclaim, and now the company brings it back by popular demand. If you're really into it you can buy tickets for the splatter zone. It comes with a souvenir white T-shirt, which will be mostly red by the end of the show. Performances are at 8 p.m. Thursday through Saturday (October 11 to 27) at the Tower Grove Abbey (2336 Tennessee Avenue;
www.straydogtheatre.org
). Tickets are $25 to $45.
3. Stormy Weather
The Tempest
is a story of betrayal, magic, revenge and redemption — and in St. Louis Shakespeare's new production of the show, the main characters are all women. Prospera is the rightful Duke of Milan, but her ambitious sister Antonia effectively banished her to a remote island. With daughter Miranda for company, Prospera has mastered the use of magic to the point where their lives are comfortable even if not as luxurious as home would be. When Prospera realizes that her usurper and the complicit king are on a nearby ship, she raises a storm that wrecks them on the same treacherous isle and magically wreaks her revenge. Shakespeare's
The Tempest
presents great challenges to a theater company: How do you effectively convey a dangerous storm at sea and the destruction of a ship on stage? How do you represent the use of magic? Patrick Siler, who is scheduled to direct St. Louis Shakespeare's October production of the show, has a talent for making the mundane become magical. It should be a show to remember. Performances are at 8 p.m. Friday and Saturday and 2 p.m. Sunday (October 12 to 21) at the Ivory Theatre (7620 Michigan Avenue;
www.stlshakespeare.org
). Tickets are $15 to $20.
PATRICK LANHAM
Torvald and Nora (Michael James Reed and Caralyn Kozlowski) are reunited, but why?
4. Scenes from a Marriage

Henrik Ibsen's classic drama
A Doll's House
ends with Nora Helmer walking out on her husband and family so that she can live an independent life. This was a shocking, scandalous ending for a play in 1879, but it's less so in the modern era. In Lucas Hnath's
A Doll's House, Part 2
, Nora returns after fifteen years of traveling, affairs and work. But what does she want? Her dutiful and somewhat dull husband Torvald would certainly like to know. Their youngest child, Emmy, is recently engaged, and neither father nor daughter wants this reminder of a failed marriage around. Is it possible Nora didn't find the freedom she wanted? The Repertory Theatre St. Louis continues its season with
A Doll's House, Part 2
. Performances are Tuesday through Sunday (October 10 to November 4) at the Loretto-Hilton Center (130 Edgar Road;
www.repstl.org
). Tickets are $19 to $92.
5. Reinventing the Hits
Scott Bradlee's Postmodern Jukebox
is a musical group that proves a good arranger is vital — and Bradlee is a brilliant arranger. The group's shtick is simple: It takes modern pop songs by artists such as Avril Lavigne, Robin Thicke and Daft Punk and reworks them into doo-wop or New Orleans jazz or torch songs. It only appears simple because Bradlee surrounds his piano with a rotating cast of ultra-talented instrumentalists and vocalists from the LA club scene and points beyond. The result is songs you know and love, reinvented as classics from a lost era. The magic is that songs you don't care for become swinging, catchy gems. It's the best kind of déjà vu. Bradlee and the Postmodern Jukebox play a one-night show at 8 p.m. Saturday, October 13, at Lindenwood University's Scheidegger Auditorium (2300 West Clay Street;
www.lindenwood.edu/j-scheidegger-center-for-the-arts
). Tickets are $39.50 to $79.50.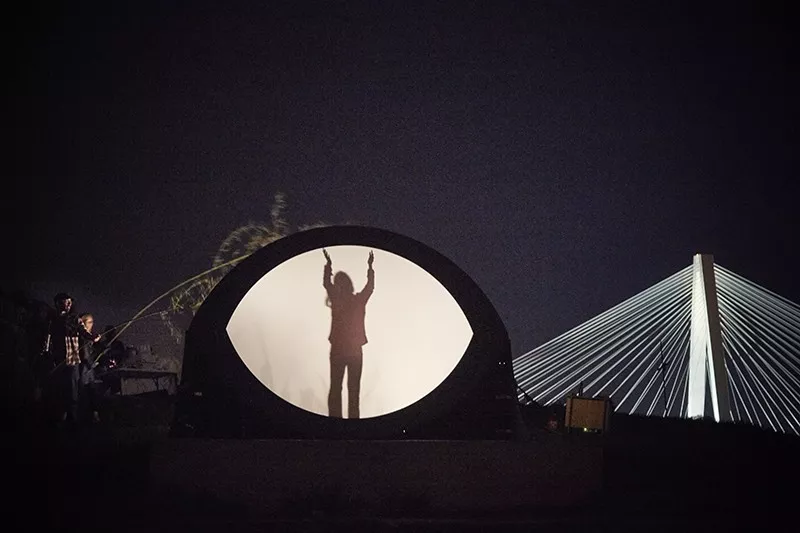 STEVE TRUESDELL
Artica returns to the riverfront this weekend.
6. Down by the River
Artica
began near the dawn of this century, and yet it remains forever new. The outdoor celebration of art, music, people and the Mississippi River adopts a new theme each year, with new installations and performances made in response. The theme for 2018 is MississipEpiphany, a compound thought designed to inspire reflection on the history of the region — both good and bad — and the timeless nature of the river that has flowed through all of those societies, cities and years. The Mississippi has been transformed by dredging and construction, yet still it flows. Artica 2018 takes place from noon to midnight Saturday and 10 a.m. to 10 p.m. Sunday (October 13 and 14) on the Artica site (Dickon and Lewis streets;
www.facebook.com/articafest
). The annual Boat of Dreams parade, in which small boats made of biodegradable materials are put in the water to float downstream, starts at noon Saturday. After dark Sunday, the Lady of Artica will be set aflame, to burn in the darkness until next year. Admission is free.
7. Eins, Zwei, Drei, Soulard

It's mid-October, and it's high time we had another Oktoberfest in this town. The revived
Soulard Oktoberfest
steps into the breech from 4 to 11 p.m. Saturday and 11 a.m. to 10 p.m. Sunday (October 13 and 14) at Soulard Market Park (Lafayette Avenue and South Eighth Street;
www.soulard-oktoberfest.com
). You're a St. Louisan; you know the drill. There will be pretzels, beer (and bier) and polka music, along with a stein-holding competition, axe throwing and the St. Louis Low Brass Collective's Oktubafest, which combines the tuba family of instruments, members of the St. Louis Symphony and a flash mob to great effect. Bogart's Smokehouse provides a specially designed German menu for the weekend; proceeds benefit neighborhood groups, including the Soulard School and the Soulard Restoration Group. Admission is free, but the VIP option is only $20 and includes access to the Bier Hall tent, premium German food and beer, and a commemorative stein.
8. Talkin' 'bout Stars
Kevin Smith is half the man he used to be. A massive heart attack followed by wholesale lifestyle changes and the switch to a plant-based diet resulted in dramatic weight loss for the director/raconteur. Smith, now with cheekbones, is on the road with pal Ralph Garman for a series of live editions of their
Hollywood Babble-On
smodcast (it's a portmanteau of "Smith" and "podcast"). Each episode features Smith and Garman discussing Hollywood news, gossip and the stars they encounter with foul-mouthed enthusiasm. Smith and Garman take the show to the Pageant (6161 Delmar Boulevard;
www.thepageant.com
) at 8 p.m. Sunday, October 14. Tickets are $39.50 to $50.
9. A Trial of Faith
Judas Iscariot's crime is well known, and his fate of eternal damnation was decreed long ago. An enterprising defense attorney believes he's being unjustly punished, however; if the essential tenets of the Christian faith are love and forgiveness, isn't the former apostle entitled to them? This legal argument brings about a trial that sees Pontius Pilate, Sigmund Freud, Mary Magdalene and Satan himself called to the stand to testify either for or against Judas' plight. Mustard Seed Theatre opens its twelfth season with Stephen Adly Guirgis' courtroom black comedy
The Last Days of Judas Iscariot
. Performances are at 8 p.m. Wednesday, Thursday and Saturday and at 2 p.m. Sunday (October 10 to 28) at the Fontbonne Fine Arts Theatre (6800 Wydown Boulevard;
www.mustardseedthreatre.com
). Tickets are $15 to $30.