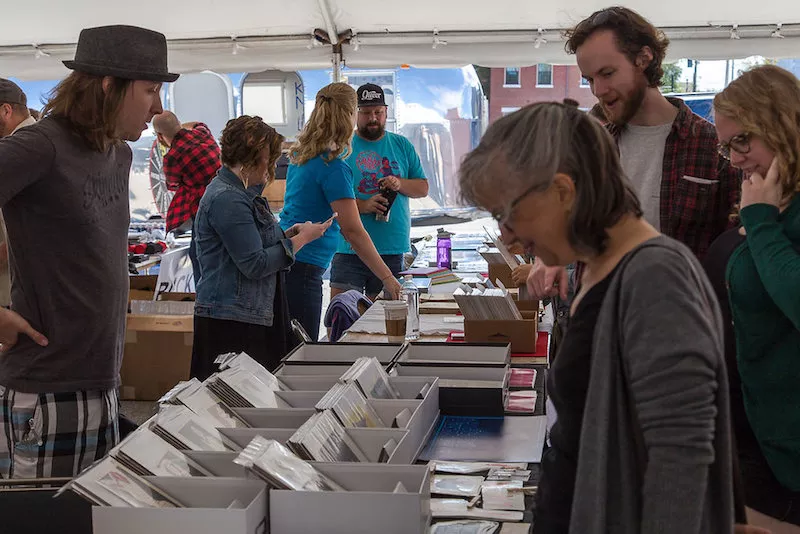 JON ALEXANDER
Ahhh, paper....
Just like books and records, letterpress printing is having something of a revival despite the onslaught of desktop publishing. Letterpress uses moveable type either carved into wood blocks or forged in steel, which is then placed in a locking form and inked. A roller powered by machinery or elbow grease then applies pressure, which stamps the impression into paper. It's the same labor-intensive process Johannes Gutenberg invented centuries ago to print the Bible.
Printmaker Marie Oberkirsch thinks the letterpress renaissance is a result of modern technology and old-fashioned nostalgia for a once-fading artform.
"I'm sure social media has helped the letterpress community," Oberkirsch says. "When a part breaks, you can contact other printers for help or a replacement, or watch a video that shows you how to repair it. I think there's a stronger community than there has been in the past because of it. A stronger print community spurs growth. It's tough to run a small print shop, so having a community helps."
The nostalgia kicks in when non-printers get their hands on a printed poster or card. "I think people really appreciate the tactile quality of it," Oberkirsch surmises. "The oil-based inks are lustrous. There are impressions left in the paper, so it feels different than laser printing or other modern methods."
JON ALEXANDER
"Tactile quality" has much to commend it in an increasingly digital world.
Oberkirsch is executive director of Central Print, the nonprofit arts organization based in the city's Old North neighborhood that promotes letterpress through classes, workshops and hands-on demonstrations. To that end, Central Print, its neighboring shop Firecracker Press and trade organization the Ladies of Letterpress host STL Print Week, a series of seminars for beginners to advanced practitioners of the inky art, from October 4 to 7. The week culminates in the Print Market, an open-to-the-public show and sale of hand-printed material and supplies for the small printmaker.
The Print Market takes place from 11 a.m. to 4 p.m. Sunday, October 7, in a large tent set up behind Central Print. You'll be able to buy new hand-carved type crafted by Steve Moore of Moore Wood Type, plus old forged type, and learn tips and tricks from the pros.
You can also help in the creation of the Ouroboros print project. The brainchild of Eric Woods of Firecracker Press, Ouroboros involves a modified one-ton letterpress, a squeeze clamp, some drywall screws and 2×4s, and an exercise bike. A 2,000-foot-long spool of paper will be fed into the letterpress, and as volunteers pedal, the paper will be fed through and printed on in an unbroken loop.
"Eric has done some incredible projects, but this is something else," Oberkirsch explains with just a touch of understatement. "It's a combination of new technology and old coming together."
Admission to the Print Market is free. Spaces are still available for the seminars; check out your options and sign up for one at www.stlprintweek.com.