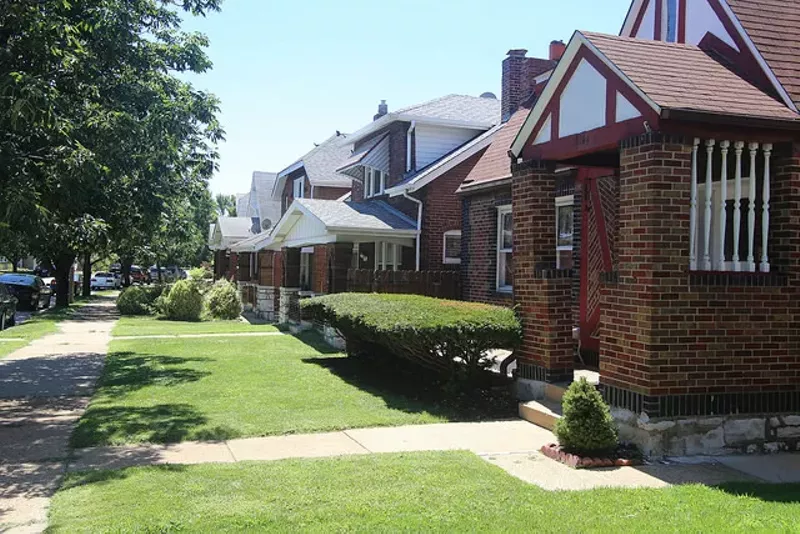 If you're seeking to buy a reasonably priced house in the St. Louis area, may we offer our condolences? The region's real estate market, which has been on a hot streak for a few years now, just posted another set of monthly numbers that speak to just how hard it's getting out there for buyers.
Median prices are up five percent over last year. The average number of days on the market, 37, has dropped by 13.95 percent. Keep in mind that both numbers are comparisons to last year — which was
also a very strong year for St. Louis-area sellers
.
And, speaking to a tightening market, the area's amount of active inventory has fallen 19.89 percent from last year, while its "month's supply of inventory" is down year-over-year by a whopping 31.58 percent. That's all according to RE/MAX's
August National Housing Report
.
In fact, the report says, St. Louis is now down to a 2.6-month supply of inventory. That's Realtor-speak for the idea that, if no new houses enter the market, we'd sell out in less than three months.
The National Association of Realtors suggests that a five or six month supply is a balanced market, says Sandy Hancock, a broker/owner with RE/MAX Results. She says, "This is clearly a seller's market, and low inventory will continue to drive the prices up."
Hancock says a few factors are driving that trend. For one thing, millennials are finally jumping into the home-buying market, even as new construction continues to lag. In short: Demand is increasing, while supply remains relatively constant. Surely you remember from Economics 101 what effect that combination tends to have.
Still, Hancock notes that not all parts of the market are overheated. Those trying to buy something for $250,000 or less may find themselves in bidding wars or being priced out by rival buyers offering more than the listing price, but in the upper end of the market, things are not nearly so tight.
"The upper end has a lot more inventory and new home availability," she notes. "They're not going under contract right away. For home owners asking $500,000, $600,000, we're seeing price reductions that we don't see at lower tiers."
We welcome tips and feedback. Email the author at sarah.fenske@riverfronttimes.com