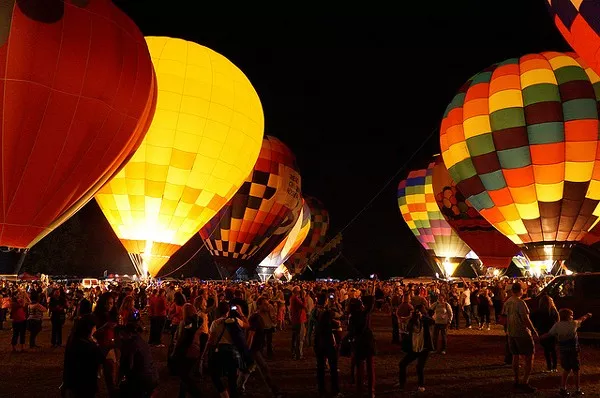 Another week, another round-up of happening events happening this week. (Did we just come full circle in one sentence?) Up on deck are photography exhibits about mid-century Mexico and late-in-life transgender/gender non-conforming adults, a beloved beer festival, an unusual dance duo and everyone's favorite annual balloon race.
1. Into the Spotlight

While the transgender/gender-fluid community continues to become more welcome in American society with every passing year, for the most part, its younger members tend to be most visible within the mainstream. Youth is inappropriately valued in our culture, but you can be certain that a growing number of older trans and gender-non-conforming people are out there living their best lives. Photographer Jess T. Dugan and social worker Vanessa Fabbre spent more than five years traveling the nation to photograph and record the life stories of this hidden demographic, finding subjects in both big cities and small towns. The duo's work is compiled in a new book and exhibition, both titled
To Survive on This Shore: Photographs and Interviews with Transgender and Gender Nonconforming Older Adults
. On Thursday, September 13, the exhibit opens and the book is officially released at a dual reception from 5 to 8 p.m. at Projects + Gallery (4733 McPherson Avenue;
www.projects-gallery.com
). A dozen large-scale photos of participants are on display, along with ten 18-by-24-inch portraits; all of them include a written narrative about the subject's life. The show continues through October 10.
See also: Portraits of Older Trans and Gender Non-Conforming People Who Led the Way

2. Made of Mexico

Lola Álvarez Bravo was a Mexican artist, educator and curator whose life spanned nearly the entire twentieth century. From the 1930s to the 1970s, Álvarez Bravo crisscrossed her way across the country with camera in hand, creating portraits of other working artists. Always shooting, she also made images of regular people and the architecture — both old and new — at a time when Mexico was rapidly growing and transforming.
Lola Álvarez Bravo: Picturing Mexico
, the new exhibition at the Pulitzer Arts Foundation (3716 Washington Boulevard;
www.pulitzerarts.org
), features more than 40 of her black-and-white photographs in all their glory.
Picturing Mexico
opens with a free reception from 6 to 9 p.m. on Friday, September 14. Also debuting the same night are more than 60 sculptures by Ruth Asawa, who often worked with wire. Both shows remain on display through February 16. The Pulitzer is open Wednesday through Saturday.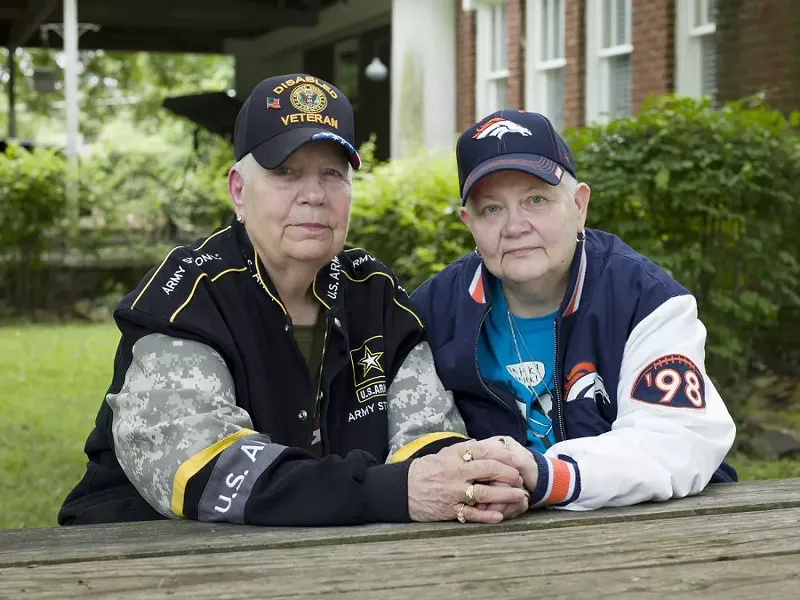 COURTESY OF PROJECTS+GALLERY AND JESS T. DUGAN
Hank, 76, and Samm, 67, Little Rock, AR. 2015
3.A Buncha Hot Air

The
Great Forest Park Balloon Race
began in 1973, which means at least two generations of St. Louisans have gone to the race as kids and then brought their own kids to the race in due time. That's a long-standing tradition, even by St. Louis standards. The 2018 edition starts at noon on Saturday, September 15, in Forest Park (
www.greatforestparkballoonrace.com
), with a series of performances by Consuming Kinetics Dance Company, the Muny Kids and the Purina Pro Plan Performance Team, which is a team of very good dogs leaping after Frisbees. Purina also sponsors the kids area, which is stocked with inflatables, games and a mural painting experience. At 4:30 p.m. the "hare" balloon — PNC Bank's Orange Blossom balloon — takes off, with the chase balloons beginning pursuit at 4:45 p.m. From that point forward, the skies over St. Louis County will be full of balloons drifting where the wind takes them. Admission to race day is free.
4. Hop on Down

Schlafly's
Hop in the City
marks its twentieth anniversary this year, and it's not going to be a small celebration. For the price of a $35 to $40 tasting ticket, you get unlimited samples of more than 40 types of beer, including six specialty tappings and a Hop in the City exclusive festival beer. The brewery offers a special, limited menu of food outside, and the Tap Room's full menu inside. Jake's Leg, Trippin' Billies and the Voodoo Players pay musical tribute to the Grateful Dead, Dave Matthews Band and Tom Petty, respectively, providing a familiar and fun soundtrack for all. Hop in the City takes place from 11 a.m. to 5 p.m. Saturday, September 15, at the Schlafly Tap Room (2100 Locust Street;
www.schlafly.com
). Come out and celebrate our oldest local craft brewery.
COURTESY OF WEWOLF AND DANCE ST. LOUIS
In Henry and Edward, dancers James Gregg and RubberLegz tell a story inspired Dr. Jekyll and Mr. Hyde.
5. When Two Become One

Robert Louis Stevenson's
Strange Case of Dr. Jekyll and Mr. Hyde
has fascinated readers for more than a century. What sort of transformation can remake a mild-mannered intellectual as a cruel monster with savage instincts? That evocative transformation is the inspiration for
Wewolf
's new dance piece,
Henry and Edward
. James Gregg and RubberLegz fuse breakdancing, contortion and contemporary dance to lock their bodies together into a series of dynamically altered human forms. Gregg and RubberLegz's bodies are recognizably human, but also somehow more than human. Wewolf presents the North American premiere of
Henry and Edward
at 2 p.m. and 7:30 p.m. Saturday, September 15, at the Grandel Theatre (3610 Grandel Square;
www.dancestlouis.org
). Tickets are $30 to $40.
6. Viva la Bevo

The neighborhood around the Bevo Mill has been German-American and Bosnian-American, and now the city's Mexican-American population is moving in. Just about a half-dozen Mexican restaurants, including Mariscos el Gato and Mi Lindo Michoacan, have opened their doors in Bevo. Sunday, September 16, is
Mexican Independence Day
, and what better way to say "hola" to the neighbors than with a street party? From noon to 10 p.m. on Sunday Gravois Avenue will be closed to cars from Taft to Gannett avenues, and instead will be packed with live music from Jenni Lopez and La Maquinaria Norteña, games for the kids, food booths and a mechanical bull. Admission is free, but you'll need money for food and drink. For more information, call 314-933-0757.
7. Less than Human

The Mildred Lane Kemper Art Museum may be closed while a new wing is constructed, but that doesn't mean the Kemper isn't contributing to the arts community. Its new
Technofutures: Science Fiction Film and Modern Design Series
presents three forward-looking silent European films from the 1920s, each featuring visually compelling design and scenery directly inspired by Cubism, Constructivism and Expressionism. First up is Marcel L'Herbier's 1924 film
L'Inhumaine
. It's a simple story of a famous opera singer, who entices men, flirts with them shamelessly and then spurns them all. A young scientist is duly rejected and, in his despair, kills himself. But she discovers he's faked his death, and by using his new inventions, she too can become something more than human. The real star of the film is the design, which synthesizes motion and abstract painting, courtesy of artist Fernand Léger. A digitally restored version of
L'Inhumaine
will be shown at 7 p.m. Monday, September 17, at the Landmark Tivoli Theatre (6350 Delmar Boulevard, University City;
www.kemperartmuseum.wustl.edu
). Admission is free.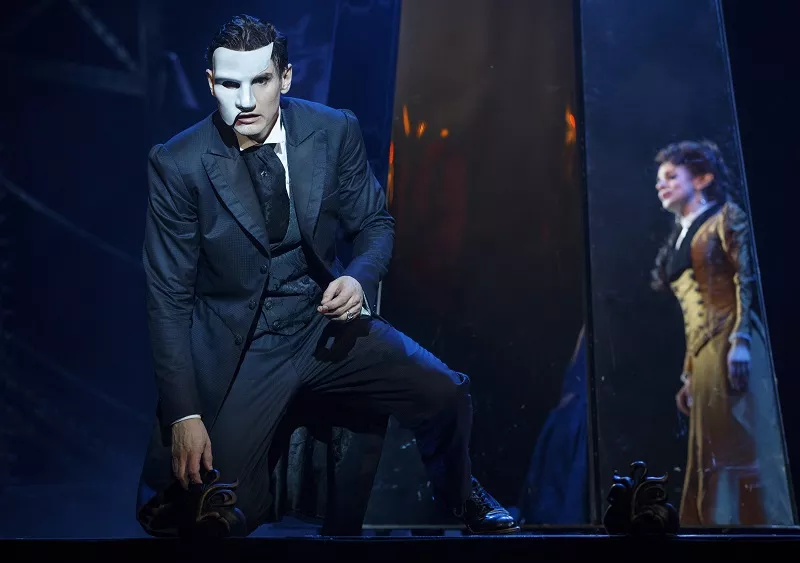 (C) JOAN MARCUS
You know you're in the right place when a carnival worker in a half-mask is lurking around. Love Never Dies.
8. Secret Admirer

Ten years after her horrific experience at and under the Paris Opera House, famed soprano Christine Daae arrives in America with her husband Raoul and son Gustave. Life hasn't been great; Raoul has both a gambling and drinking problem, and Christine needs to find success in New York to keep the family solvent. But little does the family suspect that its invitation to visit America came from the mysterious Phantom, who now operates (from the shadows, of course) a successful attraction at Coney Island. Can the Phantom reclaim Christine's love, which he possessed for one brief night, or will she remain loyal to her dissolute husband? The musical
Love Never Dies
is less a sequel to
The Phantom of the Opera
than a second story starring the same characters, according to composer Andrew Lloyd Webber.
Love Never Dies
makes its St. Louis premiere at the Fox Theatre (527 North Grand Boulevard;
www.fabulousfox.com
) this month. Performances are Tuesday through Sunday (September 18 to 30), and tickets are $35 to $99.