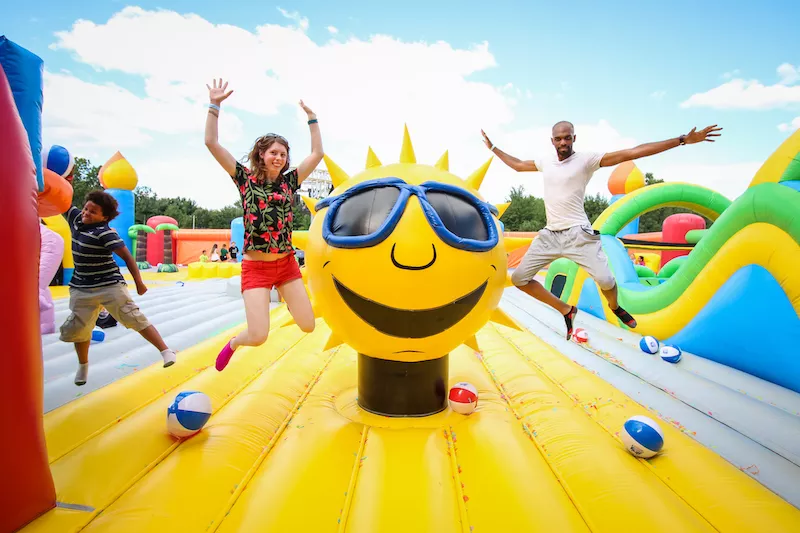 Bounce houses aren't just for kids' parties — from September 28 to 30, the biggest one in the freakin' world is coming to town, and it's determined to get adults out there bouncing too.
Big Bounce America plans to set up camp at
the Chesterfield Valley Athletic Complex
(Fields A1/A2, 17925 N. Outer 40 Road, Chesterfield)
. And "camp" is, if anything, too modest a description for the size of operation we're talking about here.
The main bounce house (featured in the
Guinness Book of World Records
for, naturally, being the world's biggest bounce house) is 10,000 square feet, and it's joined by something called Bounce Village, which is another 10,000 square feet of bonus bounciness in smaller structures. That is one big-ass bounce city!
Visitors can book a one-hour session to enjoy the big house for $12 to $21, depending on their age — and during that period, you can bounce your way from a ball pit to basketball hoops to slides .... or just bounce around. "It's a full grouping of entertainment options," promises spokesman Scott Selenow. Tack on Bounce Village access for an additional fee.
COURTESY OF BIG BOUNCE AMERICA
Get yer bounce on!
But it's the adult-only sessions that sound truly intriguing. While alcohol is not allowed (bouncing and booze
so
don't mix), Selenow promises a DJ booth with a nightclub-quality DJ. It's like the best rave of your life (only, again, stay away from the drugs ... you don't want to end up with a concussion).
Big Bounce America has been making its away around the country for nearly a year now, and Selenow says it's gotten men, women and children out there dancing and bouncing in nearly 60 cities from coast to coast. Not one has been too cool to submit the charms of primary colors, bouncy padded rooms and top-notch tunes.
"We have yet to see that city," he says.
For more info on Big Bounce America, see its
website
. To book a bounce session, check out its
ticketing info
.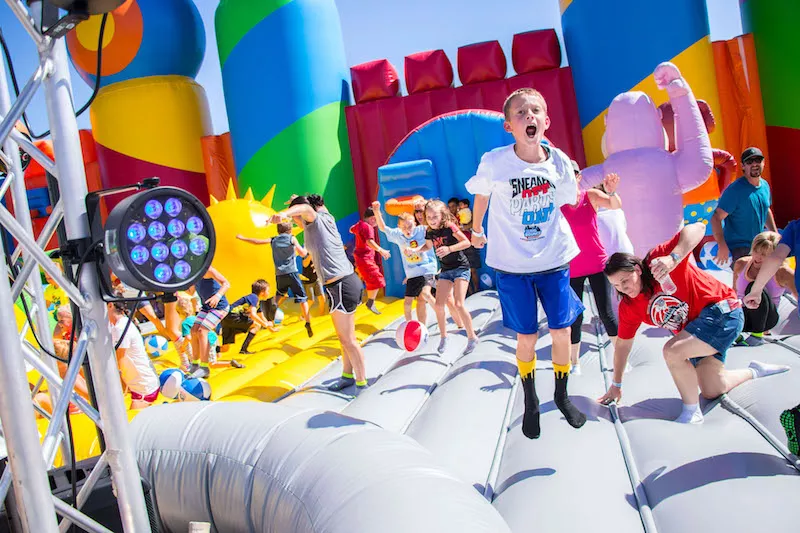 COURTESY OF BIG BOUNCE AMERICA
We welcome tips and feedback. Email the author at sarah.fenske@riverfronttimes.com