COURTESY OF THE INTERNATIONAL INSTITUTE OF ST. LOUIS
The Festival of Nations brings the world to Tower Grove Park.
Is anyone else digging out the sweaters and scarves just because it's been cool in the mornings? (Well, cooler than the nightmare that was July.) It's the anticipation of summer's end that keeps the sweater crowd going during these waning moments of the hot season.
But it ain't over yet — it ain't even Labor Day yet. In the meantime, keep on keeping on with the always popular Festival of Nations, the second week of St. Lou Fringe and our first opportunity to meet the new St. Louis Blues (and David Perron. Old pal David Perron is back again).
1. From The Critic to standup comic, in just a few short decades.

Jon Lovitz
is best known as a comic actor and voice-over artist, but his original dream was to be a standup comic. Some bad career advice dissuaded him, and then his big break on
Saturday Night Live
set him on a different path for a few decades, but Lovitz eventually got up on stage and told jokes in 2013. Now a seasoned comic, he brings his act to the Helium Comedy Club (1151 St. Louis Galleria;
www.st-louis.heliumcomedy.com
) for a short run. Jon Lovitz performs at 8 p.m. Thursday, 7:30 p.m. Friday and 7:30 and 10 p.m. Saturday (August 23 to 25). Tickets are $25 to $36.
2. Who do you call to help move a ten-ton sculpture?

By now you should have seen the amazing exhibition of Egyptian antiquities,
Sunken Cities,
at the Saint Louis Art Museum (1 Fine Arts Drive;
www.slam.org
). You may have even wondered how the museum managed to get a weighty, sixteen-foot-tall statue into the building. Lisa Çakmak, curator of ancient art, and Jeanette Fausz, director of collections, explain the nuts and bolts of artifact transport in the lecture
Sunken Cities
Behind-the-Scenes
. It's a peek behind the curtain at the tremendous amount of work and stress that goes into installing a once-in-a-lifetime exhibition. The lecture takes place at 7 p.m. Friday and 2 p.m. Sunday (August 24 and 26) in the Farrell Auditorium at the Saint Louis Art Museum (1 Fine Arts Drive;
www.slam.org
). Admission is $5.
3. It's a straight-up horror show.

It's been a solid couple of years for horror films (
It
,
A Quiet Place
,
The Witch
), but the only time you get a good scare at the theater is around Halloween. Spooky, Scary Productions brings the nightmares to the stage with its St. Lou Fringe show,
Grim Tales, Horrific Vignettes
. It's an anthology of six original horror stories brought to life right before your eyes. Performances of
Grim Tales, Horrific Vignettes
take place at 7:30 p.m. Thursday, 6 p.m. Friday and 2:30 p.m. Saturday (August 23 to 25) at .Zack (3224 Locust Avenue;
www.stloufringe.com
). Tickets are $15.
4. See the world in Tower Grove Park.

Summer can't end in St. Louis without the
International Institute's Festival of Nations
. The cultural celebration takes over Tower Grove Park (4256 Magnolia Avenue;
www.iistl.org
) from 10 a.m. to 7 p.m. Saturday and 10 a.m. to 6 p.m. Sunday (August 25 and 26) with Polynesian dance, storytellers from around the world, demonstrations of cricket, gymnastics and martial arts, and, of course, food from from all points of the globe. The festival is proof that St. Louis is home to many peoples and faiths, and that that makes us stronger as a city and a community. Admission is free, but bring money for food and the vendor booths.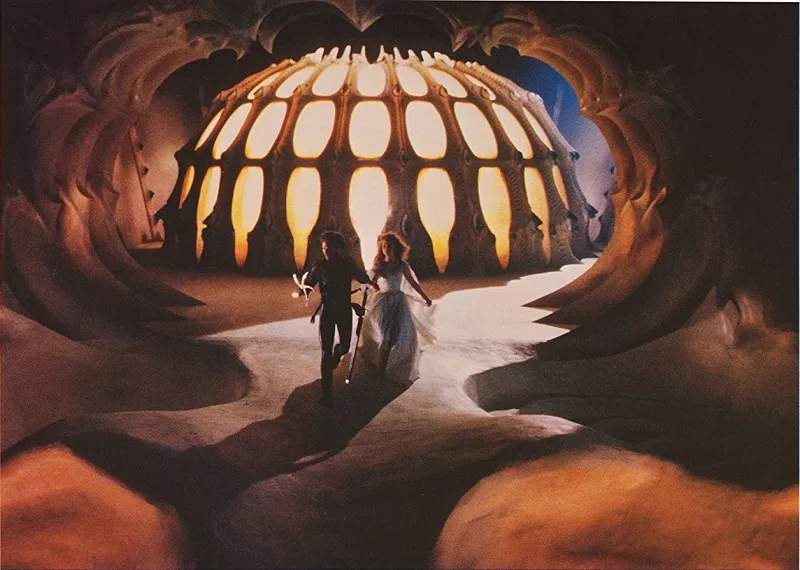 (C) COLUMBIA PICTURES
Krull looks great, but doesn't really satisfy on its own. Let's add the RiffTrax guys to the mix and see how that works.
5. If you love it, set it free. If it's the Glaive, it will come back.

The 1983 fantasy film
Krull
is an incredibly earnest adventure story with beautiful sets, lavish costumes and dull execution. The plot is by-the-books: Prince Colwyn almost marries Princess Lyssa, but a group of killers dispatched by the Beast purloins her and then threatens the world from his teleporting fortress. Only a raggle-taggle group of misfits and thieves can bring down the Beast and save both the princess and the world. There's nothing particularly terrible about it — but there's nothing particularly exciting about it either, other than Prince Colwyn's magical weapon. The glaive looks like a super-sized throwing star, and Colwyn can control it with his mind. (Really, it should have received top billing.) The
RiffTrax
team (Mike Nelson, Bill Corbett and Kevin Murphy) lampoons the movie in a live broadcast at 7 p.m. Thursday, August 23, at the Marcus Wehrenberg Ronnies Cine (5320 South Lindbergh Boulevard); that broadcast is screened at 12:55 p.m. Saturday, August 25, at the AMC Chesterfield 14 (3000 Chesterfield Mall, Chesterfield;
www.fathomevents.com
). Tickets are $12.50.
6. Meet the new Blues.

After a disappointing season last year (did anyone else just experience déjà vu?), the St. Louis Blues are set to start a new campaign. The season unofficially/officially gets going with the
St. Louis Blues Icebreaker
, a free party for fans at 5 p.m. Sunday, August 26, at Ballpark Village (601 Clark Avenue;
www.stlballparkvillage.com
). For new Blues Chad Johnson, Tyler Bozak and Ryan O'Reilly, it's an opportunity to meet the fans, and vice versa. The team's new third sweater will officially debut, and you can buy your own at one of the on-site merchandise stands. Entertainment is provided by the Charles Glenn Band, and fans can try out a 360-degree, virtual-reality hockey experience and compete on the inflatable obstacle course. Current defenseman Colton Parayko, Blues legend Bob Plager, fan-favorite Cam Janssen and David Perron (back for his third stint) will also be there, along with team leadership.
7. As the prophecy foretells, a wizard sits upon the throne.

What could be better than George R.R. Martin delivering the long-awaited sixth book in his
A Song of Ice and Fire
saga? How about
Game of Thrones Night
at Busch Stadium (700 Clark Avenue;
www.stlcardinals.com
)? Will that tide you over? On Wednesday, August 29, an official Game of Thrones Iron Throne will be at the stadium for photo ops before the team takes on the Pittsburgh Pirates, and a special bobblehead depicting a smiling Ozzie Smith seated atop a tiny Iron Throne will be handed out to those who've purchased promotional tickets ($22.90 to $100.90). This benevolent wizard-king believes in a strong defense and the occasional demonstration of long-ball power when the chips are down. The game starts at 7:15 p.m.; regular tickets start at $10.90.
COURTESY OF ADULT SWIM
His name is Rick Sanchez, he's a truck and he's coming straight at you, St. Louis.
8. Get Rickrolled.

Rick, the more intelligent and far more destructive half of the wildly popular Adult Swim TV show
Rick and Morty
, has taken on the form of a large truck dubbed the "
Rickmobile
," and is now careening across the country on the "Don't Even Trip" Road Trip 2018. 4 Hands Brewing Co. (1220 South Eighth Street;
www.rickmobile.com
) will host the intrastellar vehicle from 5 to 8 p.m. on Wednesday, August 29. Inside the Rickmobile is a treasure trove of limited edition
Rick and Morty
merchandise, and it's all for sale.
You're right, that does sound suspicious. Anytime Rick dabbles in commerce, he usually has an ulterior motive. The self-proclaimed "smartest man in the universe" is consumed by arms deals, microscopic amusement parks tucked inside a drifter's body and countless schemes yet to be revealed. Do you risk becoming enraptured by all that dangerous craziness and crazy dangerousness? It may be worth it. The Rickmobile has offered inflatable Gwendolyn pool floats (the sex robot Morty acquires in "Raising Gazorpazorp"), T-shirts that depict the necessary steps for making the Plumbus and more. All of the merchandise is extremely limited, and the Rickmobile only accepts credit and debit cards — no cash. You're welcome to dress up as your favorite character, but if the line grows too long it will be capped and not even your sweet-ass Birdperson costume can help stop it.