JBEAUVAIS PHOTOGRAPHY
The Grove Criterium now includes a second day and a new race through Tower Grove Park.
Did you notice that the days are noticeably shorter now? Summer's burning down its candle, and some of us are already breaking out the sweaters and hats in anticipation — although that's also because some metro buses have surprisingly strong air conditioners. (You ever step off the bus and have your glass eye fog up?) But these are thoughts for later days; right now we have festivals, baseball games and bicycle races to attend.
1. There's a light that never goes out

R-S Theatrics opens its eighth season with
The Light in the Piazza
. The Adam Guettel/Craig Lucas musical eschews the typical Broadway sound for a more romantic, classical-music approach and follows the ups and downs of a whirlwind Italian romance. Clara and her mother Margaret are visiting Florence, Italy, when Fabrizio notices Clara across the piazza. At first rebuffed by the protective Margaret, Fabrizio soon enough is falling in love with Clara, and his feelings are reciprocated. Margaret still harbors doubts, even after meeting the young man's delightful family. Why is she so concerned about letting her adult daughter fall in love and start a new life?
The Light in the Piazza
is performed at 8 p.m. Friday and Saturday and 7 p.m. Sunday (August 10 to 26) at the Marcelle (3310 Samuel Shepard Drive;
www.r-stheatrics.com
). Tickets are $20 to $25.
2. Two days of bike races, one great neighborhood

The Grove Criterium has expanded to cover two days and three different courses, and those changes require a new name. Now called the
St. Louis Classic
, the event includes the Babler State Park Time Trial (7:30 a.m. start on Saturday, August 11) and the Tower Grove Park Criterium (noon start time on Saturday as well). Also on Saturday is the Be Like Casey Bike Rally, a kid's cycling safety clinic and skills course, which runs from 2 to 5 p.m. in Tower Grove Park. Sunday, August 12, brings the Trailnet Fun Ride at 7:30 a.m. (at the corner of Newstead and Manchester avenues) and then the original Grove Criterium, which starts at 10 a.m. Urban Chestnut's beer garden will be back in the Grove and in Tower Grove Park, and BEAST Craft BBQ will be there serving up its award-winning 'cue. As exciting as the race through the Grove is, the Tower Grove Park course has great viewing spots and a long straightaway on Main Drive that should allow riders to really generate some speed — it might be the best cycling race in the city. Admission to all races is free for spectators. For course maps, race registration and general information, visit
cyclingstlouis.com
.
COURTESY OF R-S THEATRICS
Fabrizio (Tielere Cheatem) and Clara (Macia Noorman) fall in love in Italy, and only their families can keep them apart in The Light in the Piazza.

3. Scarlett Johansson's not in this one

Masamune Shirow's groundbreaking cyberpunk manga
Ghost in the Shell
is about a counter-terrorist organization operating in a high-tech, mid-21st-century Japan. Many of the agents have technology implanted in their bodies, with team leader Motoko Kusanagi having a full-body replacement. Shirow's philosophy of crime and punishment, the essence of what makes us human and the impact of rapid technological development all underpin the series and its animated film adaptations. The original film version, also called
Ghost in the Shell
, delves into Kusanagi's own doubts about her humanity (if she doesn't have an organic body, is she merely an advanced appliance?) even as the team tracks a criminal who can hack into cybernetic brains and control them. Seeing the intricately detailed city where the action takes place is alone worth the price of admission; it's a grubby, beautiful character that grounds the story. The Reel Late film series presents
Ghost in the Shell
at 11:55 p.m. Friday and Saturday (August 10 and 11) at the Landmark Tivoli Theatre (6350 Delmar Boulevard, University City;
www.landmarktheatres.com
). Tickets are $8.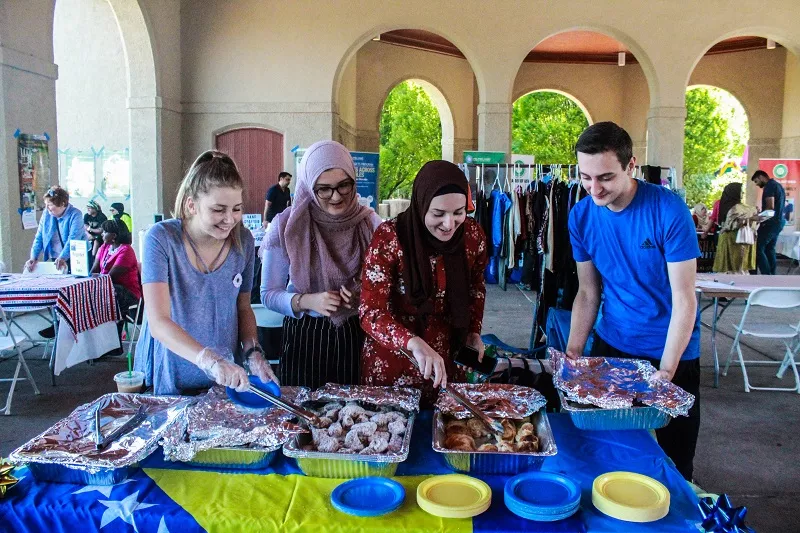 COURTESY OF CAIR-MISSOURI
The Great Muslim Food Fest returns to feed all kinds of people delicious food.
4. Food, friends and Forest Park

Summer is festival season, and you'd be hard pressed to find a better, more delicious example than the
Great Muslim Food Festival
. It's both a celebration of a cuisine that transcends national borders and a fantastic chance to meet your neighbors and friends in the park. Family favorites and delicacies from India, Bosnia and a host of Middle Eastern and African nations are on the menu, with local restaurants and organizations manning various booths. The Bubble Bus will be on site, and live entertainment will range from music to traditional dance to poetry. The Great Muslim Food Festival takes place from 11 a.m. to 7 p.m. Sunday, August 12, at the World's Fair Pavilion in Forest Park. Admission is free but bring cash for food and drink.
5. War is bad for children (and other living things)

Isao Takahata's anime adaptation of Akiyuki Nosaka's short story
Grave of the Fireflies
may have been made and released by Studio Ghibli, but that doesn't make it a movie for children. It's a stark tale of a young brother and sister trying to survive in Japan during the waning days of World War II. Seita does his best to take care of his little sister Setsuko, but there's little food left to scrounge or steal. It's a realistic depiction of both the human cost of war and the damage wrought when those most in need of guidance and aid are left to fend for themselves. Fathom Events screens the film at 12:55 p.m. Sunday and 7 p.m. Monday and Wednesday (August 12, 13 and 15) at Marcus Wehrenberg Ronnies Cine (5320 South Lindbergh Boulevard;
www.fathomevents.com
). Tickets are $12.50.
6. Late-summer baseball is the perfect night out

At the time of writing, the
St. Louis Cardinals
and the Washington Nationals are essentially mirror images of each other. Both teams hover right around .500, both are about a half-dozen games back and neither has played up to its own expectations this year. The Nationals still have their big weapon, Bryce Harper, on the roster (yes, even after the trade deadline), and the Cardinals are still led by Yadier Molina (and current National League home-run leader, Matt Carpenter). If either team is going to turn things around and storm into the playoffs, a four-game series in mid-August is a good time to get going. The Cards play the Nationals at 7:10 p.m. Monday, 7:15 p.m. Tuesday and Wednesday, and 6:15 p.m. Thursday (August 13 to 16) at Busch Stadium (700 Clark Street;
www.stlcardinals.com
). Tickets are $10.90 to $234.90.
7. No way out

Three people — Joseph Garcin, Estelle Rigault and Inès Serrano —are taken by the Valet to the same nondescript room. All three expect to be tortured, for that's what happens to damned souls. Instead they are left to their own devices, which mostly consists of justifying their damnation, complaining that they're not supposed to be here and arguing for the truth to be told. Jean-Paul Sartre's play
No Exit
is the quintessential existential drama, and in Alyssa Ward's new translation the characters must once again suffer as they see themselves through another person's eyes. Slightly Askew Theatre Ensemble presents
No Exit
at 8 p.m. Wednesday to Saturday (August 15 to September 1) at the Chapel (6238 Alexander Drive;
www.slightlyoff.org
). Tickets are $15 to $20.