COURTESY OF MICHAEL HICKS
Friends Gonçalo Antunes and Michael Hicks created The Path of Motus, a new game released this week.
Finally, video games and bullying have met in their most ambitious collaborative project since the twelve-year-old
Bully
.
Designed in St. Louis, the game is called
Path of Motus
, and it's now available on Steam, PS4 and Xbox One.
The premise of the game is the standard quest, but comes with a unique twist: A tribe of goblins has been trapped in a forest for thousands of years, and all attempts to escape fail. A young and crafty goblin aims to construct bridges to get his fellow goblins out, but is continually harassed by forest bullies. You (the goblin) exchange barrages of aggressive wordplay with the bullies even as you persevere in your bridge-building.
Michael Hicks, the game's 25-year-old writer and designer, had an altruistic motive for writing in verbal bullying as the game's main form of antagonism. He has partnered with the Cybersmile Foundation, a non-profit anti-cyberbullying organization, and plans to donate ten percent of the game's sales.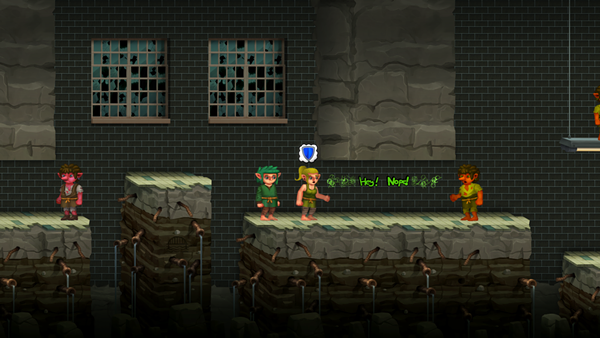 COURTESY OF MICHAEL HICKS
Words are weapons in life — and The Path of Motus.
While growing up in Mount Vernon, Illinois, Hicks passed time about the only way imaginable in that city — he gamed. Usually it was
Star Wars: Rogue Squadron
or
Knights of the Old Republic.
Even
Banjo-Kazooie
found its way into the rotation. In time, he developed an interest in creating games of his own.
Hicks says he's been interested in the inner psychology of bullying for years, employing an empathetic approach. He believes that most bullies come from difficult environments or have self-esteem issues. It's a universal message, and one reason he's also created an educational version for use in schools along with the original. "Playing as Motus requires you to have resilience, and lets players explore the deeper reasons for why people resort to aggression; my hope is that players stay strong, while also having empathy for 'the enemy,'" the game's press kit explains.
An auteur gaming sensibility and desire for a strong message led Hicks to want to create the game independently, without a major label's assistance. He enlisted his friend Gonçalo Antunes, who is based in Portugal, to do the drawing and animation.
"The final product is so intimate and personal, you can tell two people made it," Hicks says. "When you're in the studio system, you don't have that identity that makes you it feel personal."
The two's reluctance to work with a major label didn't come without its pitfalls.
"There were periods of development where we worked close to twelve hours a day," Hicks reports dryly, adding, "We just love doing what we do so much we feel engrossed by it… this much work can consume you."
COURTESY OF MICHAEL HICKS
A still from The Path of Motus.
The game took three years to develop fully and animate — in large part due to the duo's continually increasing standards. A vicious cycle took place; the duo would work for a few months on the game, with their skills subtly improving during this work. Then they would look back at the game they had just created, and quickly start over, determined to get their past work up to their current skill level.
In addition to game developing, Hicks has a
YouTube
channel dedicated to teaching younger and less experienced budding gamers the secrets of the craft. Everything from programming to coding to creating their own games, Hicks is an open book when it comes to his talents on the keyboard.
The Path of Motus
is available on
Steam
, PS4, and Xbox One.