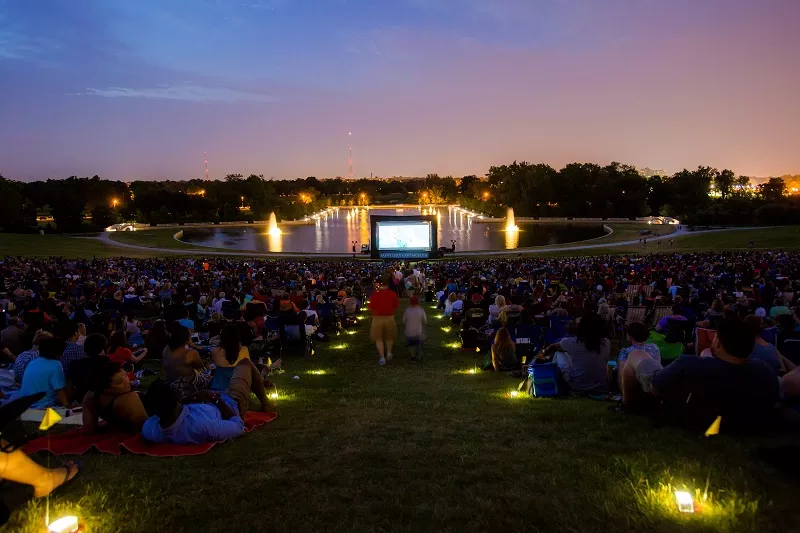 COURTESY OF SAINT LOUIS ART MUSEUM
The movies go outside in Forest Park during the Art Hill Film Series.
Sunday marks the mid-point of July, which means we're blowing right through this summer. This week brings us a charity taco race, the return of Maplewood's art/street festival Let Them Eat Art and the first week of the St. Louis Filmmakers Showcase. Not a bad haul for the dog days of summer.
1. Return to Maplewood for art and lucky thirteen fun.

Friday the thirteenth has long been associated with bad luck and worst case situations, but Maplewood thumbs its nose at these superstitions with
Let Them Eat Art
, a tongue-in-cheek tribute to Bastille Day. This is the thirteenth time the city has held the event, so 2018's iteration is doubly auspicious. More than 50 artists will create original works that explore the triskaidekaphobic theme, with their creations then displayed at local businesses along Sutton Boulevard and Manchester Road (
www.cityofmaplewood.com
). The Saint Boogie Brass Band, Farshid Etniko and Hobo Cane with Javier Mendoza will perform live on stages and in parks, and roaming entertainers and activities for the kids round out the evening. Let Them Eat Art takes place from 6 to 11 p.m. Friday, July 13, and admission is free.
2. See what happens in the Craft Alliance's studios.

The Craft Alliance Center of Art + Design (6640 Delmar Boulevard, University City; www.craftalliance.org) serves as both a teaching institution and a gallery. Both facets are on display at
Works from the Studios
, a juried exhibition. The show features works by students and faculty in ceramics, metals, fiber and wood, among other media.
Works from the Studios
opens with a free reception from 5 to 8 p.m. Friday, July 13, at Craft Alliance Center of Art + Design (6640 Delmar Boulevard, University City;
www.craftalliance.org
). The work remains up through August 13, and the gallery is open daily.
3. Brave the mosquitoes of Forest Park for a free movie.

The
Art Hill Film Serie
s has become incredibly popular in just a few short years, and it's easy to understand why. A summer night out on Art Hill in Forest Park (
www.slam.org/filmseries
) with a favorite movie and your favorite people and it doesn't cost anything to get in? That's a winner. The 2018 series takes its cue from the current exhibition,
Sunken Cities: Egypt's Lost Worlds
. Dubbed "epic quests," this year's films are all about the search for something and should be familiar to even the most casual movie watcher. The series starts with
Raiders of the Lost Ark
on Friday, July 13, and continues on successive Fridays in order with
Hidden Figures
(July 20),
Dr. No
(July 27) and
The NeverEnding Story
(August 3). Films start at 9 p.m., but at 6 p.m. food and drink are available from the museum's cafe and the Panorama tent on the lawn.
COURTESY OF CINEMA ST. LOUIS
Rusty and Clark Fairwood star in East Plains: Get Out at the St. Louis Filmmakers Showcase this weekend.
4. Movies for St. Louis, by St. Louis.

Musical duo Rusty and Clark Fairwood are a flashy act on the rise. With their smart suits (complete with bedazzled crosses and American flags) and massive coifs, they're entertainers in the Grand Ole Opry style. When they audition to be hosts on the talk show
East Plains: Get Out
, the Fairwood boys are faced with a dilemma. The TV station that broadcasts the show pretty much runs the town of East Plains, but the owners are immoral sinners. Will the Fairwood Brothers be stained by filthy lucre, or will they fight for justice?
The feature film exploring that question,
East Plains: Get Out
(directed by Renior Fairwood), screens at 9:15 p.m. Friday, July 13, the opening night of this year's
St. Louis Filmmakers Showcase
. In addition to twelve different programs of short subject films (including "Lingua Francas," a documentary about fine dining in Springfield, Missouri, which is featured in the
RFT
's Short Orders section this week), the festival also squeezes in eight feature films. Among them are the documentaries
Gateway Sound
and
The Best of Us: 100 Seasons of Muny Magic
. The former is an in-depth look at how a local recording studio has adapted to survive the transformation of the music industry.
The Best of Us
is an interview-intensive film about a more stable musical industry, the Muny.
And then there's writer/director Catherine Dudley-Rose's film
Parallel Chords
, which began as a short subject featured in the 2015 edition of the showcase. Dudley-Rose has expanded the story into a full-length film about a young female violinist struggling to maintain her individuality under constant pressure from her father (a pianist) and the industry's expectations for young women with talent. The director is a successful violinist in her own right, which no doubt informs the story. The St. Louis Filmmakers Showcase continues Friday through Sunday for two weeks (July 13 to July 22). All screenings take place at Washington University's Brown Hall (Forsyth Boulevard and Chaplin Drive;
www.cinemastlouis.org
). Tickets are $10 to $13.
5. Get them tacos.

Bacon's days in the spotlight are over, and the new food of the moment is the humble taco — but how far would you go to hunt down a great one? The
Amazing Taco Race
is a scavenger hunt that rewards the clever with tacos. From 11 a.m. to 1 p.m. on Saturday, July 14, teams and individuals will attempt to solve a series of clues that lead them to the next delicious taco, each hidden in a business or restaurant along Cherokee Street. The event is a benefit for Casa de Salud, a local non-profit that facilitates mental health service for uninsured patients. Participants get their pick of three meat or vegetarian-friendly tacos, a dessert and the option of adult beverages. Register at
www.facebook.com/friendsdecasadesalud
for more information about the starting point and other rules. Tickets are $20 to $35.
BILL WEBSTER
Let Them Eat Art brings the party to Maplewood.
6. A silly play about serious demeanors.

Algernon Moncrief is a member of London society at the end of the nineteenth century, which means his job is mainly dressing well and maintaining an air of sophisticated boredom at all times. His friend Jack leads a similar life, only he does it from his country estate. Jack's young female ward, Cecily, lives with him at the estate, and as an instructive measure he tells her stories of his "brother" Ernest's debauchery. But Ernest doesn't exist, and the exploits are actually Jack's, who in truth is as idle as Algernon. When Algernon learns of Jack's ploy, he sees an opportunity to get his foot in the door at the country estate. Oscar Wilde's 1895 play
The Importance of Being Earnest
is a comedy of manners and language at the expense of that rarest of breeds, the upper-crust ninny. Insight Theatre Company commences with the drollery at 8 p.m. Thursday through Saturday and 2 p.m. Sunday (July 12 to 22) at the Grandel Theatre (3610 Grandel Square;
www.insighttheatrecompany.com
). Tickets are $15 to $35.
7. Get lost (safely) in the desert.

If you've lived in the city for an extended period of time you've learned to ignore the noise pollution. The only way you can hear it again is if you go someplace without buses, car alarms and stereos – someplace like the Sonoran Desert on the border separating the U.S. from Mexico. This vast stretch of mostly-unoccupied land has a soundtrack created only by the natural world. Joshua Bonnetta and J.P. Sniadecki's documentary
El Mar La Mar
gives you an extended visit to the region. Using interviews with frequent visitors juxtaposed with shots of open terrain and the possessions left behind by migrants, the directors reveal an almost-alien world. Lava spews from the ground, empty water bottles stud the desert floor and a man tells you about the huge monster that he's witnessed in the area – and all around you is the empty, wild land. The Webster Film Series presents
El Mar La Mar
at 7:30 p.m. Friday through Sunday (July 13 to 15) at Webster University's Moore Auditorium (470 East Lockwood Avenue; www.webster.edu/film-series). Tickets are $5 to $7.
8. Celebrate an orphan and the sun at the Muny.
Annie
, the musical story of a spunky, Depression-era orphan who awakens the paternal instinct of a millionaire industrialist just in time for Christmas, is a perennial favorite. It has two knock-out songs ("Hard Knock Life" and the relentlessly optimistic "Tomorrow"), a well-defined heroine and a charmingly retro setting. There's also a role for a dog, and that never hurts a show. The Muny in Forest Park (
www.muny.org
) continues its 100th season with the heartwarming
Annie
. Performances are at 8:15 p.m. Wednesday, July 18, through Wednesday, July 25. Tickets are $15 to $100.