COURTESY OF HUMANS OF ST. LOUIS
A mock-up spread of the book Humans of St. Louis hopes to produce.

Humans of St. Louis
, until now a project based entirely on social media, will soon release a full-length book that chronicles the faces and stories of hundreds of individuals in the area.
Because of these stories, "people who don't go to certain places or talk to certain people can now hear their personal stories. And that's really powerful in a city where there are so many divides," says Lindy Drew, the project's photographer.
This marks the fifth year of daily photos and interviews for Humans of St. Louis, which began around Cinco de Mayo of 2014. Since then its photographers have chronicled the lives of nearly 2,000 people, with no end in sight. Its
Facebook page
has grown to include 95,000 fans — more than any other "Humans of" project outside of New York City. (While they share a name and a concept, each is separately run.)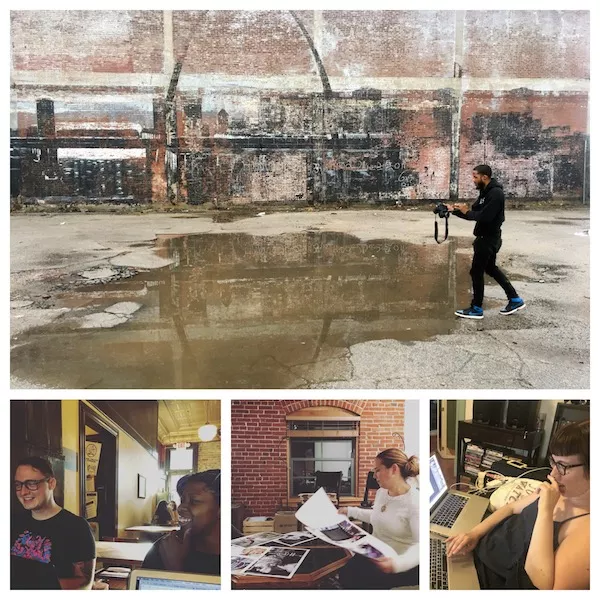 Top, videographer Jon Alexander. Bottom left: Kickstarter Campaign Manager Andrew Doty and Photostories Editor and Copywriter Tunde Ogunfidodo. Middle: Co-founder and Lead Photographer Lindy Drew. Bottom right: Project Coordinator and Editor Hannah Burtness
Drew says she felt the project shift internally from a lighter look at the residents of the metro area to a more pointed and lofty project around the time of the unrest in Ferguson, which first broke out three months after it first launched.
"Ferguson is when we realized that people in St. Louis could use another platform to have discussions and could use another place to talk about this stuff," says Drew.
But while Drew says print is her preferred medium, the book now being planned is its first offline representation. "We want to put the stories directly into the readers' hands," she states.
The book has a
Kickstarter
set up to assist in funding its initial release. It explains its mission:
As St. Louis's story continues to be written, we want to take a snapshot of the past 5 years the way that we always have — one photo and story at a time. Typically, the Humans of St. Louis (HOSTL) posts only get a day of playtime on the page. But the stories are still relevant and timely and enjoyed by so many.

So we're making a book! We're self-publishing, and we're keeping it local, from the stories to the team of creatives, from the printer to the distributor. And we're inviting you to join us to make something truly unique of, by, and for St. Louis!
To date, backers have raised slightly more than one-third of the $30,000 target. They must raise the full amount in the next fifteen days in order to collect whatever funds they raise, and so they're speaking out about the project and its goals.
"These stories will challenge people's perceptions and amplify the voice of everyday people here, and take back the narrative of how our community is perceived," says Drew.
For more, check out the project's
Kickstarter campaign
.
Editor's note: We edited a few quotations after publication to better reflect our recording of the interview with Drew. We regret the errors in our initial transcription and apologize for any confusion caused by changing the story after the fact.