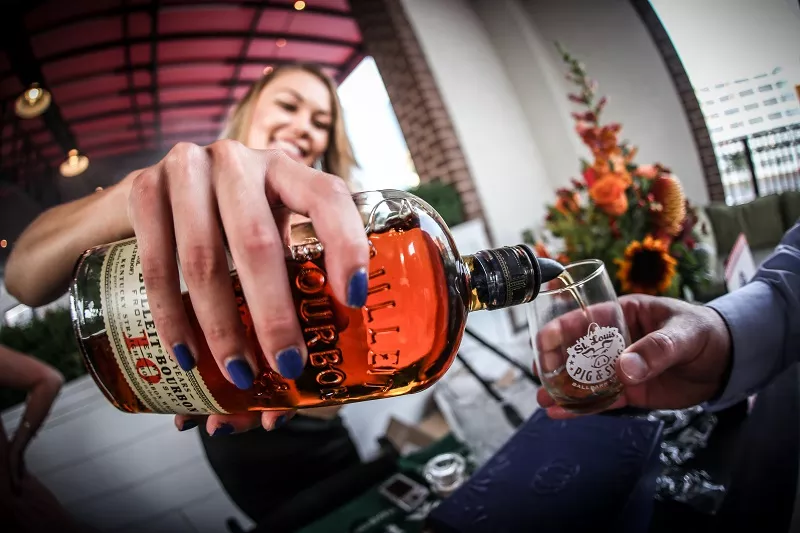 COURTESY OF BALLPARK VILLAGE
Pig & Swig brings barbecue, whiskey and cigars to Ballpark Village.
PrideFest weekend is now, people. It's always one of the biggest parties of the summer, and with Tower Grove Pride happening on Saturday as well, your LGBTQ party options have doubled. Stray Rescue's annual art-based fundraiser Urban Wanderers is also on the schedule, as is another well-provisioned barbecue and whiskey fest; you may need to squeeze in a nap somewhere in your weekend.
LA MIRADA THEATRE, LOS ANGELES
End of the Rainbow is about Judy Garland trying to climb back to the top near the end of her life.
1. An American legend on the comeback trail.
Judy Garland was in a bad way in 1968, but that was not enough to stop the show from going on — especially a comeback show. In Garland's London hotel room, the singer and her accompanist go through their paces as she attempts once again to rise above disappointment, failing health and exhaustion to become "Judy Garland," the world's greatest interpreter of the American songbook, all under the watchful eye of her new fiancé. Peter Quilter's play-with-music
End of the Rainbow
makes its St. Louis premiere under the auspices of Max & Louie Productions. Performances are at 8 p.m. Thursday through Saturday and 3 p.m. Sunday (June 22 to July 1) at the Grandel Theater (3610 Grandel Square;
www.maxandlouie.com
). There's one 7:30 p.m. show on Thursday, June 21. Tickets are $20 to $300.
2. Raise a glass to barbecue.

St. Louisans don't live on barbecue alone, but that won't be a problem at the
Pig & Swig
, held from noon to 7 p.m. Saturday, June 23, at Ballpark Village (601 Clark Avenue;
www.stlballparkvillage.com
). Sure, Salt + Smoke, Beast Craft BBQ Co., Bogarts and Sugarfire Smokehouse will be there cooking it up and laying it out for cash prizes, but there will also be many kinds of whiskey to purchase and premium cigars as well. For the non-smokers (read: children), a special kid's zone and live music are on offer all day long. Admission is free, and food and drink will be sold on site.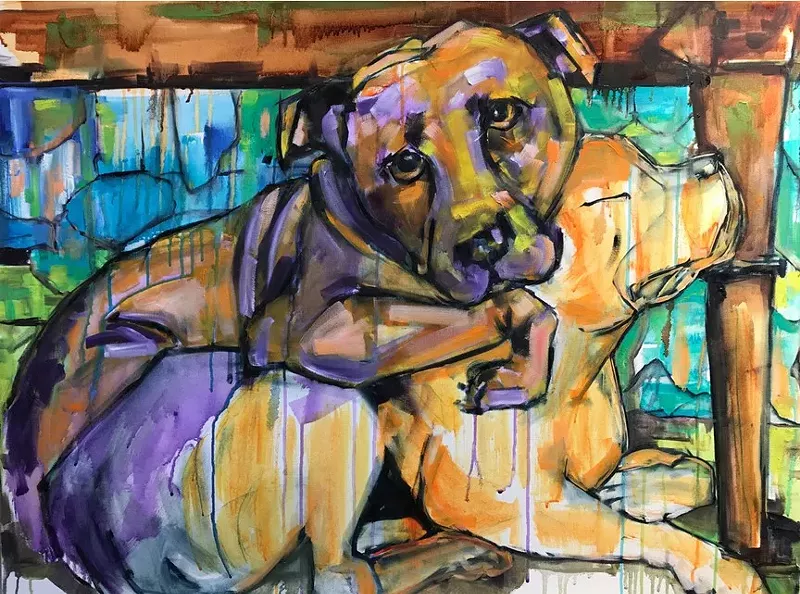 MICHELLE STREIFF
Evie and Novalee are just two of the dogs featured in this year's Urban Wanderers fundraiser.
3. I'll take any dog portrait over the Mona Lisa.
Stray Rescue's annual arts-based fundraiser
Urban Wanderers
has become a summer tradition. The benefit consists of two parts. Step one, local artists make a piece in their chosen medium that is inspired by one of the animals Stray Rescue has saved from dangerous neglect, the streets and any number of bad situations. Step two, art-buying and animal-loving people show up and bid on the art, helping to further Stray Rescue's good works. Easy, peasy, puppy-pleasy.
But this year, there's a change to the tried-and-true formula. The show has moved from the Saint Louis University Museum of Art to the Four Seasons Hotel downtown. It turns out SLU's bicentennial celebration means its museum's doors are closed to outside groups for the year. But never fear: Natalie Thomson, Stray Rescue's marketing manager, says the organization just needed a space big enough to hold the throng that attends each year. The Four Seasons is just that, a good thing since this year looks to be a particularly big one — the auction includes more than 90 pieces of art.
"This is the most we've ever had," Thomson says. "Most of the artists did one piece, but we requested some of them do a couple. It's mostly paintings, but we also have some sculptures and mixed media, and a few photographers."
One of Urban Wanderers' traditional highlights in the past has been that a number of adoptable dogs come to the show for the opening. The Four Seasons has agreed to welcome one or two canine guests this year, but Thomson isn't sure if it will happen.
Even if no dogs show up, another special guest is scheduled to attend. Stray Rescue founder Randy Grim had a thoracic aortic aneurysm in February and has been recuperating for the past four months. If he does attend, this will be his first public appearance since his emergency surgery.
But if Grim doesn't make it, that doesn't excuse you. As Thomson notes, "It's free to get in, and there will be lots of free food. So bring friends and dress up fancy if you like. A lot of the art has starting bids under $100, and 100 percent of the proceeds go to the medical fund."
Urban Wanderers takes place from 7 to 11 p.m. Saturday, June 23, at the Four Seasons Hotel (999 North Second Street;
www.strayrescue.org/uw
). Admission is free.
4. The pride of Tower Grove.

Tower Grove Pride
continues to grow in size and influence. The community-centric celebration of LGBTQ people takes place from 11 a.m. to 8 p.m. Saturday, June 23, at Tower Grove Park (4256 Magnolia Avenue;
www.eventbrite.com
) and features more than 150 local artists and businesses selling their wares, food trucks and live entertainment, all under the leafy trees of one of the city's best parks. Admission is free, but if you buy the $15 backstage pass you can take advantage of the indoor Chill Out area and the outdoor amphitheater, which hosts musical, burlesque and drag performers. And don't forget to buy a pair of the exclusive Pride socks, designed by Stonebelt Supply and only available at Tower Grove Pride.
5. Chalk it up as a winner.

The Loop Arts Fest returns this weekend, and it features literary readings, concerts and the always popular
Chalk the Loop
contest. Everybody is welcome to register and then create their own artistic contributions on the sidewalk. The best designs will be awarded cash and bragging rights. Advanced artists and beginners alike are encouraged to join. Chalk the Loop takes place from 10 a.m. to 4 p.m. Saturday, June 23, in Ackert Walkway next to Chuck Berry Plaza (6555 Delmar Boulevard;
www.visittheloop.com/Artsfest/
). Registration costs $6 to $10, and it's free to watch.
SARA BANNOURA
Show some pride, y'all!
6. It's PrideFest time, the most wonderful time of the year.

Despite a decade of real progress for the LGBTQ community, this past year hasn't been great. We have an anti-gay vice president and a new, equally anti-gay governor. Those are just two of the many reasons why
PrideFest
matters in 2018. The community needs to stand as one to remind the homophobes that we're here and we're queer — even as allies need to stand up to say we love them for it.
PrideFest
returns to Soldiers Memorial Park (Fourteenth and Chestnut streets;
www.pridefe.st
) this weekend, with a special, under-25 area for the youngsters and performances by Charis, the Gateway Men's Chorus, dance-pop mastermind Bonnie McKee (co-writer of most of Katy Perry's hits), '90s EDM hit machine La Bouche, with R&B singer Mýa headlining. The festival grounds are open from 11 a.m. to 7 p.m. Saturday and 11 a.m. to 6 p.m. (Saturday June 23 and 24). The parade starts at noon Sunday. Admission to the festival is free, but if you can afford a donation, $5 is the suggested amount.
7. If it rains, you know what to do.

The general consensus among the experts holds that
Gypsy
is the greatest musical of all time, but for the rest of us it's always going to be
Singin' in the Rain
. Yes, it's a collection of songs from older musicals, and "Make 'Em Laugh" sounds an awful lot like Cole Porter's "Be a Clown," but those facts don't diminish your enjoyment of the show in any way. It's the story of struggling actress Kathy Selden and her whirlwind romance with movie star Don Lockwood, set against the transition of cinema from silent films to talkies. The songs are fantastic, the characters are entertaining (especially Cosmo, Don's comic sidekick) and it has two of the most famous dance sequences in history in "Broadway Melody" and the title song. The Muny continues its season with
Singin' in the Rain
at 8:15 p.m. Wednesday to Tuesday (June 27 to July 3) at the Muny in Forest Park (
www.muny.org
). Tickets are $15 to $100.