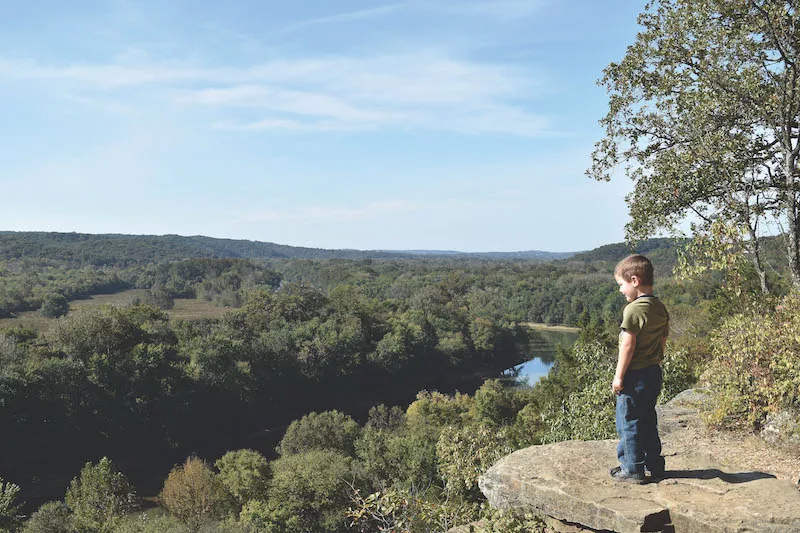 COURTESY OF KATHY SCHRENK
Castlewood State Park is popular — with good reason.
When Kathy Schrenk moved to her husband's native St. Louis after fifteen years in northern California, she was determined to maintain an outdoors lifestyle, which for her meant lots and lots of hiking.
She was pleasantly surprised to learn just how many trails there were around the area. There was just one hitch: her kids.
"There was no guidebook for hiking with kids in St. Louis," she says.
So Schrenk, a reporter and freelance journalist, decided to write one. She pitched Seattle-based Mountaineers Books on the project — and then, with her three kids in tow, spent three years researching the hell out of it.
See also: 7 Great Family-Friendly Hikes Near St. Louis
The result? A detail-oriented 267-page book,
LIZ SCHRENK, SOMETHING BLUE PHOTOGRAPHY AND DESIGN
Kathy Schrenk.
packed with detailed instructions for conquering local trails, from the Shawnee National Forest's Little Grand Canyon Trail, with its two breathtaking canyons, to the easy one-mile loop at Laumeier Sculpture Park.
Best Hikes with Kids: St. Louis and Beyond
even provides two options within Forest Park.
The book works whether your kiddos are ready for backpacking trips, or need a stroller for backup. Schrenk even provides helpful "turn-around points" for kids who might not have it in them to complete the whole thing.
Part of the reason for that comprehensiveness is Schrenk's test subjects, who include not only a twelve, ten and five year old, but also the members of the Meetup group she founded,
Hiking and Backpacking with Kids Near St. Louis
, which has grown to an astonishing 2,200 members.
"I had to start the group just to get more friends to hike with," Schrenk says, laughing.
But if you're the kind of parent who thinks you can't hike because you're too busy or your kids are useless in nature, Schrenk encourages you to think again. Everyone, she says, benefits from a good walk outdoors, no matter how slow the pace.
"I definitely remember my first hike after giving birth, when my oldest son was six weeks old," she says. "A dear friend helped me get out into the woods again, and it felt so good to be active and to be outdoors. Having a child can be a roller coaster — you don't feel great, you're not sleeping well. But getting out there and hiking again helped my mental health and my physical health, too. And now my oldest loves to hike, too."
That doesn't mean hiking is for every kid. "My older one fell in love with backpacking; my middle one did not," Schrenk says wryly. But that's what books like hers are for — maybe your kid isn't meant to hike the five-mile trail at Wildwood's Bluff View Park. But there are plenty of other options.
"Even if you have little kids," Schrenk encourages, "you can do it. Even if it's just half a mile, you can do it. It's just a matter of getting out there."
Check out the book's
Amazon listing for more info
. Or, to hear Schrenk's pep-talk in person, visit the Brentwood
REI
(1703 S. Brentwood Boulevard, Brentwood; 314-918-1004)
this Saturday, June 23, at 10:30 a.m. or
Afterwords Books
(441 E. Vandalia Street, Edwardsville, Illinois; 618-655-0355)
for an 11 a.m. reading on June 30.
And don't forget to check out
our gallery of Schrenk's hand-chosen seven family-friendly hikes near St. Louis
— a small taste of what she's compiled in the book.
We welcome tips and feedback. Email the author at sarah.fenske@riverfronttimes.com