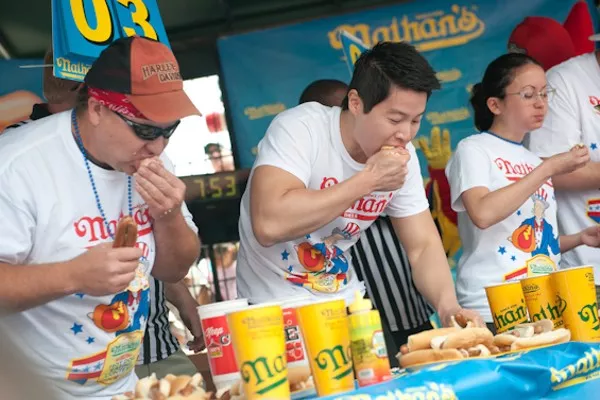 JON GITCHOFF
If you wish to be a champion, you must be hungry.
In addition to
the RFT's epic ShowcaseSTL
, which features more than 100 performers in venues across the Grove, this week brings with it some plays, a pre-game concert for Pride Fest, a cult classic and competitive hot doggery. Your calendar will be full, and maybe your stomach too.
1. Get psyched for Pride Fest with love.

The Gateway Men's Chorus intentionally finishes its season in June. June is Pride Month, and the last show of the GMC season is always a celebration. This year's show is titled
Love Is All You Need
, and if you know anything about popular music you're already fired up. It's an entire evening of the music of the Beatles — most especially the love songs. The group will join voices to sing of love, of friendship and of loss; imagine those famous harmonies being sung by a sizable male choir and you know it will be something special.
Love Is All You Need
is performed at 8 p.m. Friday through Sunday (June 15 to 17) at the Ivory Theatre (7620 Michigan Avenue;
www.gmcstl.org
). Tickets are $20 to $25.
J DAVID LEVY
Blow, Winds is a King Lear for St. Louis' post-Stockley era.
2. See the play that almost never was.

June is not the usual month for Shakespeare in the Streets to take the open spaces of a neighborhood to present a new play inspired by one of Shakespeare's originals. That normally happens in September, when there's a chance those streets won't be as hot.
But last autumn Olive Street in front of the Central Branch of the St. Louis Public Library was far too hot for a play. In the days following the acquittal of former police officer Jason Stockley on murder charges, protesters were demonstrating for justice on that very street — and police were strenuously attempting to contain them. Both the city and Shakespeare in the Streets agreed that it wasn't quite the right time or place to put on a play. Nancy Bell's
Blow, Winds
, which is inspired by
King Lear
, drifted away like so much tear gas fired into a crowd of civilians: agonizingly slowly.
Tom Martin was one of the directors working on
Blow, Winds
, and the phantom limb of Bell's unseen play pains him still.
"It was devastating," Martin says of the choice to cancel. "It's one of the hardest thing I've had to do. We hoped we could at least get one performance, but I talked to our security guys and they said, 'There's a protest in the area and it was getting dark.'"
Ultimately, though, they decided to wait for a more opportune time to reassemble the production, and do it properly. Now things have quieted, and
Blow, Winds
will sweep the steps of the St. Louis Public Library (1301 Olive Street;
www.sfstl.com
) on Friday and Saturday (June 15 and 16). Except that it's not the production that would have been performed nine months ago.
"It's essentially the same, but it's a wiser, stronger version," Martin explains. "The version we had wasn't set for the post-Stockley era. The original version was sunnier; this is more astringent."
3. Is this a hot dog I see before me?

St. Louisans eat a lot of hot dogs, which you can tell just by looking to the variety of wieners available in any grocery store in town. Just how much the people enjoy them is evident when you consider that the competitor slots at the 2018
Nathan's Famous hot dog eating contest
qualifier today at Busch Stadium (700 Clark Street;
www.majorleageeating.com
) were filled to capacity more than a week before the competition. Watch (perhaps through your fingers) beginning at 5:45 p.m. Saturday, June 16, as the hopefuls eat as many hot dogs and buns as possible in ten minutes — the women's record is 41, so don't think a 25 is going to win it. (The men's record is 73.5!) The top dogs in St. Louis will go on to compete in the national contest at Coney Island, New York, on July 4. The Cardinals also play the Cubs at 7:15 p.m. (tickets are $25.90 to $287.90), and Nathan's Famous is the official hot dog of the Cards, so you could enjoy one or two at a more leisurely pace during the game if you're so inclined.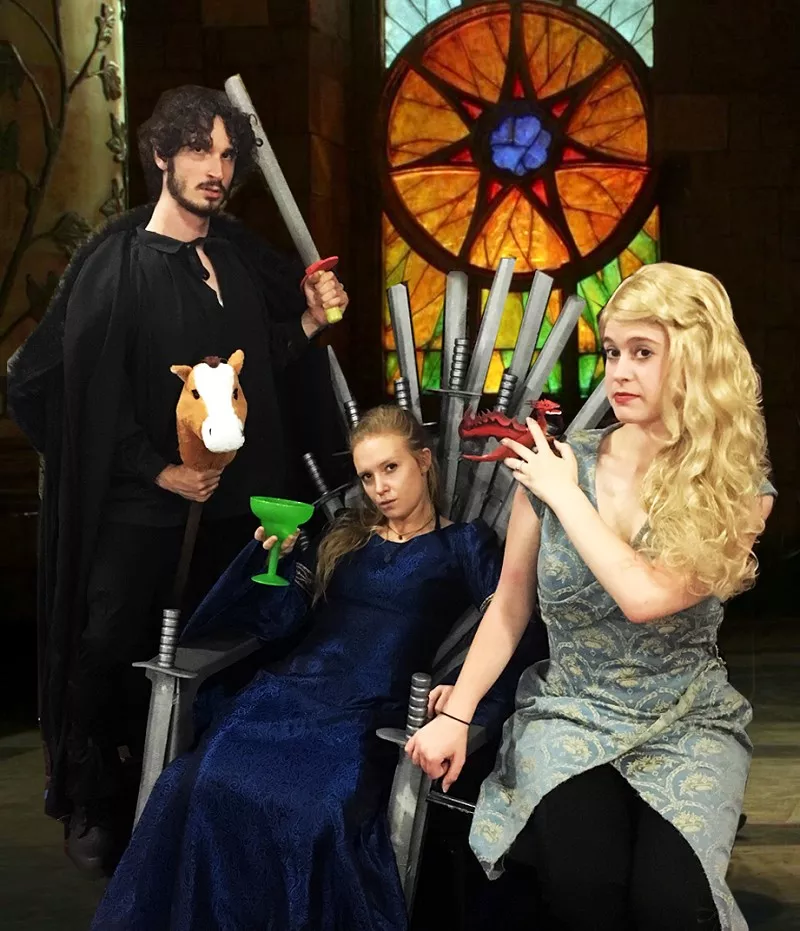 COURTESY OF MAGIC SMOKING MONKEY
Maintaining your place upon the Nerfen Throne is no easy task when you play the Game of Thrones.
4. The madness of Westeros is multiplying.

A few years ago Magic Smoking Monkey turned the entire first season of the fan-favorite
Game of Thrones
into a 60-minute comedy performed live on stage, two shows a night. It was absolutely ridiculous and hilarious, and the pace was blinding. Now that the actors have rehydrated and rested up, MSM is going to do it again — only with additional seasons added. Magic Smoking Monkey presents
Game of Thrones: Four Weddings and a Shit-Ton of Funerals
, which crumbles up roughly three seasons of the show and regurgitates them on stage with loads of comedy violence, comedy sex and nudity (comic only, no boobies). Write faster, George R.R. Martin, they're gaining on you! Performances are at 8 and 10:30 p.m. Friday and Saturday (June 15 to 23) at the Regional Arts Commission (6128 Delmar Boulevard;
www.brownpapertickets.com
). Tickets are $10 to $15.
5. Opera's future is made in St. Louis.

Opera Theatre St. Louis is a proven incubator for young singers, with its Gerdine Young Artist Program providing coaching, master classes and stage experience proving quite successful. Sydney Mancasola, this year's Violetta in
La traviata
, and her Alfredo, Geoffrey Agpalo, are both former Gerdine Young Artists. Center Stage is OTSL's annual end-of-season showcase for emerging talent, pairing singers and members of the St. Louis Symphony with classic arias and even some lesser-known songs from opera's deep repertoire. Center Stage begins at 8 p.m. Tuesday, June 19, at the Loretto-Hilton Center (130 Edgar Road;
www.opera-stl.org
). Tickets are $25 to $50.
6. We're off to see The Wiz.

The Muny hasn't produced
The Wiz
since 1982, and the country has changed dramatically in that time. Fortunately the show is flexible enough to allow for contemporary references and contextual updates, so it remains fresh. The Muny brought in the great Amber Ruffin (the first black woman to write for late-night TV, for
Late Night with Seth Meyers
) to add some modern touches to the show, and she knows what's going on — just watch her episode of
Drunk History
for proof. But don't worry: All the classic songs are intact, with "Ease on Down the Road" and "Everybody Rejoice/A Brand New Day" as catchy as ever.
The Wi
z starts at 8:15 p.m. Tuesday through Monday (June 19 to 25) at the Muny in Forest Park (
www.muny.org
). Tickets are $15 to $100.