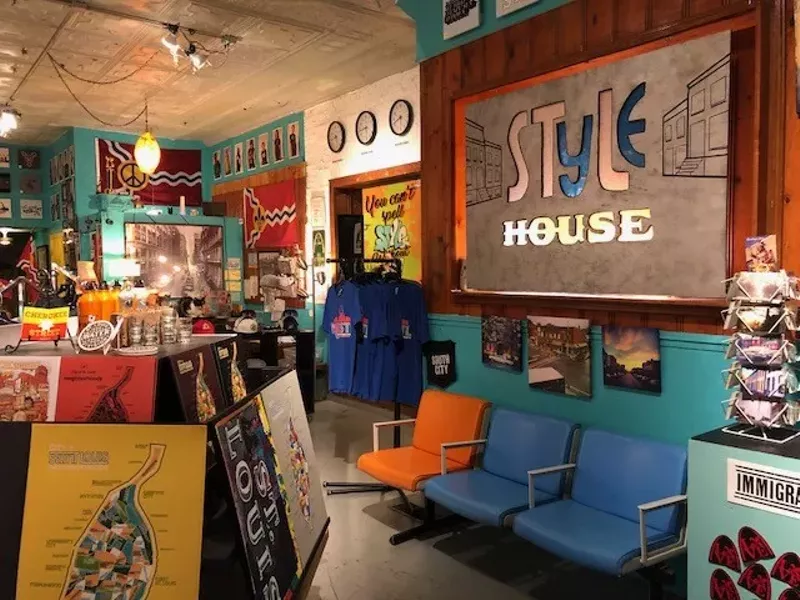 COURTESY OF STL-STYLE
Postcards, posters, city flags, fine art — if it's St. Louis-themed, the Vines Bros will make it.
Identical twins Randy and Jeff Vines, better known as the Vines Brothers, are on the cusp of a momentous occasion. They're about to turn 40, and they feel great about it. So great, in fact, that they decided to throw a party — and you're invited.
Officially titled "Vines Bros Turn FARTY, time to PARTY," the festivities take place at
STL-Style
(3159 Cherokee Street, 314-98-0001)
, the brothers' St. Louis-centric apparel store.
"The party will be very representative of the ethos of our business, a laid-back and unpretentious type of thing," says Randy.
As the video below attests, they're not kidding about that "unpretentious" thing:
For the Vines Brothers, this marks their seventeenth year in business — their eighth in their current flagship shop on Cherokee. They've been a beacon for community spirit that entire time.
"We're more than just a store; we hope to be a gathering spot where people feel welcome to come in," says Jeff.
"We want this place to highlight the original elements of the city," Randy adds.
Their store sells clothes and other items inspired by the unique nature of St. Louis and its numerous neighbors on both sides of the river. You're just as likely to find a postcard with "Greetings From Chesterfield" plastered sarcastically on an image of a giant parking lot as a mod-looking T-shirt bearing a stylish tribute to East St. Louis.
COURTESY OF STL-STYLE
They even celebrate the seal of St. Louis, which is above and beyond.
During the party, the effervescent Vines Bros will reveal a brand new mural adorning one side of their building. Father-and-daughter artists Robert and Liza Fishbone created this new public artwork by the brothers' special request.
The reasons for selecting Fishbone for the project go beyond the purely aesthetic. Robert Fishbone has a long history of murals in St. Louis — and he created a mural that possessed a deep significance for the brothers during their high school years, when they
filmed a cable show for Double Helix Corporation
.
"The back of the entire west wall of the building where we filmed ... was a huge mural; we thought it was so cool," Randy says.
The mural has since been stripped down, though the building —
then known as the Euclid Plaza, off Euclid and Delmar
–
remains.
"We always thought that that was a really cool representative of urban art," he adds.
Many years later the brothers got in touch with the Fishbones to commission their own mural.
"This is essentially a lifelong dream coming together. The Fishbones represent this bygone era of wall art," Jeff says. "It means everything that it is him specifically doing this."
The Vines Bros Turn FARTY, Time to PARTY begins around 6 p.m. and goes until midnight on Saturday, June 16. Drinks will be provided by Schlafly and STL Hop Shop, and there will discounts on STL-Style merchandise.
Fabled St. Louis band Team Tomato reunite for its first show in half a decade in order to play, and musical art duo Sleepy Kitty will make a limited-edition art print for the event as well.
For more on the Fishbones' work, check out
our slideshow showing some of their greatest hits
. And see the video below for a time-lapse look at the new mural being added to the STL-Style building on Cherokee Street.
Editor's note: A previous version of this story gave the wrong first name for Liza Fishbone and also referred incorrectly to the Vines' cable show. It was filmed during their high school years, but not for high school. We regret the errors.